Bombers cut DB Bucknor; Als cut QB Boyd
The Winnipeg Blue Bombers parted ways with veteran defensive back Matt Bucknor on Saturday, as CFL teams reduce their rosters to 46 active players before Sunday's noon deadline.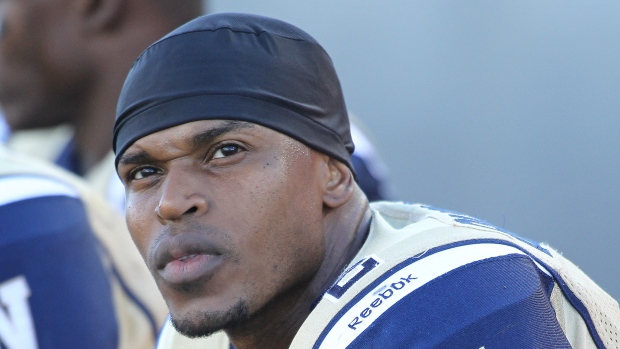 Canadian defensive back Matt Bucknor was among the Winnipeg Blue Bombers' final cuts Saturday.
The release of the five-foot-11, 190-pound Bucknor was surprising as the 30-year-old Hamilton native was a former starter with Winnipeg.
Bucknor began his CFL career in 2012 as an undrafted free agent with Hamilton and played two seasons with the Tiger-Cats before being dealt to Winnipeg.
Also released were defensive lineman Emmanuel Dieke, running back Carlos Anderson, offensive linemen Jace Daniels and Zachary Intzandt, receivers Julian Talley, Fred Williams and Justin Veltung and defensive back Jonte Green. All but Intzandt are Americans.
Winnipeg also placed offensive lineman Manase Foketi, receivers Gerrard Sheppard and Thomas Mayo, defensive linemen Padric Scott, Adrian Hubbard and Louie Richardson, running backs Tim Cronk and Tim Flanders and defensive back C.J. Roberts on its practice roster.
Veteran receiver Terence Jeffers-Harris was among 10 players released by the B.C. Lions. Jeffers-Harris has also spent time in the CFL with Winnipeg, Hamilton, Saskatchewan and Calgary.
Also let go were quarterback Greq McGhee, offensive lineman Dre Player, defensive backs Royce Adams and Chandler Fenner, receivers Kendrick Ings and Derek Yachison, linebackers Victor Aiyewa and Auston Johnson as well as kicker/punter Tiernan Docherty.
The Montreal Alouettes released 14 players, including quarterbacks Tajh Boyd, who led Clemson to the 2014 Orange Bowl, and Jimmy Underdahl of the Universityof Calgary. The club also placed veteran passer Jonathan Crompton on the six-game injured list, along with offensive lineman Luc Brodeur-Jourdain, receiver Alex Charrette, defensive back Andrew Lue and running back Wayne Moore. CFL teams must reduce their rosters to 46 active players by 11:59 a.m. ET on Sunday.
The CFL regular season begins Thursday with the Toronto Argonauts hosting the Hamilton Tiger-Cats at BMO Field.