Bombers re-sign QB Davis, WR Sheppard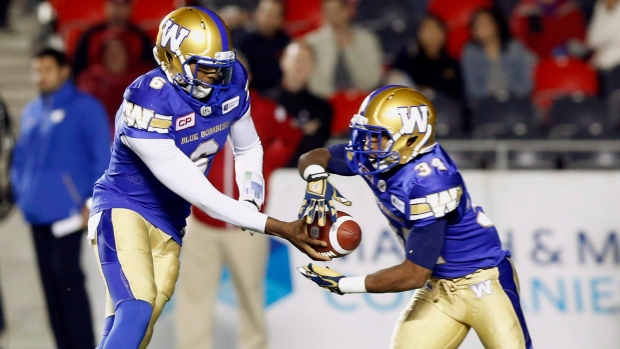 The Winnipeg Blue Bombers re-signed pending free agent quarterback Dominique Davis and receiver Gerrard Sheppard on Wednesday.
Davis spent the past two seasons with the Bombers after signing at the beginning of the 2015 season. He dressed for all 18 regular season games and the Western Semi-Final in 2016. Davis has started one game during his tenure with Winnipeg, going 16-25 for 169 yards in the final game of the 2015 season in Toronto, a campaign in which he dressed for 11 games.
"Dom Davis is a quarterback who has continued to grow in our organization," said Bombers General Manager Kyle Walters. "He's a mobile quarterback with a strong arm, and has the attitude we look for in our players. We believe he will continue to prosper under our offensive staff and are glad to get this deal done with him."
Prior to joining Winnipeg, Davis was briefly with Calgary, and prior to that had spent time in the NFL with the Atlanta Falcons (2012-14), Tennessee Titans (2014), and Indianapolis Colts (2014).
Sheppard played seven games with Winnipeg in 2016, hauling in 13 receptions for 118 yards. Prior to signing with Winnipeg, Sheppard was with the Green Bay Packers after spending the 2013 season on the Baltimore Ravens practice roster.
"Gerrard is a physical receiver who can not only catch the football but is an excellent blocker downfield, " said Walters. "His physicality and willingness to do whatever is asked of him is a credit to his character, and we're looking forward to seeing him compete in training camp in 2017."
Sheppard began his college career at the University of Connecticut, where he played in eight games over two seasons before transferring to Towson where he started in nine of 23 games played in his final two seasons. He registered 52 receptions for 584 yards (11.2 avg.) and five touchdowns