Borowiecki knocked unconscious in loss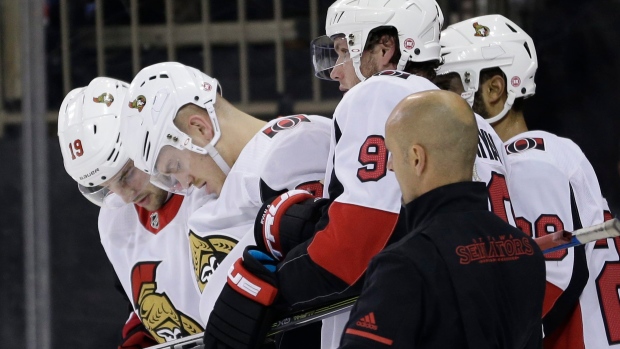 The Ottawa Senators were shut out 3-0 by Henrik Lundqvist and the New York Rangers Sunday night, and things got worse after the game.
Head coach Guy Boucher said that defenceman Mark Borowiecki was knocked unconscious in the third period as his head slammed into the boards. Brendan Smith was handed a five-minute major for interference.
Borowiecki was diagnosed with a concussion. There was no immediate update on how much time he will miss, if any.
"You see those plays happen all over the ice. It's just unfortunate the outcome. Hopefully he'll be OK," Smith told reporters after the game.
Borowiecki was helped off the ice by teammates Bobby Ryan, Derick Brassard, Johnny Oduya and a member of the Sens' training staff.
In 13 games so far this season, the 28-year-old has two goals and one assist.