Bouchard's lawyer alleges USTA discarded evidence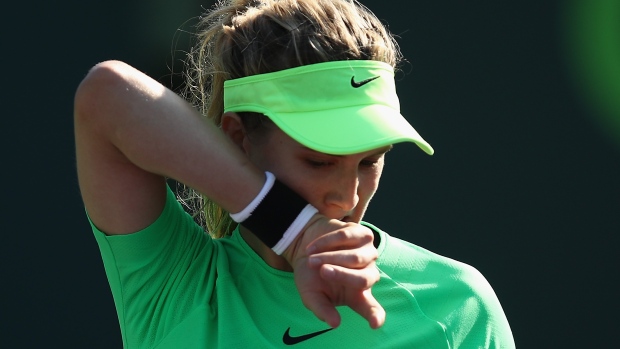 Eugenie Bouchard's lawsuit against the United States Tennis Association took a nasty turn on Friday with the Canadian tennis star's attorney accusing the USTA of "knowingly and willfully destroying security camera footage" relevant to the case.
"We asked for all of the tapes during and around that time (of the accident) to show where Genie was, where their employees were," said Benedict Morelli, Bouchard's lawyer. "We sent them a preservation letter, which put them on notice that they had to preserve everything surrounding this lawsuit and they knew that and, all of a sudden, lo and behold, something is not available."
The USTA did not immediately respond to a request for comment.
READ THE PRE-MOTION LETTER FROM BOUCHARD'S LAWYER
READ THE PRESERVATION LETTER TO THE USTA
"The court can sanction them in money or in adverse inference or both," Morelli said. "Tell the jury, 'This video footage is missing and when you're deciding responsibility for this accident against the USTA you can use this knowledge as a negative inference against them when you're making this decision.'"
Bouchard struggled in the 2015 season, but seemed to regain her form at the U.S. Open where, as the 25th seed, she advanced to the fourth round. But after winning a mixed doubles match, she slipped and fell while using the on-site facilities. She suffered a concussion and was forced to withdraw from the event. Bouchard's lawsuit argues that organizers are liable, because her fall was caused by a slippery substance on a tile floor, in a room that was dark and unattended.
Bouchard hasn't reached the fourth round of a major since. She is currently No. 56 in the WTA rankings.

According to the pre-motion letter, the USTA initially handed over a CD with three hours of footage on it from a single security camera positioned outside the women's locker room the night of the accident. It was during the deposition of WTA trainer Eva Schumann on Nov. 30, 2016 that Bouchard's lawyers noted "it became clear that additional security camera footage may exist, which would be extremely relevant to substantiating a critical timeline." But, per the pre-motion letter, the USTA responded that any further video was unavailable, because the organization's policy is only to save the footage for 160 days.
"They were told to hold onto the evidence and they didn't," Morelli said. "You can't go around doing that. That's why we have rules like this. If we had the footage we'd be able to see exactly what they did. But we don't have the footage so now we're at a disadvantage."
Morelli says he approached the USTA last week and informed them that this motion was coming. It was his hope that maybe that would jumpstart settlement talks. A previous mediation session also failed to produce a resolution.
"I only know one way to do lawyering and that's hardball," Morelli said. "That doesn't mean I don't give you every opportunity to settle the case. But when I give you every opportunity – and we've been dragging this out – and you don't respond positively then I have to play hardball and that's the kind of ball we're playing now.
"Defendants oftentimes don't use good judgement and they feel that they have to argue everything even if it's not valid. So, what they are doing is they are blaming Genie in whole or in part for the happening of the accident. 'She shouldn't have been in the room. She shouldn't have done this and she shouldn't have done that.' The whole thing is ridiculous and ludicrous."