Bour calls decision not to run 'embarrassing'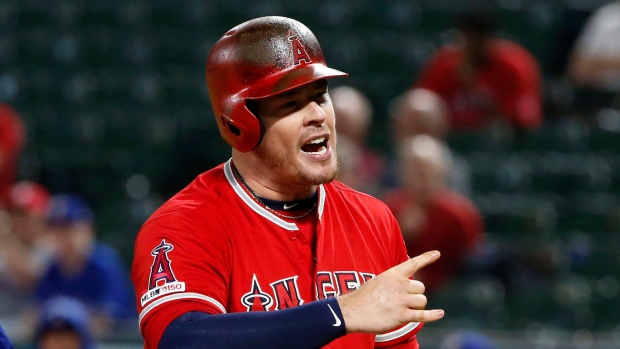 Los Angeles Angels first baseman Justin Bour made his second mental error in less than a week Friday night when he failed to run out an infield pop up that instead resulted in a double play.
With the game tied 3-3 in the 8th inning and a runner on first, Bour popped up to second base and immediately began to head back to the dugout. Instead of catching it for the easy out, Seattle Mariners infielders Dee Gordon and Ryon Healy let the ball drop and with the runner holding at first base, were easily able to turn an inning-ending double play. The Angels went on to lose the game 5-3.
"Honestly there's really no excuse for it. It's embarrassing. That's something you're taught from the day you start playing baseball. There's no excuse for it. That can never happen again," Bour said after the game, per Rhett Bollinger of MLB.com.
"That's a mistake he'll probably never make again in his life...that's something you learn in Little League," Angels manager Brad Ausmus said.
Friday's incident comes just days after he made another mental gaffe in a game against the Chicago Cubs at Wrigley Field. While trying to advance to second, Bour was called safe on a slide by umpire Marty Foster but intentionally strayed off the base anyway following the call. Bour would have likely been ruled out if the Cubs had decided to challenge the call.
It's a troubling series of events for Bour, who is playing on his third team in less than a year. After spending more than four seasons with the Miami Marlins, Bour was dealt to the Philadelphia Phillies in the middle of last season and signed with the Angels during the Winter.
The 30-year-old is hitting .208 this season with one home run and five runs driven in.