Bowman: Kotkaniemi has some of Beliveau's characteristics
Talking to NHL.com's Dave Stubbs, NHL coaching legend Scotty Bowman sees some of Jean Beliveau in 18-year-old Canadiens centre Jesperi Kotkaniemi and thinks he can develop into a No. 1 centre in a short time.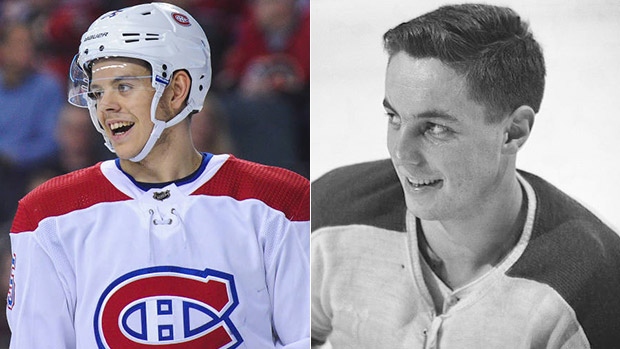 With over 60 years of scouting, coaching and managing hundreds of players, Scotty Bowman has seen some talent over the years.
And he thinks 18-year-old Montreal Canadiens rookie Jesperi Kotkaniemi has lots of it.
"I saw Jean Beliveau with Victoriaville juniors at age 16. No one compares to Jean, but Kotkaniemi, at 18, has a lot of Jean's characteristics in his game. When he's about 22, he'll be a No. 1 centre for Monreal," Bowman told NHL.com's Dave Stubbs.
Bowman added that he's been impressed by Kotkaniemi's poise at a young age, along with his puck sense, vision of the ice and his joy of the game.
Kotkaniemi has six goals and 17 assists through the first 48 games of his NHL career after being drafted No. 3 overall last summer. So the results have been there.
But so has the 'wow' factor.
In a matchup with the Florida Panthers Tuesday night, Kotkaniemi offered up a goal-of-the-year candidate as he slid home his sixth of the season.
With the Habs leading 3-1 in the third period, Kotkaniemi blew past the Panthers' defence and patiently outwaited James Reimer for a beautiful goal to put the game out of reach. It didn't only catch the attention of his teammates, but former stars as well.
"I'm really impressed by Kotkaniemi this year," Mario Tremblay said on Wednesday, via Stu Cowan of the Montreal Gazette. "I was impressed at training camp, this is why the team kept him. But like everyone else, the more I see him the more I like him. Did you see his goal last night? Wow! That's pretty impressive."
Tremblay still holds the team record for the most points by an 18-year-old after posting 39 during the 1974-1975 season, but Kotkaniemi is gaining steam.
"Andrew Shaw told me that the goal was pretty mint," Kotkaniemi said after the game. "I trust him and I believe him, so I think it was pretty mint."
Kotkaniemi and the Canadiens visit the Columbus Blue Jackets in a game that viewers in the Habs region can watch LIVE on TSN2 tonight at 7pm et.