Bowman on Sharp: 'He's been a good pro'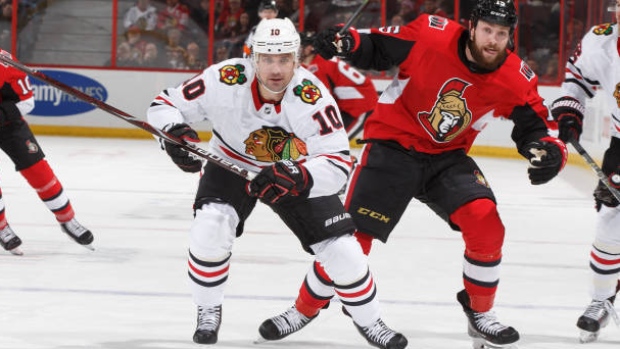 From the outside looking in, it would appear Patrick Sharp's return to the Chicago Blackhawks after two seasons in Dallas has not gone as planned.
The 15-year veteran has been a healthy scratch for the Chicago Blackhawks eight times since Dec. 21 and owns just six goals and 14 points in 48 games.
However, general manager Stan Bowman told the Chicago Sun Times Sharp has been as advertised for the Blackhawks.
"We expected him to be a supporting player, and that's what he's been," Bowman said. "He's had some good games and some tougher games. We expected him to be in more of a supporting-cast role. We weren't looking for him to be in the top six. He's played a few games up there, but for the most part he's been on the third and fourth lines. He's been a good pro."
Sharp re-joined the Blackhawks on a one-year, $1 million contract in July. Through 48 games, he's averaging just 13:04 of ice time – his lowest mark since spending the 2005-06 season with the Philadelphia Flyers.
He called being a healthy scratch "a new experience" but declined to dive further into details on Tuesday.
"It's hard for players in that point of their career to accept not playing the role they used to play," Bowman said. "He's been very positive about it. You have to give him credit for being a good influence."
The Blackhawks, 2-6-2 in their last 10 games, have slumped to the bottom of the Central Division and sit 12 points back of a playoff spot.
Sharp has 283 goals and 613 points in 917 career NHL games with the Flyers, Blackhawks and Stars.