Bozak expecting emotional return against Maple Leafs
Veteran centre returns to Toronto with the St. Louis Blues after nine seasons as a member of the Maple Leafs, Kristen Shilton writes.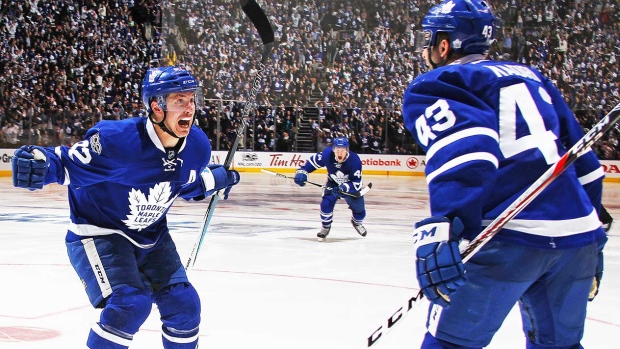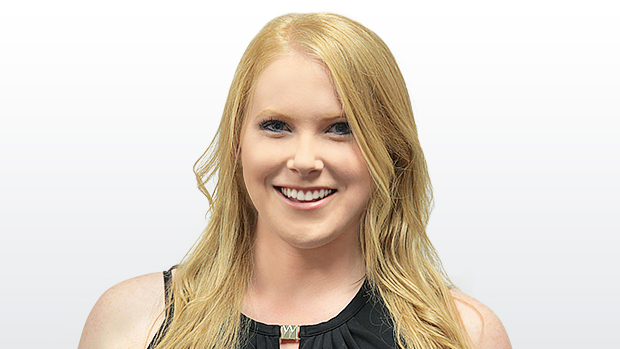 TORONTO — While the hockey world anxiously waited on John Tavares to make his free agent choice last July 1, Tyler Bozak had already decided his long run with the Maple Leafs was over.
The 10-year NHL veteran was weighing his options on the cusp of unrestricted free agency last June when the St. Louis Blues quickly emerged as a top suitor during the free-agent interview period.
The Leafs were in the mix, too, but what resources Toronto had available hinged on where Tavares landed. That initially left Bozak in a holding pattern, but by the time Tavares had committed to a seven-year, $77 million contract with the Leafs, Bozak had already settled on St. Louis. He inked a three-year, $15 million deal with just his second NHL team on July 1.
"I made my decision kind of before that all ended anyway [with Tavares]," Bozak said after Blues' practice on Thursday at Coca-Cola Coliseum. "It was tough to go and there's a lot good memories there, but I just realized it was a good fit for me and it would be a good place to be. So we jumped on that."
As the scheduling fates would have it, Bozak didn't have to wait long for a chance to play against his former team. The Blues arrived in Toronto on Thursday ahead of Saturday's game against the Leafs, giving Bozak a couple days to visit his old haunts around town and reminisce about the nine years he spent in a different blue and white sweater.
Reliving that past started right where Bozak stood on Thursday afternoon, in an arena that proudly bears his name in the rafters as a Toronto Marlies' alum.
Bozak signed with the Leafs as an undrafted college free agent from the University of Denver in 2009, and aside from one NHL contest early in the 2009-10 season, spent the first few months of his career in the Coliseum, playing 32 AHL games for the Marlies.
He would say goodbye to the Leafs after skating in 594 NHL contests, the 22nd most among players in franchise history.
Bozak basically grew up in Toronto. On the ice, he evolved into a dependable two-way centreman who is elite in the dot (Bozak sits 13th among NHLers in faceoffs won since 2010-11 with 5,643) while off it he became a dedicated family, man prioritizing a house and a yard in deciding where to sign over the summer.
Fittingly, Bozak's wife, Molly, son, Kanon, and daughter, Blake, will all be in attendance on Saturday when Bozak's first task will be successfully finding his way to the visitor's dressing room at Scotiabank Arena.
"I am a little worried about that," he said with a laugh. "It's going to be weird. I think [it'll be emotional]. A lot of good memories here, a lot of good buddies on that team still. I've never… played an old team before, so I can't really tell you what it's going to be like, but it'll be fun."
That is, unless ex-teammate Nazem Kadri succeeds in his plan to make Saturday's return at least a little bit difficult for Bozak.
"I'm going to try and give him a hard time out there," Kadri said. "No, I'm sure it'll be entertaining, and it'll be pretty bizarre to see him in a different jersey across from us. He was here since day one with me, and there's a friendship I'll always have and cherish with him."
Kadri said his favourite moment with Bozak was overtime in Game 3 of the Leafs' 2017 first-round NHL playoff series against Washington. Bozak tipped in the game-winner to give Toronto a 2-1 series lead over the Capitals, and jumped into Kadri's arms in celebration.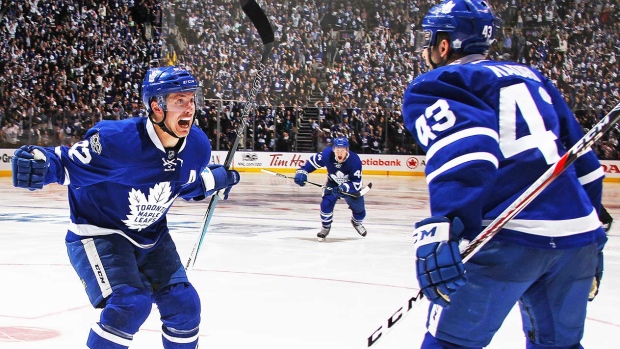 "That was pretty iconic," Kadri said. "That's a picture I'll hold onto for a long time. It was a really special [moment] for me."
Bozak chose St. Louis hoping to find more postseason success, but the team's start hasn't been promising. The Blues are 1-3-2 so far, and Bozak is one of several new faces finding their bearings as he centres Patrick Maroon and Alex Steen on St. Louis' third line.
Coming off a 2017-18 season where he produced 11 goals and 32 assists in 81 games, Bozak has registered just one goal and one assist for the Blues.
"In Toronto, you would always play with the same guys for a number of years and it doesn't take that little bit of time to get to know where each other is on the ice," Bozak said. "But that's no excuse. We haven't played our best so far. This will be a tough test for us Saturday and a game we need."
The Leafs, on the other hand, couldn't be off to a hotter start. As of Friday, Toronto was atop the NHL standings, and boasted the league's top point-getters among forwards (Auston Matthews, with 16) and defenceman (Morgan Rielly, with 13).
Toronto's early success isn't shocking to Bozak, who spent the last two years trying not to get burned by any of Toronto's budding stars in practice.
"You don't think they can take it to another level and then they do. It's really impressive," Bozak said. "Seeing how good they were [then], and to see them build off that, it's awesome. I'm obviously not going to be cheering for them on Saturday but I always keep tabs and root for my buddies to do well."
It's been such a strong couple of weeks for the Leafs that Bozak couldn't help but joke with the small pool of local reporters, "Do you guys even have anything to write about when they're good?"
That's one of the other differences about life in St. Louis. While in Toronto is home to a large contingent of media no matter how the Leafs are playing, the Blues don't draw quite the same numbers.
"I scored a couple goals in preseason, and [PR] said, 'You have media to do.' It was two reporters," Bozak laughed. "So, the media is a little different. City is a little different, little slower pace. Don't have to sit in traffic the whole time…it's been an easy transition."
Having gotten a taste of being away from Toronto's spotlight, Bozak said he "wouldn't be too mad" if the Leafs chose to forgo a traditional videoboard tribute for him on Saturday, but word emerged on Friday there will be something to commemorate his return.
That'll be fine with Bozak too, who will happily take a trip down memory lane.
"Having been in Toronto for nine years, it's going to be a weird night [either way]," Bozak said. "But I'm really looking forward to it."​