Bratt, Hischier send Devils past Habs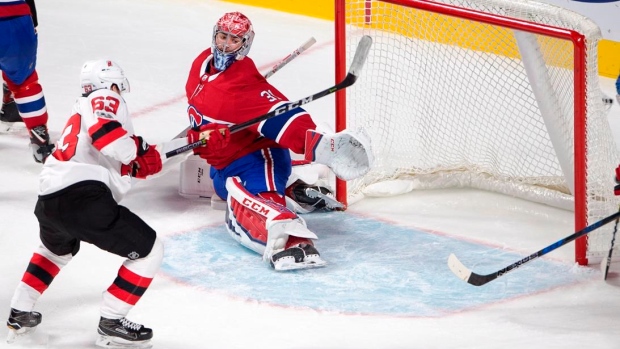 MONTREAL — Nico Hischier, the first overall pick at this year's draft, broke a tie in the second period as the visiting New Jersey Devils downed the Montreal Canadiens 4-1 on Thursday in the third pre-season game for both teams.
Defenceman Mirco Mueller and winger Jesper Bratt, with two, also scored for the Devils. Goalie Keith Kinkaid stopped all but one of the 29 shots he faced.
Eric Gelinas scored the lone goal for the Canadiens in the second period. Carey Price, who played his first full game of the pre-season, stopped 28-of-31 shots.
Montreal has lost all three of its pre-season games so far. The team's next match is Saturday in Ottawa.
Mueller got the Devils on the board 47 seconds into the encounter when his shot from the point took a deflection off a Montreal stick to beat Price.
It was New Jersey's second shot of the game.
Gelinas, who's on a professional tryout with the Habs, made his case to stay in the NHL by beating Kinkaid with a shot from the point on the power play at 7:09 of the second.
The 26-year-old Gelinas, who was drafted by the Devils in the second round in 2009, finished the game with four shots, one hit and four penalty minutes.
New Jersey regained the lead at 15:30 of the middle frame when Hischier deflected Taylor Hall's centring pass between Price's legs for his second goal of the pre-season.
Bratt put the contest out of reach midway through the third with a goal from the slot as time expired on a Montreal penalty. He added his second of the game in an empty net in the game's dying seconds.
The Canadiens failed to score on a two-minute 5-on-3 power play towards the end of the second period. The Habs fired six shots on Kinkaid during that man advantage but the Devils netminder was up to the challenge.
New Jersey had a 5-on-3 power play of its own, for 28 seconds in the third period, but the Canadiens killed it off.
Montreal's NHL-calibre line of Brendan Gallagher, Alex Galchenyuk and Phillip Danault finished with nine shots.
Notes: Defensive prospect Noah Juulsen is out six weeks with a broken foot. The 20-year-old was injured against the Boston Bruins on Monday...Following the game, the Canadiens released seven players from camp: Niki Petti, Yannick Veilleux, Stefan Leblanc, Simon Bourque, Thomas Ebbing, Antoine Waked and Tom Parisi will now report to Laval Rocket (AHL) training camp.