Bright future ahead for Team Bottcher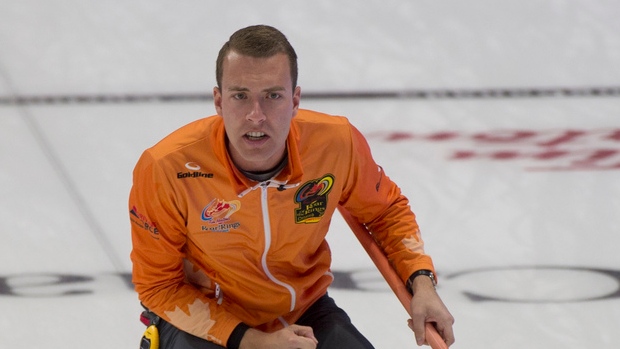 Brendan Bottcher's Roar of the Rings playoff hopes were officially dashed Friday morning with a tough 6-4 loss to Winnipeg's Team Mike McEwen.
You won't see them competing this weekend at the Canadian Tire Centre, but expect to get familiar with this young squad in the coming years on the national curling stage.
Bottcher, 25, wasn't surprised by his team's performance this week in Ottawa, even if some curling pundits thought otherwise since they qualified through the pre-trials event in Summerside, P.E.I. last month.
"All the top guys here knew we could give them a little bit of a scare, especially if we were on our game this week," explained Bottcher after Friday morning's game. "So I don't think that was a huge shocker. The guys' and the girls' fields, it's so tight. Number nine could easily get on a roll and win undefeated. So everyone has to go out there every day and prepare."
The Edmonton rink started slowly at 1-3, but got back into the playoff hunt with back-to-back victories over defending Olympic champion Team Brad Jacobs and Team John Epping. They evened their record and eliminated Winnipeg's Reid Carruthers with a victory in their final game Friday night. Bottcher shot 87 per cent in that contest.
Lead Karrick Martin, the son of Olympic gold medalist and four-time Brier champion Kevin Martin, was disappointed following the elimination, but still able to find the positives.
"We played well all week. Fell short in a couple games, but we were leading all of the games," he said. "So that has to be a plus. At the half we were leading in all of the games. We just let a couple go, but definitely I think we played well most of the week and we can build on that going forward."
Bottcher says his team did a good job of acting like this was just another event on tour, not letting the pressures of the toughest event in curling get to them.
"I think we've done a good job of parking it and taking it as easy as you can. At the end of the day, every game out here is so hard," explained the 2012 world junior gold medalist. "All the teams are so good, but I feel like we've been playing well and that was the goal at the start of the week, so it's been a success."
Team Bottcher broke out onto the scene last year after they qualified for their first Canadian championship. Bottcher, third Darren Moulding, second Brad Thiessen and Martin went 3-8 in St. John's. That experience, partnered with the Roar of the Rings, has the makings of a bright future for Team Bottcher.
"I think we learnt a ton at the Brier, we learnt a ton this week. We're just going to keep on getting better and I'm sure we'll be back," Martin said.
And there's a good chance you'll see Bottcher's foursome at the Brier again in Regina next March.
Team Kevin Koe didn't play in last year's Alberta provincials due to the fact they were Team Canada after winning the Brier in 2016. And Koe might not be there again this year.
Team Koe is 7-0 and will be in Sunday's Olympic trials final. If they win, they go to South Korea and won't play in nationals. If 2017 Brier champ Team Brad Gushue stands atop the podium this weekend, Koe will be Team Canada at the Brier since they were the runners up in St. John's.
Bottcher would be the favourites in an Alberta field without Koe.