Browns DE Taylor out after knee surgery; Haden to be limited in practice
Browns starting defensive end Phil Taylor has undergone knee surgery and will be sidelined for several weeks. Taylor was injured during the first half of Sunday's historic comeback win at Tennessee. The Browns announced Wednesday that the 6-foot-3, 335-poiund Taylor underwent an arthroscopic procedure. The team said Taylor's playing status will be re-evaluated in a few weeks.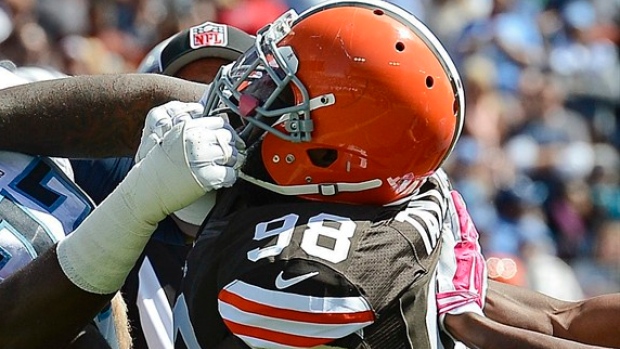 BEREA, Ohio - Browns starting Pro Bowl cornerback Joe Haden is not practicing because of an injured hip.
Haden rode a stationary bike and worked with a trainer on the side Wednesday during the portion of practice open to the media as the Browns (2-2) began preparing for Sunday's home game against the Pittsburgh Steelers (3-2). Browns coach Mike Pettine said he's "cautiously optimistic" Haden will be able to play.
Haden got hurt in the second half of Sunday's historic comeback at Tennessee. Pettine did not know how Haden got hurt, but after being treated, the four-year veteran did not miss a play.
The Browns' defence, which has underachieved so far this season, will be without defensive end Phil Taylor for the next few weeks. Taylor underwent knee surgery Wednesday and Pettine said it will be a "couple weeks" before the Browns know how long they'll be without the 6-foot-3, 335-pound run stopper.
Taylor was injured during the first half before the Browns rallied for a 29-28 win, overcoming a 25-point deficit — the largest in league history by a road team.
A first-round draft pick in 2011, Taylor has made 41 career starts. He missed the first eight games in 2012 with a chest injury.
Also, Browns Pro Bowl left tackle was on the field but not in pads during practice. He has been getting an occasional day off to rest.
___
AP NFL website: www.pro32.ap.org and www.twitter.com/AP_NFL