Bruins edge Maple Leafs in shootout
David Krejci scored the shootout winner and Patrice Bergeron extended his point streak to eight games as the Boston Bruins downed the Toronto Maple Leafs 4-3 on Monday to sweep a home-and-home set.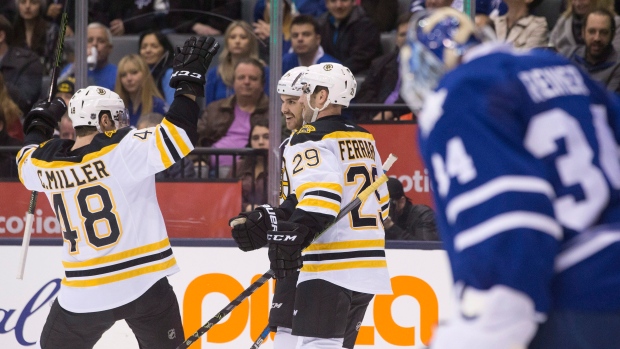 TORONTO - Coach Mike Babcock went home Monday night thinking of ways to re-tool his power play.
The Maple Leafs battled to force overtime against the Bruins after falling behind two goals early. Then had a great opportunity to win the game when Boston's top penalty killer Patrice Bergeron was assessed a minor for holding in the extra period.
Instead, the Bruins killed off Toronto's man advantage and David Krejci scored in the shootout to give Boston a 4-3 victory and a sweep of its home-and-home set.
"I would have loved to have seen us get one four on three, I didn't think we were dangerous four on three, I thought we were real dangerous five on four," said Babcock. "We're gonna get our four on three fixed, that's for sure."
"At the end of the day, it's nice to get a win," said Krejci. "It wasn't pretty today, but our (penalty kill) was huge tonight, especially in OT."
Krejci scored the winner in the third round, outwaiting Toronto's James Reimer before sliding the puck through his legs for the deciding goal.
"I just bit, a shootout's a shootout," said Reimer. "I wish I could have been more patient but (Krejci) slowed up, made a couple moves and opened me up."
Heading into Monday's contest the Leafs were struggling to score at even strength, with their last five-on-five goal coming against the New York Rangers Nov. 15 before Joffrey Lupul put his club on the board in the second period — a span of 211 minutes 39 seconds.
Toronto was finding the back of the net recently because of its power play, which finished 0 for 5 against Boston and gave up a short-handed goal.
Brad Marchand, with two, and Zac Rinaldo scored in regulation for the Bruins (11-8-1), who earned a 2-0 win over Toronto in Boston on Saturday.
Lupul, Leo Komarov and Tyler Bozak scored for the Maple Leafs (7-10-5).
Tuukka Rask made 39 saves for the win as Reimer kicked out 26-of-29 shots in defeat.
The Bruins opened the scoring while shorthanded at 4:58 of the first period off a gaffe from Reimer.
Marchand started the play by getting Reimer to cough up the puck behind his net. The 27-year-old fed it out front to Bergeron, who was initially stopped by Reimer before Marchand batted the rebound out of the air and into a wide-open net.
"At the end of the day, obviously I'd like to be a little sharper," said Reimer. "I made a few mistakes tonight, but that's the way she goes.
"You're not going to be perfect every night."
Boston doubled its lead when Rinaldo, with his first of the season, beat Reimer short side with a snap shot from the off wing at 12:39.
"It felt really good to get that first one, get that monkey off my back," said Rinaldo.
Toronto, which hadn't allowed a first-period goal in its previous eight outings, outshot the Bruins in the opening 20 minutes 12-9 and held a 28-17 shot advantage heading into the third.
Lupul cut Boston's lead in half with a snap shot through a screen that beat Rask blocker side at 11:54 of the second period. While considered an even-strength goal, Reimer was out for the extra man as Boston had a delayed penalty.
The Bruins looked to have a sure goal only moments later but Reimer came up with his biggest save of the night by going post to post to stop Jimmy Hayes with his right pad.
A goal-mouth scramble led to Komarov putting home a loose puck at the side of the net to tie the game 2-2 at 12:56.
"Leo's been unbelievable," said Babcock. "He's dangerous every night, he plays hard every night, he finishes checks, he plays on offence, he plays on defence, he just plays. He's a good player."
The Bruins restored their lead when Reimer let the puck squeeze through his pad and the post on a shot from Marchand at 14:40. The goal was originally credited to Landon Ferraro but was changed after review.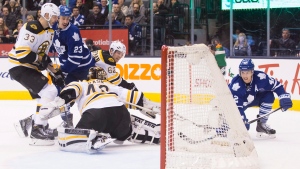 Bozak responded for the Leafs by wedging a rebound over Rask's right pad at 16:09 to once again tie the game.
Toronto had a great opportunity for its first lead when Adam McQuaid took a double-minor late in the second, but the Leafs were unable to convert on the four-minute power play that carried over into the third period.
Late in overtime James van Riemsdyk was robbed by Rask with a glove save in close off a rebound to force the shootout.
"We stuck with it and it paid off again," said Rask. "A good character win."

Notes: Forward Landon Ferraro made his Bruins debut after being claimed off waivers from Detroit...Forward Nick Spaling was back in the Leafs lineup for Daniel Winnik, who was made a healthy scratch.