Bruins' Julien to stay on for ninth season
Boston Bruins rookie general manager Don Sweeney said Friday that coach Claude Julien will stay on for a ninth season. The decision ends nearly two months of uncertainty over Julien's future after the Bruins underwent a front-office shake up this spring.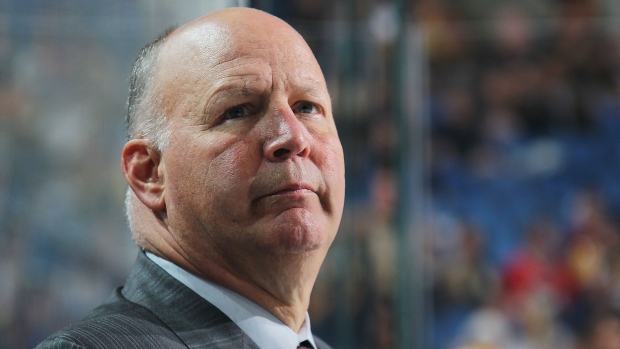 BUFFALO, N.Y. - Making no apologies for how long it took to reach a decision, Boston Bruins rookie general manager Don Sweeney is confident that retaining coach Claude Julien for a ninth season is best for his team.
Sweeney made the announcement Friday, ending nearly two months of uncertainty over Julien's future after the Bruins underwent a front-office shake up this spring.
"I know there's been speculation, and I wanted to make sure I put that to bed that I'm fully supporting this staff and looking forward to working with them," Sweeney said. "Unequivocally, we're moving forward with our group. I feel very good about that."
Though Julien and his entire staff are coming back for the start of next season, Sweeney declined to discuss their long-term job security after Boston missed the playoffs for the first time in eight years. The finish was disappointing for a high-priced team that won the Stanley Cup in 2011 and lost to Chicago in the final in 2013.
"Well, it's uncomfortable business," Sweeney said. "I don't think anybody accepts a job in this business without feeling ... uneasiness in terms of the result."
Sweeney spoke at a hotel in downtown Buffalo, where he and his staff are attending the NHL's pre-draft scouting combine that concludes Saturday.
Hired two-and-a-half weeks ago after Peter Chiarelli was fired, Sweeney wanted to take his time and meet with Julien and his staff to ensure everyone was on the same page.
Sweeney, who previously worked as the Bruins assistant GM, based his decision on Julien's past success, accountability and what he termed the "structure" of his coaching philosophy.
Julien has a 351-192-79 record with Boston, and has a 470-278-10-102 career record that includes his previous stints in Montreal and New Jersey.
He now has the longest active tenure with a single team among NHL coaches, after Mike Babcock left Detroit to coach the Toronto Maple Leafs last month.
The Bruins were eliminated on the final day of the regular season, and finished ninth in the Eastern Conference standings, one spot out of the playoffs.
The Bruins (41-27-14) were undone by a rash of injuries and an aging roster last season. The team also had difficulty making roster changes as a result of a payroll that nudged against the salary cap. Rather than adding talent, Boston was forced to free up space by trading key defenceman Johnny Boychuk to the New York Islanders before the start of the season.
Without going into detail, Sweeney noted that he has some decisions to make regarding the team's roster before the NHL's free agency period begins on July 1. And he added, Julien will have input on those decisions.
"We do have to move a little bit in a different direction. And we're at a bit of a crossroads in that regard," Sweeney said.
Sweeney also challenged Julien and his staff to make some changes to their approach.
Believing the Bruins were too defensive-minded last season, he urged Julien to focus on developing more of an attacking style of system based on a faster transition.
Sweeney was running out of time and options if he intended to change coaches, with the NHL draft only three weeks away and the free-agency period opening on July 1.
Many of the top established candidates were taken off the market by teams filling their vacancies the past few weeks. Aside from Babcock, the Buffalo hired Dan Bylsma, Edmonton hired Todd McLellan and San Jose chose Peter DeBoer.
___
AP Sports Writer Jimmy Golen in Boston contributed to this report.