Bruins should wait on deciding Julien's future
It is all fine and well that we talk about the Boston Bruins moving on from veteran coach Claude Julien, but before we get to who is involved in that transition plan we must answer one key question: Is a firing even deserved? Travis Yost writes.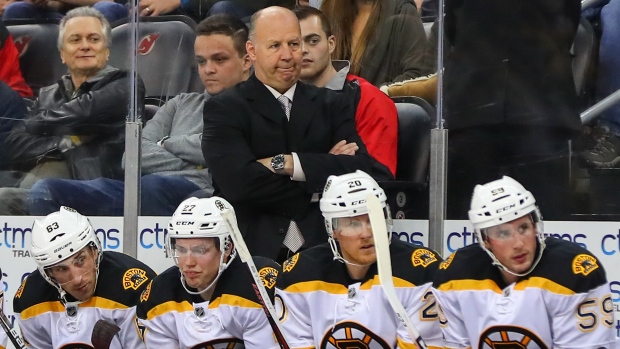 How do you move on from a highly successful coach who has worn out his welcome with executive leadership?
That's the million-dollar question facing the Boston Bruins right now – a question that's been facing them for some time. Despite their inaction so far, it's clear that Claude Julien's time is running out in Beantown.
Talk about moving on from Julien has been around since as early as 2015, and it seems with each passing month, that fire is flamed. We are now at the point where Boston ownership is publicly talking about who owns the actual process of potentially making a change behind the bench.
It's hard to think of a perfect comparable of a talented head coach twisting in the wind like this. The best parallel is probably what we saw in the NBA between the Chicago Bulls and Tom Thibodeau. There was little doubt that Thibodeau was good at his job and would pick up new work in no time, but the Bulls were fatigued with some of his in-game decisions and strategy (one of myriad complaints was that Thibodeau simply over-played his star players, creating unnecessary fatigue).
The talk around firing Thibodeau lasted for seemingly forever, not dissimilar to what we are seeing with Julien. The Bulls front office had an understandably difficult time reconciling their individual complaints against a head coach whose performance levels seemed high, so they bit their tongue on a decision until they saw an opening. That opening was a second-round series loss against the rival Cleveland Cavaliers.
Maybe Thibodeau simply had to go. But, as I've written here before, firing a head coach isn't a plan. Firing a coach is simply an action – the incremental value is realized when you retain a new coach who more closely aligns with your organizational vision and when that new head coach starts adding more wins to the standings.
Ultimately, that's what I find myself asking about the Bruins and Claude Julien. It is all fine and well that we talk about the team moving on from the veteran coach, but before we get to who is involved in that transition plan we must answer one key question: Is a firing even deserved?
If you were to quickly glance at the standings and read a post-game report or two, you'd think that Boston was underperforming. They are on pace for 91 points, which is dangerously close to the playoff cutline. For a team that's been a perennial playoff representative, this likely isn't good enough (though, a separate and fair question about whether Julien has been armed with the appropriate talent by the front office to succeed should be noted.)
The thing to note about Boston's 91-point pace though is that they don't look like a 91-point pace team. Their underlying numbers certainly suggest they are playing quality hockey – hockey eerily similar to Bruins teams of years past that pushed deep into the postseason.
Let's look at Boston's numbers in the Julien era. Note how their key performance metrics reasonably align with prior periods (data via Corsica):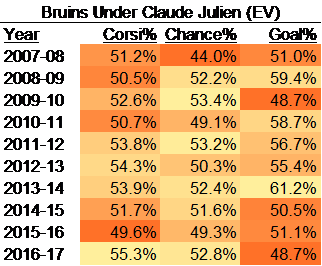 First warning sign: if you looked at just shot differentials or scoring chances, the Bruins look fine. Actually they look better than fine – they look like they are probably at or near the top of the league in two statistics we know drive favorable goal differentials and, thus, wins. But note how their Goal% has really lagged this year.
If I'm in the Bruins front office and I'm truly trying to get a feel for how my coach is influencing my team's performance, I'd be wondering why their territorial dominance at 5-on-5 hasn't translated into wins.
The answer, of course, is that the percentages have abandoned Julien and the Bruins for much of the season. And as we have exhausted to no end in this space, this is the area where teams frequently run into poor decision making.
We know the percentages will ebb and flow over the course of the season, and that's because there is no magical elixir or recipe to sustain such favourable variance. This is especially true on the shooting percentage front, a number we see regress wildly in future periods no matter how many times we look at it.
By the way, here is how the percentages have trended in the Julien era: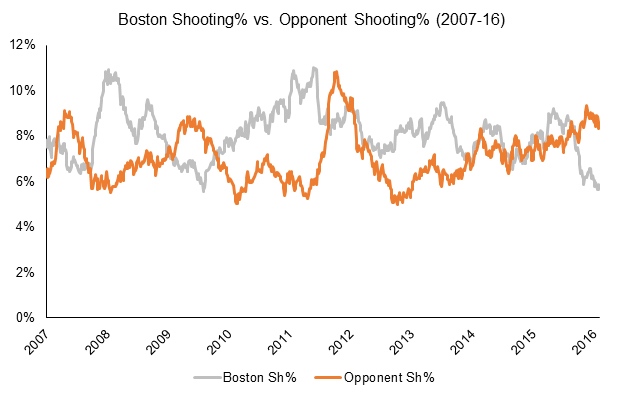 This checks a bunch of other warning sign boxes for me. We have a perfect divergence – a perfect storm of things that are probably out of Julien's control working against him right now. The Bruins goaltending has not been nearly as effective as they had been in years past (an area where they had a true competitive advantage), but the interesting thing is that Tuukka Rask has been fine. It's the 15 games of Anton Khudobin, Zane McIntyre, and Malcolm Subban that have been a nightmare. The trio has seen 27 per cent of available minutes this year, and yet they have conceded nearly 40 per cent of the goals against.
The other side has been just as bad. Did you know Boston's team shooting percentage at 5-on-5 has hit a 10-year low? Through Wednesday, the Bruins were shooting 6.1 per cent at even strength, merely decimal points ahead of Florida for dead last.
What's the answer? Well, if you can find another coach in the league who knows the secret ingredients behind the 'shoot better as a team' recipe, then he's probably the guy you want to replace Julien. In the event you cannot find him and concede that winning on volume is much more important than sustaining highly variable percentages, then you probably already have enough evidence to conclude that the Bruins aren't actually playing mediocre hockey – their high-quality play has been clouded by a brief inability to simply finish plays (or prevent the opposition from finishing plays).
Thus, my read here is pretty simple: If you are the Bruins, you have to let this situation play out through season end. I'm not privy to any of the behind-the-scenes details that may be fanning the flames and pushing leadership towards a potential firing, but on the ice, this Boston team looks fine.
I think that if you give them another 40 games you'll start to see the results more accurately reflect their play.