BU goalie O'Connor to meet with NHL clubs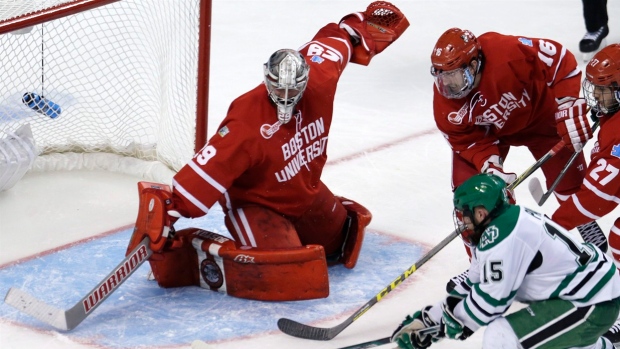 It was a tough way to finish a championship game for Boston College goalie Matt O'Connor, but the netminder's NHL future is still more than promising.
According to TSN Hockey Insider Bob McKenzie, O'Connor has visits scheduled with the Ottawa Senators (Sunday), Edmonton Oilers (Saturday) and Vancouver Canucks (Thursday). Meetings with the Buffalo Sabres and New York Rangers are likely to follow.
O'Connor, along with star forward Jack Eichel, led the Terriers to an appearance in the NCAA championship game. The 23-year-old goalie was victimized though late in the contest against the Providence Friars when he dropped a puck that he had caught and allowed it to roll back into his own net.
The goal tied the game and Providence soon scored the go-ahead goal en route to a 3-2 victory.
O'Connor is eligible for a senior season but as McKenzie wrote recently, this was quite likely his last college season.
"He's as mature a 23-year-old as I've ever seen," Boston University coach David Quinn told McKenzie. "Everything he does is to prepare himself to be (a professional goalie). Everything has a purpose. What he eats. How he trains. He just keeps getting better and better."