Buckle up for a wild run to the playoffs
With only Arizona and Colorado truly out of the postseason race, Travis Yost looks at the remaining strength of schedule for teams trying to decide if they're Cup contenders or trade deadline dealers.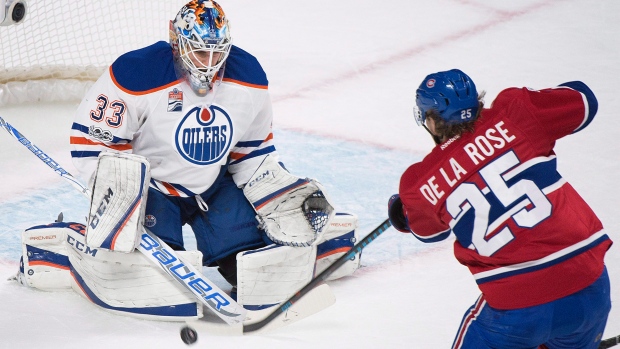 Down the stretch they come.
The Super Bowl acts as an interesting marker for the NHL season. It's the first real reminder that the runway is starting to shorten, with the trade deadline only a few weeks out and most teams with about 30 games remaining in the regular season.
It's around this time we start seeing real decision making from NHL teams, especially those at or around the playoff cutline. Will they go for it, or will they cut bait and move assets for future value?
This year's playoff race figures to be as wild as ever, thanks in large part to the performance divide between the Eastern Conference and Western Conference. Out East, the current pace is right around 94 points. Out West, it's around 86 points.
The variance in playoff thresholds matters little here, though. Though the cut-liners are notably disparate, there are a number of teams within striking distance of the eighth and final playoff spot. Think about it like this: As it stands today, only Arizona and Colorado are truly dead in the playoff race. Twenty-eight other teams are alive as we approach the trade deadline.
One of the things I like to do around this point of the season is eyeball the remaining strength of schedule for teams. Right now, we have a feel for which teams are good and which teams aren't, and we also know what the home/road splits look like over the final stretch of the season. That allows us to accurately forecast which teams are going to be up against it over the next few months, and which teams are sitting relatively pretty.
Below, we have a look at every team's remaining strength of schedule by way of average opponent Corsi% (adjusted for expected home/road performance). You can see that in both conferences there are interesting divides in remaining schedule difficulty.
Here's what the Eastern Conference looks like: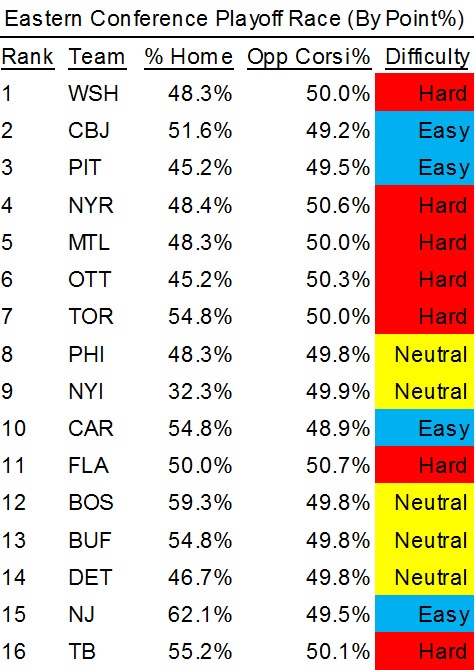 A few thoughts in no particular order: First thing that stands out is the weird position the Islanders are in here. They have a lot of road games remaining, but their average opponent quality isn't that impressive – it's really a mix of average Western Conference teams and some of the lower tier Eastern Conference teams. No doubt they're going to have to really grind away from home, but there's a bit of a saving grace here in that the average team they're playing isn't that impressive.
The Maple Leafs should be classified a 'tweener' between neutral/hard, in my opinion. They have a couple of additional home games in the bank, but they also have a bunch of games remaining against the mighty Metropolitan Division. Something to keep in mind as this playoff race winds down – especially if one of Philadelphia (neutral remaining) or Carolina (easy remaining) guarantee that the Metropolitan gets five playoff representatives.
Lastly, the Panthers have not only the toughest schedule in the East remaining, but the toughest across the entire NHL. It's a good thing they have Jonathan Huberdeau and Aleksander Barkov back from injury, because they'll need them.
Let's go out West: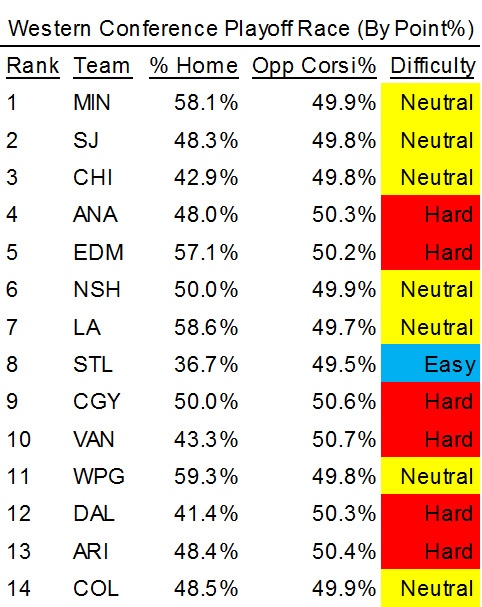 Vancouver and Anaheim really stand out with difficult schedules here. Both will have above average opponent quality and play more games on the road than at home, which usually is a recipe for struggles.
St. Louis has an interesting run going forward here, and it'll be fascinating to see how they handle it in light of their coaching change, the news of Robby Fabbri's season-ending injury and Kevin Shattenkirk's impending free agency. They have a ton of road games remaining but also will play tremendously weak competition – second only to the likes of Carolina in the East. If they can offset their home/road imbalance and remain in the playoff picture, there's a good chance of them banking some additional points.
Lastly, I'm not sure there's much of a pitch to be made for Dallas here. Their up-and-down season is going to get a little bit tougher in March and April, and like St. Louis, they have a home/road imbalance they have to work out. Considering how far behind they are in the race, you wonder if the Stars could be one of those surprise trade deadline sellers, joining the likes of possibly Vancouver (mentioned above) and certainly Arizona/Colorado.
As someone who enjoys crazy playoff races, I hope teams like the Canucks and Stars can hang around for just a bit longer. But as someone who also likes a flurry of activity at the trade deadline, I wouldn't be opposed to see a couple of new sellers emerge.
Based on the annual TSN Trade Deadline television ratings, I'm guessing most of you wouldn't either.