Burke: Glad Bennett is in Calgary, not Toronto amid tough start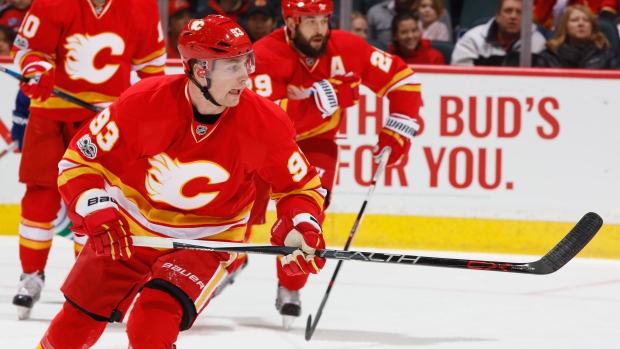 Calgary Flames president of hockey operations Brian Burke said Monday he's glad struggling forward Sam Bennett is playing in Calgary and not facing the media scrutiny of Toronto.
Bennett picked up his first point of the season on Thursday and now owns just one assist through 16 games. The 21-year-old has been moved from centre to left wing as Flames head coach Glen Gulutzan looks to spark him toward his 18-goal form from 2015-16.
Burke said Monday the team still has full faith in Bennett to turn things around, but is glad the 2014 fourth- overall pick isn't dealing with the media circus Burke dealt with while general manager of the Toronto Maple Leafs.
"If he were in Toronto, they would have traded him 70 times, shot him six times, condemned his parents four times," Burke said facetiously on TSN 1050's Landsberg in the Morning. "Sam has had a tough start. We really think the world of this young man and he's going to be fine.
"But yeah, it's a better market. If he was going through that here he'd be getting crucified."
Bennett signed a two-year, $3.9 million contract as a restricted free agent this off-season. He scored 13 goals and 26 points in 81 games last season, down from 36 points in his first full NHL season.
As a whole, Burke said he believes the Toronto media has a different attitude towards their team than the media in other cities.
"The problem [in Toronto] is there's a 100 people in the dressing room after practice and when the team loses, 80 of them are picking up the biggest rock they can find. That's the problem here. There's actually a significant chunk of the media that want you to fail. We don't have that in Calgary. We don't have that in Edmonton. It's a different vibe, it's a different tone."
Burke served as president and general manager of the Maple Leafs from 2008-2013. He joined the Flames as president of hockey operations in September of 2013, nine months after he was fired by the Leafs.