Burke shuts down Hamilton rumours, blames 'army of leakers'
Calgary Flames president of hockey operations Brian Burke did his best to put Dougie Hamilton trade rumours to bed on Wednesday, saying those speculating on a trade have "no god-damned idea what they're talking about."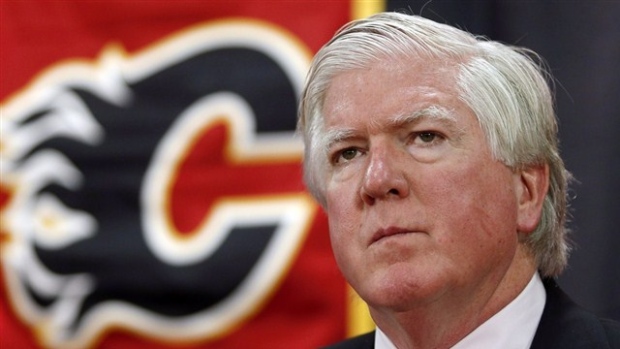 Calgary Flames president of hockey operations Brian Burke did his best to put Dougie Hamilton trade rumours to bed on Wednesday, stating those speculating on a trade have "no goddamned idea what they're talking about."
Hamilton has been discussed as a potential trade target since the season began, with his name most recently being linked to the Toronto Maple Leafs.
Burke blamed one unnamed general manager for starting the rumours, which have included the names of Leafs players William Nylander and James van Riemsdyk, and reiterated that Hamilton is not on the trade block while speaking to TSN Radio 1050 Toronto Wednesday.
"It's very frustrating when you have to deal with leaks," Burke told Leafs Lunch. "And as soon as one of the teams that are in the mix in the leaks is the Toronto Maple Leafs…now it's an army of leakers, an army of people who have no goddamned idea what they're talking about, who will happily go on and say 'The Toronto Maple Leafs are doing this and they're in on that.'"
Burke said the team did receive one call with an offer for Hamilton, but the Flames rejected the offer.
"This is one where we think we can trace the leak," Burke continued. "We got a call – our GM Brad Treliving got a call from a team who shall remain nameless, at least for now. If this goes on much further I'm probably not going to remain nameless – and said 'Would you move Dougie Hamilton?', and Tre said no.
"We expended a tremendous amount of assets to get this player. We're really happy with him, he's a quality guy. He's 6-foot-5, he weighs 237 pounds, he's a right shot, skates like a deer – he's a good hockey player. Yeah, let's move him! Let's get rid of him! It's not hard to get guys like that.
"We told this team – and by the way the offer they made was insulting – we told them no we're not moving him and next time you have an idea that stupid, just save the quarter – don't go to the payphone. That team started telling teams 'Yeah, we made an offer on Hamilton.' Now it's a rumour, it's got legs. Someone's like 'Wow, they must be moving him.'"
The Flames acquired Hamilton, a restricted free agent at the time, from the Boston Bruins in June of 2015, for a first-round draft pick and two second-round picks. He was signed to a six-year, $34.5 million deal four days later.
In 25 games with the Flames this season, Hamilton has scored two goals and added 10 assists.