Redblacks top Stamps in OT for Grey Cup
Presented by:

Henry Burris's 18-yard strike to Ernest Jackson in overtime earned the Ottawa Redblacks a 39-33 Grey Cup win over the Calgary Stampeders on Sunday night.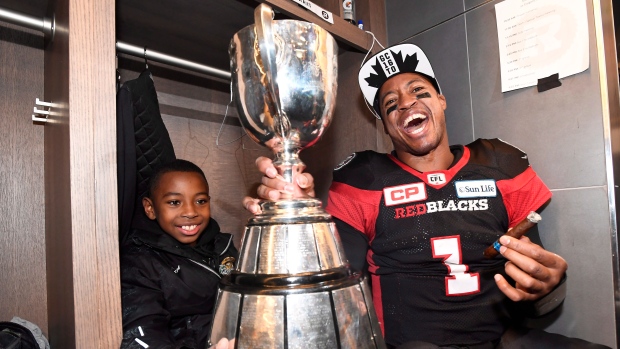 TORONTO — Henry Burris called the Ottawa Redblacks' thrilling victory over the heavily favoured Calgary Stampeders the most memorable of his three Grey Cup titles.
What he won't call it is an upset.
Burris threw three touchdown passes Sunday — including an 18-yard strike to Ernest Jackson in overtime — and ran in for two more to help engineer Ottawa's stunning 39-33 win in the 104th Grey Cup final. But the 41-year-old, who earned MVP honours after completing 35-of-46 passes for 461 yards, said the result shouldn't be considered a surprise.
"No because we gave Calgary a tie in Ottawa (26-26 on July 8)," Burris said following the game holding his wife, Nicole, tight. "Calgary beat us in Calgary (48-23 on Sept. 17) but we had a great opportunity to beat them because they were up by eight points in the fourth quarter.
"We became better, we became a much more potent offence, an offence that was capable of staying on the field and putting up a lot of points. Thirty points is always that magic number and if we could get past that threshold it would give us a better chance to be successful. Here we are, Grey Cup champions scoring 39."
Ottawa head coach Rick Campbell agreed.
"We knew we were fully capable of winning this game," he said. "This is not a miracle or something crazy.
"We're a pretty good football team when we play well so good on our guys. We got it done."
Burris found Jackson — who bobbled the pass — on the first overtime possession but couldn't couldn't hit a wide-open Khalil Paden for the two-point convert. Calgary went three-and-out on its possession, Bo Levi Mitchell's third-down pass going off Bakari Grant's hands, to earn the Redblacks a Grey Cup title in just their third year of existence but give the city of Ottawa its first since the Rough Riders won in 1976.
"I definitely made it more difficult than I needed it to be," Jackson said of his game-winning catch. "It was just me getting excited because I saw it was wide open for the end zone if I caught the ball but I focused on it and finished, that's all that matters.
"It's wonderful just to bring it to the fans and the city. I know they wanted this for us and I can't wait to bring it back home for them."
It was a thrilling end for the capacity BMO Field gathering of 33,421, which witnessed just the third Grey Cup game to go to overtime and the first since Edmonton beat Montreal 38-35 at B.C. Place Stadium in '05. Rene Paredes' 10-yard field goal with nine seconds remaining forced the extra session as Calgary impressively rallied from a 27-7 third-quarter deficit.
Burris provided plenty of pre-game drama, leaving the field during warmups with a knee injury. Burris wasn't with the Redblacks when they took to the field but rejoined his teammates after undergoing treatment that reportedly included having the joint frozen.
He capped an impressive 65-yard, 10-play drive opening with a one-yard TD run at 6:46 to open the scoring.
"I was jogging back to the huddle and all of a sudden I felt a grind and pop in my knee," Burris said. "It freaked me out because I was scared, I had a face of panic because I didn't know what was going to happen.
"I'm thankful I have angels looking over me and watching over us. Man, they put their blessing together and shone on us right here."
Added Campbell: "I'm not surprised at all because I know Henry well. He said if he was good to go he'd let me know and obviously he was."
Calgary effectively countered with a four-play, 79-yard march Mitchell capped with a seven-yard TD strike to Jerome Messam at 9:14. After Ray Early's 37-yard field goal put Ottawa ahead 10-7 at 13:03, the Stampeders lost leading receiver Marquay McDaniel to a shoulder injury late in the quarter.
"Don't go there, the guy was 100 per cent healthy and played a great game," Stampeders rookie head coach Dave Dickenson said of Burris. "I'm not sure what the hell happened, but he played one of his best games, and you know what, he was focused."
Ottawa was a staggering underdog after finishing atop the East Division with an 8-9-1 mark, the first team in CFL history take first in a conference with a sub-.500 record. Calgary was a league-best 15-2-1 and was coming off a 42-15 West Division final win over B.C.
And on Thursday, five Stampeders were honoured at the CFL awards banquet, including Mitchell, who received the league's outstanding player honour ahead of Jackson. Calgary was looking to finish its banner season with a championship and gain consideration as the best team in league history to win a Grey Cup.
Calgary was also playing for Mylan Hicks, a practice-roster player who was shot to death in September. His mother, Renee Hill, attended the game wearing her son's No. 31 jersey and huddled with the defensive backs prior to the contest.
But Burris, last year's outstanding player, stole the show by outperforming Mitchell, who finished 28-of-41 passing for 391 yards and two TDs, but also had three interceptions after throwing just eight all season. Burris and Mitchell combined for 852 passing yards, a Grey Cup record.
"If you don't turn it over, you're tight on penalties and you score over 30 you should win," said Dickenson. "Having three picks we put our defence in a tough spot.
"I know it hurts . . . but still consider this a major successful season. I want our guys to get over it and basically still have some pride in what they accomplished."
Sunday's game could be the last of Burris's illustrious 17-year CFL career. The married father of two boys aged 10 and seven will take the off-season to ponder his future after leading Ottawa to back-to-back Grey Cup appearances.
"We'll see, we'll see," he said. "Right now it's all about the team, it's all about our city, it's all about the family.
"We'll look at all that down the road. Very few times in life . . . do you have a chance to come back and get that moment back again. We fought our butts off to get back here and I told the guys this week we're going to make the sure bottom line is changed this time."
Brad Sinopoli, the game's top Canadian, and Patrick Lavoie had Ottawa's other touchdowns. Early added three converts and two field goals.
DaVaris Daniels, Lemar Durant and Andrew Buckely scored Calgary's touchdowns. Paredes booted a convert and two field goals.