By the Numbers: Dissecting Game 7 in the NHL playoffs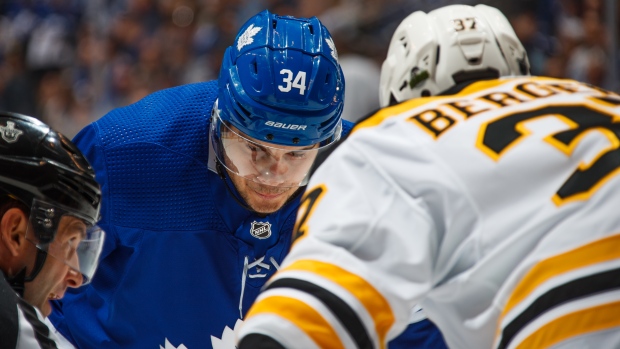 As the Toronto Maple Leafs and Boston Bruins get set to meet in the only first-round Game 7 of the 2018 Stanley Cup playoffs, TSN.ca looks at Game 7 lore and the history it holds for both teams.
In a series that looked unlikely to go the distance after the Bruins took a 3-1 series lead following their Game 4 win in Toronto, it now appears as if these two teams were destined to meet once again in a one game winner-take-all showdown for the right to move on to the next round.
Everyone knows what happened the last time the Leafs and Bruins met in a Game 7, but what about before that fateful night on May 13, 2013?
The Bruins have been involved in 25 Game 7s throughout their history, dating back to their very first one in 1939, a 2-1 triple overtime victory over the New York Rangers in the semifinals.
Boston has an overall record of 13-12 and their last Game 7 was a 3-1 loss at the hands of another rival, the Montreal Canadiens, in the Eastern Conference second-round series in 2014. The Bruins also won their most recent Stanley Cup in a Game 7 (4-0) against the Vancouver Canucks in 2011.
As for the Maple Leafs, they've had their fair share of seventh-game frenzies as well. Toronto is 12-10 in the seventh game of a series, with their last showdown, of course, coming against the Bruins in 2013. Prior to that, the Leafs played in a Game 7 in 2004 when they beat the Ottawa Senators 4-1. As most Leaf fans will recall, it was the last time they faced goaltender Patrick Lalime in the playoffs and it was also the last time Toronto won a playoff series.
Bruins defenceman Zdeno Chara and top-line centre Patrice Bergeron have the most Game 7 experience among the bunch and will try to use that to their advantage in Wednesday night's big game. Chara will be playing in his 12th Game 7 – the most among active players – behind the likes of Patrick Roy and Scott Stevens, the NHL's all-time leaders with 13 apiece. Bergeron has made nine Game 7 appearances, which puts him tied for third on the active players list.
Overall, it's not even close when it comes to experience in these crucial games. Boston has 58 man-games of Game 7 experience compared to Toronto's 23. Most of that experience comes from veterans Patrick Marleau, Dominic Moore and Tomas Plekanec. The Leafs will have to lean heavily on their experience if they want to exorcise their Game 7 demons.
Each potential starting goaltender, however, hasn't had much luck in Game 7. Tuukka Rask holds a 1-2 record in Game 7s with a 3.63 goals-against average and .849 save percentage. His counterpart Frederik Andersen hasn't fared any better with a 0-2 record and a 3.65 GAA and .848 SV%.
As for the head coaches, Mike Babcock has the bulk of experience when it's crunch time. Babcock is 3-5 since he landed his first NHL head coaching gig in Anaheim with the Ducks in 2002-03. Even though "Babs" has a Stanley Cup (2008) to his name, he's had two of the most heartbreaking Game 7s of the bunch. The first was in his first season in Anaheim where his team made it all the way to the 2003 Stanley Cup final, only to lose to the New Jersey Devils 3-0 in Game 7. Then he lost again in Game 7 of the Cup final, this time to Sidney Crosby and the Pittsburgh Penguins against his Detroit Red Wings in 2009. Since then, Babcock has lost two of his last three Game 7s, the most recent defeat coming against the Tampa Bay Lightning in 2015.
Bruins coach Bruce Cassidy, however, is coming in cold as this is his first taste of sudden death in the NHL playoffs.
Of all the stats comparing the Leafs and Bruins, the most important one, however, is quite simply the overall history of Game 7. The team that has scored first in a Game 7 is 126-43, an astounding .746 winning percentage all-time in Game 7s in the Stanley Cup playoffs.
As for the home team, luck is usually on their side. The home side owns a 99-70 record (.586).
Overtime was on tap the last time these two teams met in a Game 7. And for all the nail-biters out there wondering if it will happen again, 41 of the Game 7s have required overtime (a 24.3 per cent chance). Home teams have won 21 Game 7s in overtime and away teams have won 20, so it's a toss-up once a Game 7 heads to the extra frame.
The Tampa Bay Lightning, among others, will be paying close attention to the numbers on Wednesday night.