By the Numbers: Fleury in the Finals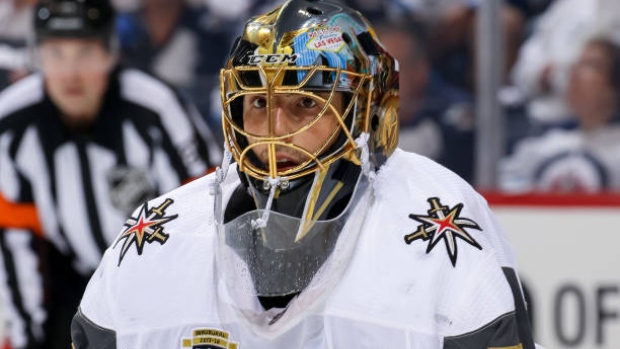 Vegas Golden Knights goaltender Marc-Andre Fleury has been one of the main reasons the expansion team has made it all the way to the Stanley Cup Final in their inaugural season.
With the veteran netminder between the pipes, the Golden Knights have been able to find someone to rally behind.
But it's been a different story against the Washington Capitals. Fleury has struggled in the first four games of the big dance and hasn't been able to find his footing as the Caps are just one win away from capturing their first Cup.
TSN.ca looks at the numbers behind Fleury's recent struggles.
Vegas has used a balance of timely scoring and outstanding goaltending to become the Western Conference's representative in the Final.
In the first three series of the playoffs, the Golden Knights only lost a combined three games.
Fleury was outstanding to start the playoffs against the Los Angeles Kings. In the four games he played against L.A., Fleury went 4-0 with a 0.65 goals-against average and .977 save percentage. On top of that he notched two shutouts. Not too shabby against a team that has won two Cups since 2012.
From there the Golden Knights took on another California team in the San Jose Sharks. Though a tougher series, the result was the same and Fleury was just as incredible.
In the six-game series the netminder posted a 2.14 GAA and .935 save percentage with another two shutouts.
Then the Winnipeg Jets couldn't buy a goal against the 33-year-old for most of the Western Conference Final. Winnipeg managed to win the first game 4-2, but Fleury found his footing and the Golden Knights won four straight to take the series in five.
Fleury was outstanding, posting a 2.02 GAA and .938 save percentage, slightly better numbers than his numbers against the Sharks.
But you have to win 16 games if you want your team to hoist the Cup, and Fleury has gone cold in the Final series.
On Monday night in Game 4, Fleury allowed four goals on 14 shots as the game become out of reach for Vegas early on.
The Golden Knights couldn't buy a goal as many early chances either hit the posts or were miraculously saved by Caps goalie Braden Holtby. At the other end of the ice, the same luck wasn't happening for Fleury and the only saving grace for him was that he wasn't pulled.
After looking superhuman for most of the playoffs, Fleury has a 4.09 GAA and .845 save percentage in the four games against the Capitals. If the Golden Knights have any chance of clawing their way back into the series they'll need Fleury to find his form again.