By the Numbers: Looking ahead to the second round of the playoffs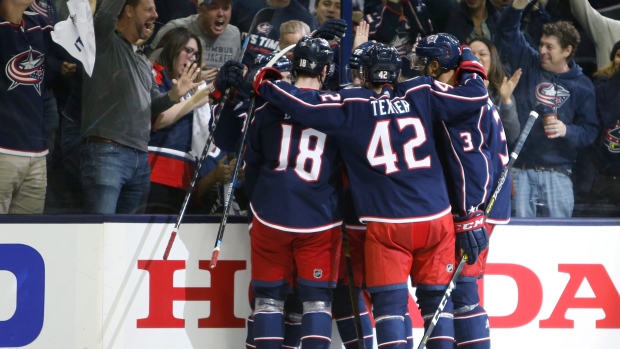 The first round of the Stanley Cup playoffs was rife with upsets, as it marked the first time in NHL history that the Eastern and Western Conference champions were eliminated in Round 1.
So, what awaits fans in the second round?
In Round 1, there were four wild card upsets with the Dallas Stars knocking out the Nashville Predators, the Carolina Hurricanes defeating the defending Stanley Cup-champion Washington Capitals, the Columbus Blue Jackets upsetting the Presidents' Trophy-winning Tampa Bay Lightning and the Colorado Avalanche beating out the Western Conference-leading Calgary Flames.
The second round features two matchups where both teams in the East have never met before in the playoffs. The Blue Jackets will play past the opening round for the first time in their history against the Boston Bruins. This is the second consecutive year the Bruins will play in Round 2.
The other Eastern Conference matchup has the Hurricanes and the New York Islanders, who have also never met in the postseason. The Hurricanes last made the playoffs in 2009, when they went to the Eastern Conference final before bowing out to the Pittsburgh Penguins. Prior to sweeping the Penguins this season, the Islanders had just one playoff series win since 1994, which came in 2016 against the Florida Panthers.
In the Western Conference, the Stars and St. Louis Blues meet for the second time in four seasons. The Blues won in seven games in 2016, coincidentally the last time the Stars made the playoffs. The Blues made a second round appearance in 2017, bowing in six games to the Predators.
The Avalanche and San Jose Sharks met back in 2010, a series San Jose took in six. This is the fourth-straight year the Sharks have made the playoffs and defeating the Flames this season was the first series win for Colorado since 2008.
Of the remaining eight teams, the Bruins are the most recent Stanley Cup champion, with their win coming in 2011. Three other teams among the remaining eight have never won the Stanley Cup in their history (Blues, Sharks and Blue Jackets).
Only two players from the Top 16 in NHL regular-season scoring remain active in Boston's Brad Marchand (100 points) and Colorado's Nathan MacKinnon (99 points).
In terms of points percentage, the Lightning, Hurricanes, Bruins, Blues, Flames and Islanders were the hottest teams in the NHL from Dec. 31 until the end of the regular season.
The three Canadian teams that made the playoffs - the Flames, Toronto Maple Leafs and Winnipeg Jets - were all eliminated in Round 1.