By The Numbers: McDavid and Crosby set for another offensive clash
A pair of the NHL's best get set to square off as Connor McDavid and the Edmonton Oilers visit Sidney Crosby and the Pittsburgh Penguins.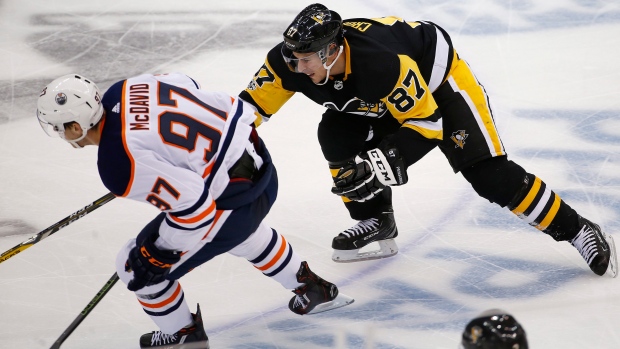 The latest installment of Sidney Crosby vs. Connor McDavid could be another offensive affair.
In their lone previous meeting this season, Crosby scored twice including the dramatic overtime winner in a 6-5 Pittsburgh victory over the Edmonton Oilers. McDavid had a goal and an assist in the loss.
With elite offensive players in Crosby and McDavid, plus a pair of teams who rank in the bottom half of goals against per game, the combined 11 goals scored between the two teams isn't surprising.
Average goals per game in NHL (mininum 800 games) per Hockey Reference
Heading into tonight's contest, Edmonton has allowed 3.35 goals per game (fifth in the NHL) while Pittsburgh has allowed 3.05 goals per game (T-13th).
Both players have been benefactors of increased scoring across the league. McDavid currently sits third in points with 31 goals and 50 assists in 54 games this season. Averaging 1.5 points per game, McDavid should eclipse the career-highs in goals (41) and points (108) he recorded in 2017-18.
He is also riding a seven-game point streak (two goals, nine assists) heading into Wednesday's game.
Crosby has 24 goals and 41 assists in 53 games. Despite sitting 16th in the NHL scoring race, Crosby is projected to record 97 points with a 1.23 points per game average. That would give him his highest total since 2013-14, when he amassed 104 points in 80 games.
Crosby is coming off a goal and two assists in a 4-1 victory over the Philadelphia Flyers on Monday.
"Sid thinks at a level, when other teams have the puck, that is above anybody in the league," Oilers head coach Ken Hitchcock said of Crosby to reporters at Wednesday's morning skate. "All you have to do is look at the first three scoring plays and chances in the game, He created those scoring chances three different ways. His anticipation is so high, he knows where (the puck) is going ahead of time.
"Connor has that in him too. Like, Connor sniffs out danger offensively. Sid thinks it defensively too. He's got both going. That's what Connor is going to get to."
Although McDavid has risen to the occasion with his personal performance, Crosby and the Penguins have come out on top in team results.

Head-to-Head: Crosby vs McDavid
| Stat | Crosby | McDavid |
| --- | --- | --- |
| Record | 5-0-0 | 0-2-3 |
| Goals | 2 | 3 |
| Assists | 1 | 6 |
| Game-Winning Goals | 1 | 0 |
| Shots | 19 | 18 |
McDavid has nine points in five games against the Penguins, yet he has never defeated the team.
Mikko Koskinen is expected to start in goal and will meet Crosby for the first time. Murray has been goal for Pittsburgh in all but one of the five Crosby/McDavid matchups.
Pittsburgh will be without Evgeni Malkin, who serves a one-game suspension for his high stick on Philadelphia Flyers forward Michael Raffl on Monday.
Another fresh face to the McDavid/Crosby matchup is Hitchcock. The veteran coach joined the team on Nov. 20, nearly a month after Oilers and Penguins squared off (Oct. 23).