By The Numbers: Offence Powering Flames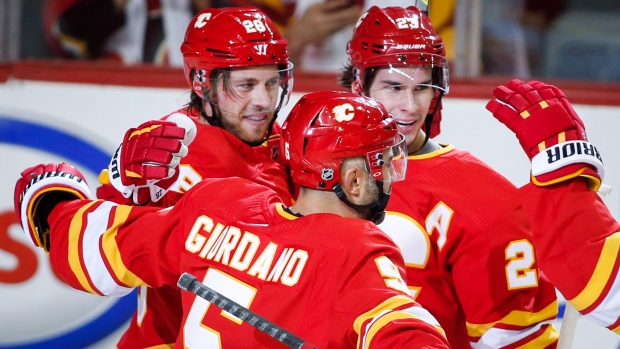 The Pacific Division-leading Calgary Flames are off to a strong start this season, led by an offence that is making waves around the National Hockey League.
The Flames are the only team in the NHL to have four players at or above the 30-point mark. Johnny Gaudreau leads the way with 35 points (12 goals, 23 assists), Sean Monahan has 33 (17 goals, 16 assists), Matthew Tkachuk is third with 32 points (13, 19 points) and Elias Lindholm has 30 (13 goals, 17 assists).
The Flames have also managed to score five or more goals in a period four times this season. The other 30 teams have combined to achieve that three times.
FIVE GOAL PERIODS THIS SEASON
| TEAM | PERIOD | VS. | DATE |
| --- | --- | --- | --- |
| CGY | 2nd | CLS | Dec. 4 |
| CGY | 1st | WPG | Nov. 21 |
| CGY | 1st | VGS | Nov. 19 |
| FLA | 2nd | OTT | Nov. 11 |
| VAN | 2nd | BOS | Nov. 18 |
| CGY | 3rd | COL | Nov. 1 |
| PHI | 2nd | FLA | Oct. 16 |
"I think we have a lot of depth up front for sure, but the other thing is that when we get momentum, we've been able to make it count in a number of games," team captain Mark Giordano said.
"The big thing with a few of those ones for me that stick out is that we've been down by three (goals) a couple times and we've been able to come back and win those games. We know we can score. We also want to be known as a good defensive team, so we've got to get back to keeping our goals against down these next few."
The Flames are one of five teams with at least 100 goals for this season, joining Tampa Bay, Toronto, Colorado and Ottawa. This (28 games played) is the fastest the Flames have gotten to the century mark in 25 years.
"I think we are starting to learn how to win. That's a process, and I think this year when you get one you're looking to bury the team and I think that is how you're going to win games, said Monahan. There are so many skilled teams with good power plays that come back and bite you."
Tkachuk also believes the team's scoring prowess comes from staying on the attack.
"There are guys here who love scoring goals but I think it's about momentum and riding that momentum wave as long as possible and ultimately trying to stay on the offence as long as possible," he said.