Bylsma helps Sabres take a big step forward
Thanks in part to head coach Dan Bylsma, the Buffalo Sabres have made quite a turnaround this season, Travis Yost writes.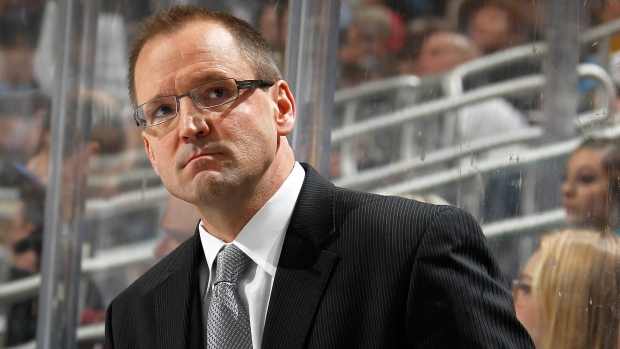 A few months ago, I wrote a piece looking at the biggest single-year improvements at the team level in the last decade.
It was hard not to notice that at least five teams who saw rapid improvement year-over-year had also experienced turnover in the coaching ranks. The list was headlined by the 2009 Arizona Coyotes, who improved their even-strength possession numbers by 6.5 per cent – the highest number we have on record. That was the team that transitioned from the infamous Wayne Gretzky era to current head coach Dave Tippett.
The idea of that exercise was to establish a high-water mark for the purposes of measuring the Toronto Maple Leafs in 2015-16. Here was a team ripe for potential improvement, if only because (a) there were significant signs that former coaching staffs were huge drags on performance; and (b) Mike Babcock's arguably the best coach in the league. If anyone could top that old Coyotes club, it'd surely be Toronto.
I might have been looking at the wrong team.
Through 17 games, the Buffalo Sabres have quietly been playing at a point-per-game pace. That early performance is impressive. This is a team that actively tried to tank last year by stripping out useful part after useful part to guarantee the right to select one of Connor McDavid and Jack Eichel in the draft lottery. They also, interestingly enough, retained a struggling Ted Nolan through the duration of the season, firing him after locking up first place in a frantic race to the bottom.
Since then, there's been a lot of talk about how new general manager Tim Murray's accelerated the rebuild process. Guys like Eichel and Ryan O'Reilly instantly improved the team, but recognize that this organization was already shifting to buyer mode well before the off-season. Look no further than the acquisition of a very talented (and at the time, very injured!) Evander Kane last March – a savvy buy that allowed them to furnish team depth without sacrificing any chance at finishing dead last in the standings.
Those moves rightly earned a lot of attention. Less so did the overhaul of the coaching staff, a move that ended with the placement of Dan Bylsma behind the Sabres bench.
Bylsma's been a highly successful coach at the NHL level for years. We are talking about a coach who has picked up points in a whopping 66 per cent of games in his career – a number that trumps the likes of Bruce Boudreau, Todd McLellan, Mike Babcock, Joel Quenneville, and Claude Julien, who are all highly successful comparables.
Bylsma can't employ his strategy without talent, but it has been interesting to watch the new look Sabres develop under his watch. The biggest change has been the team's defensive approach in the neutral zone. Forwards are more aggressive in their attacking of advancing puck carriers, harassing them into tough areas of the ice where they are forced to either dump the puck in, or risk turning the puck over entirely.
Defencemen also play a big role here. Under Nolan, Buffalo's pairings – either by design or by accident – played passively against opposing puck carriers, opting to trade protection of the 'home plate' area around the net for free entry into their defensive zone. Bylsma's pairings do the opposite. They attack puck carriers at each level – a more aggressive approach that's certainly high-risk, but also high-reward.
We know that Bylsma's team is more successful in the standings, and we know that Bylsma's team has a bit more talent to offer. We think that Bylsma's system lends itself to a more competent brand of 5-on-5 hockey. But, has this team legitimately improved?
Since we already have the Corsi% data, we can compare this Buffalo team's single-year improvement to other teams over the years. How big of a step has Buffalo taken?
So, yes, part of this is driven by the fact that the 2014-15 Buffalo Sabres were the worst Corsi% team on record (36.2 per cent). But, the turnaround for this team (approaching 49 per cent on the year) is still ridiculous. It's impossible to believe the introduction of a handful of new players to the roster is unilaterally driving a possession jump like we have never seen before. Under Nolan, this team was just absorbing punch after punch and trying to survive for 60 minutes. Under Bylsma, they are trading blows.
Here's where I think the Bylsma effect is even more pronounced. If I told you that the Sabres were second-best in the league by scoring chance differential, would you believe me? Probably not. But it's true!
They are keeping ridiculous company here, surrounded by a bunch of teams who have legitimate Stanley Cup aspirations. You don't need a deep understanding of hockey stats to know that being about +4 in scoring chances every single game is a very good sign, and that's pretty much what the Sabres are pulling with 20 per cent of the season already in the books.
So, you might be prepared to ask me now if I think the Sabres, by combination of their vast improvement and playing in a pretty weak division, are primed for a playoff run this season. I'm not quite ready to make that jump, but I am considering it.
The main thing that seems to be holding this team back right now are those tricky bounces – the team is shooting just above 5 per cent at 5-on-5, and the goaltending (without Robin Lehner) has been just as shaky. Normally, betting on PDO to regress to league averages is the right call, and while I do think Buffalo's primed for better shooting luck in the coming months, it's hard to ignore that this team has a couple of years of struggles in the shooting percentage department. They don't strike me as a 5.4 per cent shooting team (no one does), but do they have the individual shooting talent to shoot at the league averages (7.7 per cent)? It's a legitimate question, one that might decide their fate as a playoff team in 2015-2016.
The Takeaway
Regardless of what happens with Bylsma's club this season, it's impossible not to be impressed with the steps this team has taken. Their evolution from frustratingly (and purposely) incompetent to structured and competitive in such short time is unlike anything we have really seen before. In a weak division, they could hang around for a lot longer than anyone expected.