C'Mon Ref: Prout deserves suspension for stick attack
In Wednesday's edition of C'Mon Ref, TSN Hockey analyst and former NHL official Kerry Fraser looks at a cross-checking incident between Dalton Prout of the Blue Jackets and Sergei Plotnikov of the Penguins.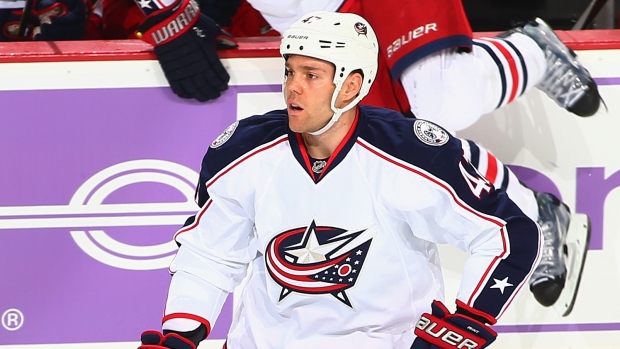 Got a question on rule clarification, comments on rule enforcements or some memorable NHL stories? Kerry answers your emails at cmonref@tsn.ca.
To C'mon Ref received via Twitter:
What are your thoughts on Dalton Prout's multiple cross-checks to Sergei Plotnikov in Pittsburgh's 5-2 win over Columbus on Monday night? It was called a double-minor with 58 seconds left in the game.
Bryan
@brmathews
Cross-checking or attempted murder?
Hockey Tweets
@HKY_Tweets
Bryan and @HKY_Tweets:
If the stick attack by Dalton Prout on Sergei Plotnikov from Monday night's 5-2 Penguins win over the Columbus Blue Jackets was shown on the 6 p.m. news, I suspect the anchor might offer a warning about the violent images about to be shown before the footage rolled in!
Cross-checking is the action of using the shaft of the stick between the two hands to forcefully check an opponent (Rule 59). A major and automatic game misconduct, at the discretion of the referee based on the severity of the contact, shall be imposed. A match penalty, at the discretion of the referee, may be assessed, if in his judgment, the player attempted to deliberately injure his opponent by cross-checking.
Prout was understandably upset about receiving unnecessary body contact to his back from Plotnikov as the Blue Jackets' defenceman chased a dump-in at the end wall. With the score 5-2 and a minute or so remaining in the game, Prout checked over his shoulder and braced for contact from Plotnikov. The puck had not yet rolled around the end wall, and the contact delivered by Plotnikov could very well be regarded as an interference infraction or even a boarding minor to the Blue Jackets player. (Plotnikov was not penalized on the play.)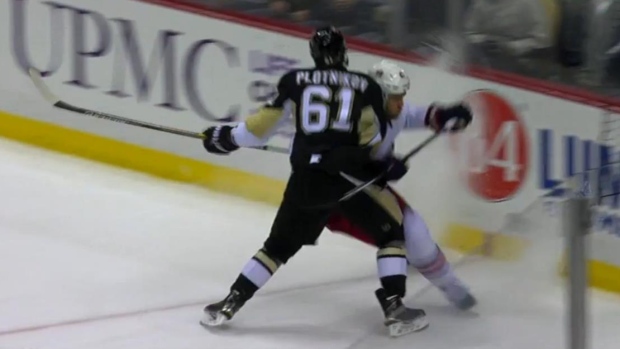 What followed is nothing short of a match penalty that should have been assessed to Prout by the referee for a deliberate attempt to injure Plotnikov. After being checked, Prout immediately turned and responded with four cross-check blows to the neck, shoulder and head area of his opponent. Three of the four, based on the severity and location of delivery, were excessive and can only be described as violent in nature.
As Plotnikov bent over to locate the puck that was now between his skates, Prout delivered the first forceful cross-check to his opponent's neck. The second blow was equally as hard to the same location. Prout drew his stick back toward his body and then fully extended with each successive cross-check, taking this well beyond the double-minor infraction that was assessed by referee Dave Jackson.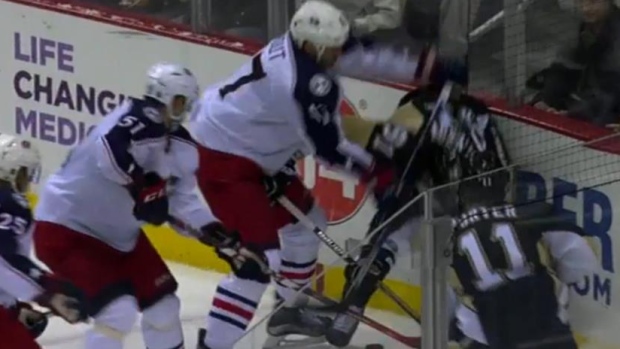 The fourth cross-check was to the face of Plotnikov is shown below.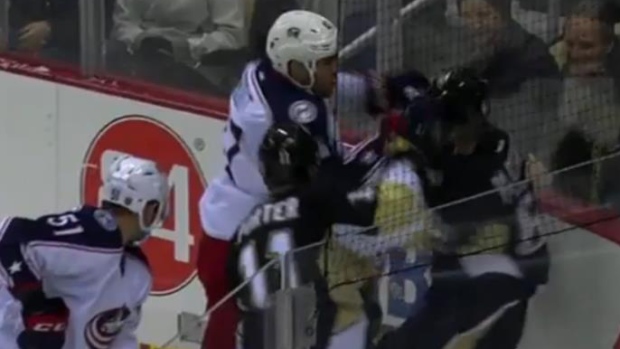 It is troubling to me that any referee would determine an attack with a stick of this magnitude to be a minor infraction. Far too many times we have seen minor penalties assessed (or no penalty at all) only to have a player subsequently and appropriately suspended for a dangerous act. Referees must differentiate between minor infractions and in this case a deliberate attempt to injure an opponent with multiple blows. If the refs have become desensitized to major infractions, or don't recognize the different levels of an infraction, they must be shown. There needs to be better accountability from the top.
Brandon Dubinsky surely deserved, at the very least, the one game suspension he received for his dangerous and senseless cross-check to the neck of Sidney Crosby. I would suggest that Prout's multi-scaled attack, delivered to the neck and head area with equal or more force, is worthy of a more meaningful suspension.
This is just plain wrong all the way around!