Can Lightning exploit Kronwall's absence?
It's not an easy task to replace a defenceman who averaged almost 24 minutes a night over the season, but Travis Yost says that's the challenge for the Detroit Red Wings heading into a game seven matchup against the Tampa Bay Lightning.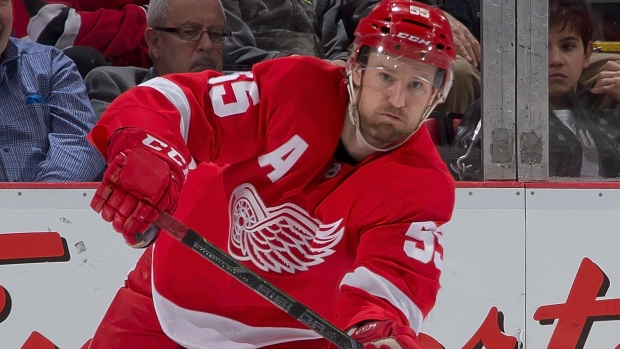 On Tuesday afternoon, the National Hockey League decided to suspend Detroit defenseman Niklas Kronwall one game for an illegal check to the head on Tampa Bay forward Nikita Kucherov.
The decision expects to be impactful. As one might expect, it's simply not an easy task to replace a defenceman who averaged almost 24 minutes a night over the season. For the most part this year, Kronwall – and common partner Jonathan Ericsson – have logged the tougher minutes for Mike Babcock's team, and his absence means that each blueliner at Detroit's disposal will have to be shuffled up in preparation for a decisive game seven.
What I think will be most curious is to see if Kronwall's absence has an effect on the way Jon Cooper line-matches against the Red Wings with last change. Cooper and Babcock have been in a bit of a chess match on this front through the first six games of the series. Cooper, for example, has tried to get the Steven Stamkos line out against Detroit's second and third pairings (DeKeyser/Quincey; Zidlicky/Smith). When Babcock has had last change, he's given the Kronwall pairing the Steven Stamkos assignment, preparing some of the easier assignments for his second and third-pairings.
We can see this in the head-to-head data from the first six games. Compare Niklas Kronwall's home/road deployment by common defensemen and common forwards, and note the differences. First, the defencemen: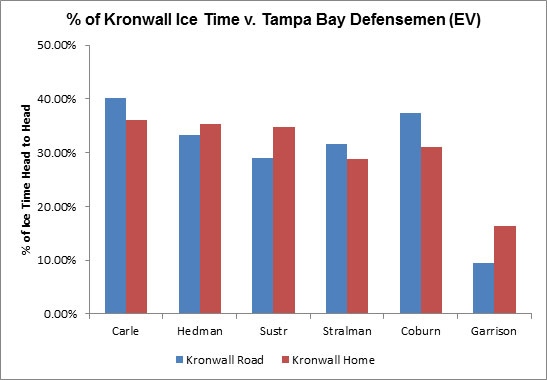 Nothing much in this graph. Kronwall's seen a little more of Coburn and Carle on the road, a little less of Hedman and Sustr. The differences are marginal.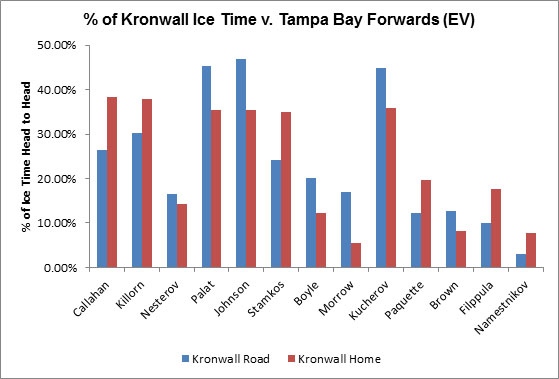 Here, there are pretty significant disparities. First, notice that with home ice, Babcock used Kronwall as much as possible against Tampa Bay's top-six – you can actually look across the tops of the red bars and pick out Lightning's better forwards, and how they generally played about 35-40% of their shifts against the Kronwall pairing in Detroit.
But, in Tampa Bay, it's an entirely different story. When Cooper has had last change, he has opted to load up the fleet-of-foot second-line of Ondrej Palat, Tyler Johnson, and Nikita Kucherov against the Kronwall pairing. This is a line we have talked about in the past – their even-strength dominance poses a serious threat to even the best defencemen.
By extension of loading up the second line against Kronwall, Cooper has shielded Stamkos' line. Whereas 35% of Stamkos' shifts came against Kronwall on the road, less than 25% of his shifts at home came against Kronwall.
Here's where things get dicey if you are Mike Babcock. Even conceding last change to Tampa Bay on the road, you still had the reliable Kronwall pairing against Tampa Bay's second-line, which is frequently just as dangerous as the first. And, though you maybe didn't have the match-ups you wanted, you still knew that Kronwall was going to play about 70% of his shifts against the top six, even with a limited amount of exposure against the Stamkos line (~ 25%).
You can start to see how this creates a trickle-down effect. One Red Wing defenceman is going to get shuffled up in the lineup, to take on a bit of a tougher assignment. And, the players keep moving up, filling the gaps created by Kronwall's suspension.
And, no matter how Babcock arranges it, there are going to be favourable minutes for Jon Cooper to exploit in the absence of Kronwall.
Advantage, Tampa Bay.