Canada down 0-2 vs Romania at Fed Cup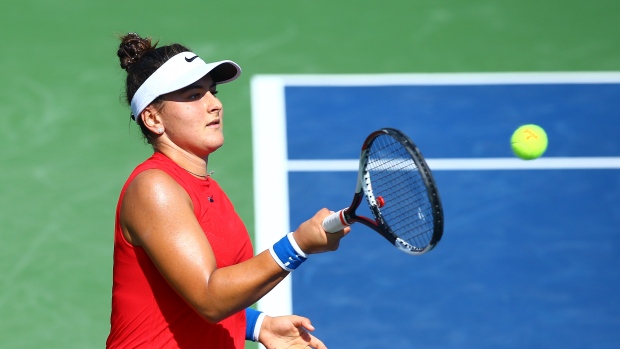 CLUJ, Romania — Canada lost both its singles matches Saturday to go down 2-0 to Romania in their first-round World Group II Fed Cup tie.
Sorana Cirstea started the day with a 6-2, 6-2 victory over Carol Zhao of Richmond Hill, Ont., and Irina-Camelia Begu followed with a 6-3, 6-7, 6-2 win over Mississauga, Ont., teenager Bianca Andreescu.
Andreescu, ranked 173rd on the WTA standings, rebounded from a first-set loss to take the second set by tiebreak. The 17-year-old won 2-of-3 break points throughout the two hour 38-minute match but made 32 forced errors and 38 unforced.
"The match today was a battle between both of us," Andreescu said. "I fought, I gave all I had and she did the same thing, but she played the important points better. I think she had more energy than I did, especially in the end."
Begu, 27, is ranked 37th.
In the first match of the day, the 27-year-old Cirstea (No. 38 in the world), broke the 22-year-old Zhao (No. 138) five times and made just four forced errors to Zhao's 14. The match lasted 54 minutes.
Zhao was playing in her first Fed Cup match.
"She definitely played well, but there were a lot of things I would have liked to have done better," Zhao said. "I wasn't able to win a few important points in the first set and it could have made a difference if I was able to stay with her for longer."
Zhao will play Begu in the third rubber on Sunday. Andreescu will play Cirstea later in the day.
The fifth rubber, also scheduled for Sunday, is a doubles match featuring Australian Open mixed doubles champion Gabriela Dabrowski of Ottawa and partner Katherine Sebov against Ana Bogdan and Ioana Olaru.
Canada needs to win all three rubbers to advance to the World Group playoffs.
Dabrowski, 25, is ranked 11th in doubles. She won the Australian Open mixed doubles title last month with Croatian partner Mate Pavic. Dabrowski also won the French Open mixed doubles championship last year, becoming the first Canadian woman to win a Grand Slam.
Canada and Romania have played each other twice in Fed Cup before, with the Romanians winning both ties — in 1983 and 2015.