Canada downs Finland to advance to gold medal game
Marie-Philip Poulin scored a goal and assisted on another to pace Canada to a 4-0 win over Finland in a women's world hockey championship semifinal Thursday.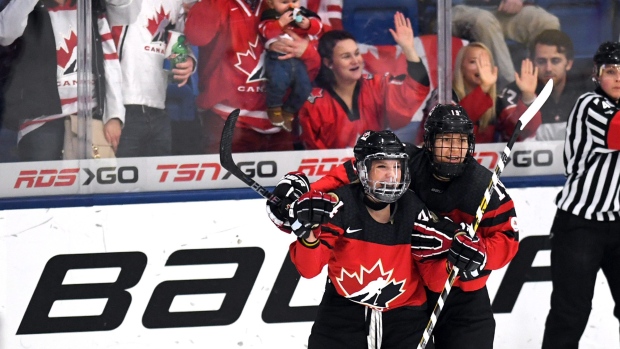 PLYMOUTH, Mich. — World championships scarce lately for the Canadian women's hockey team, they're getting another chance to end their drought.
Friday's final against the United States marks the 18th time in 18 championships the archrivals have clashed for gold.
Winner of three in a row, the American women intend to have their storybook ending on home ice with a fourth.
Canada has won 10 times and the U.S. seven. The Americans have beaten Canada in six of the last seven, including last year's 1-0 overtime victory in Kamloops, B.C.
Canada hasn't claimed gold since 2012 in Burlington, Vt. Over a third of the current team hasn't experienced victory in a world final.
"It's hard to put into words, but we really want it," forward Brianne Jenner said. "It would mean a lot to a lot of us here."
Canada blanked Finland 4-0 and the United States shut out surprise semifinalist Germany 11-0 on Thursday to advance.
The Canadians edged the Americans 3-2 in an overtime thriller to win Olympic gold in 2014.
But the U.S. women running the table of world titles heading into 2018 is not a comfortable prospect for the Canadian women.
"We're on a mission right now," Canadian captain Marie-Philip Poulin said. "We want to bring it back home."
Canada got off to a rocky start in the tournament with losses to the U.S. and Finland, while the Americans have yet to lose and have given up just three goals in four games.
"We've put ourselves in a great position right now, obviously, going into tomorrow's game," U.S. captain Meghan Duggan said. "We'll bring the right game. We'll be ready to go."
Poulin scored a goal and an assisted on another in the span of two and a half minutes to put Canada up 3-0 after two periods Thursday.
Sarah Potomak, Emily Clark and Rebecca Johnston scored their second goals of the tournament. Shannon Szabados earned her second shutout with 23 saves.
Noora Raty stopped 31-of-35 shots for Finland, which beat Canada for the first time ever 4-3 in the preliminary round.
The Canadians were quicker to, and harder on, the puck Thursday than they'd been five days earlier.
"Even from before the drop of the puck, our girls were ready to go and ignited," head coach Laura Schuler said.
"I think today's game was important in our habit and our details and that's what we're going to have to bring tomorrow."
Canada will have a few more hours of recovery than the U.S. having played the afternoon semifinal, but the U.S. didn't overtax themselves thumping Germany.
The Finns, who beat Sweden 4-0 in Tuesday's quarter-final to gain a rematch with Canada, lacked the ferocity and sharpness of their preliminary-round victory.
The Finns were scoreless on six power-play chances, while Canada went 1-for-4.
Poulin circled in front of the net and let fly a wrist shot from a sharp angle that popped the water bottle off the net behind Raty at 6:07 of the second period.
"She always scores outstanding goals," Schuler said.
"What makes it outstanding is her work ethic to get there, whether it's beating an opponent to get the inside positioning to get her shot off, or just her raw talent.
Poulin then sent the puck down the boards to Johnston, who walked out and scored on a wrister at 7:33.
Potomak, Canada's youngest player at 19, scored with just over a minute to go in the first period banging the puck by Raty from the slot.
Szabados had to work for her shutout late in the third when Raty was pulled during a pair of Canadian penalties for two extra attackers. Clark scored shorthanded into an empty net on the first.
Szabados shut down Linda Valimaki with a pad save as the Finn attempted a wrap-around goal in the second.
"Obviously we needed a lot more people in front of her," Raty said. "She's one of the best goalies in the world. You're not going to score on her from the blue line."
The Finns and Germans will play for bronze Friday prior to the championship game at USA Hockey Arena.
Russia, last year's bronze medallists, edged Sweden 4-3 in a shootout to finish fifth.
Switzerland downed the Czech Republic 3-2 in overtime in a relegation-round game. A third relegation game will be played Friday.