Canada edges Davos at Spengler Cup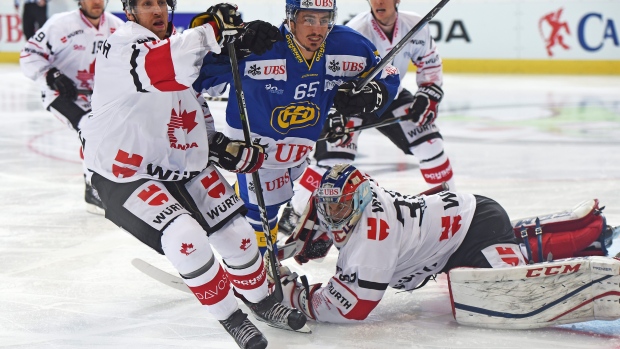 DAVOS, Switzerland — Andrew Ebbett's goal late in the third period stood as the winner as Canada beat host HC Davos 4-3 on Tuesday in round-robin action at the Spengler Cup.
Mason Raymond, Cory Emmerton and Jacob Micflikier also scored for Canada, who bounced back from a disappointing 7-4 loss to HK Dinamo Minsk on Monday.
"It was a huge win for our squad, getting us into the win column," said Raymond. "The host team came at us hard and we reacted well. We are coming together as a group, improving every day.
The Canadian squad now must wait for the results of the final preliminary-round games on Wednesday to determine who and when they will play in Thursday's quarter-finals.
"It's a gutsy win for our boys against a team that played us extremely hard," said Canada coach Luke Richardson.
"Our power play came through again with a couple of key goals, and the penalty kill was solid."
Per Ledin struck twice for HC Davos (0-1-0), while Daniel Rahimi also found the back of the net.
Emmerton had a short-handed breakaway eight minutes into the second period, showing patience to put the puck past Davos goalie Gill Senn for a 2-1 lead.
Rahimi's shot from the point made it through traffic and past Montreal Canadiens prospect Zach Fucale in net for Canada to tie it 2-2 just over five minutes into the third period.
Fucale finished with 33 saves.
"Fucale stood tall in net early to weather the storm," said Richardson.
Micflikier responded on the power play minutes later. He fired a low wrist shot on net, with his teammates screening Senn, to make it 3-2.
Ebbett redirected a shot from Genoway, bouncing it off the ice and into the goal to give Canada a 4-2 lead.
Ledin's second goal of the night cut into that lead with just under five minutes left to play in the third, but Canada held on for the win.