Canada releases two pre-Olympic rosters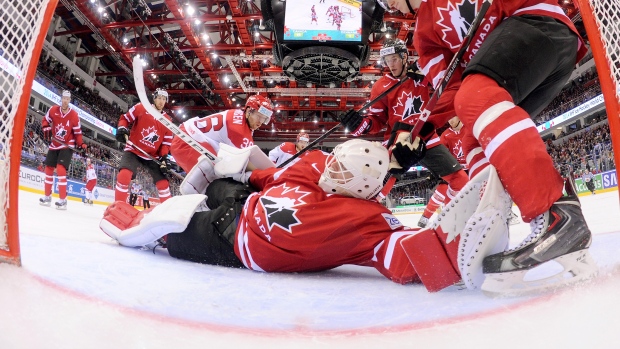 Team Canada has named its roster for the 2017 Sochi Open and the Tournament of Nikolai Puchkov which both take place in August,
The Sochi Open, which will take place from Aug. 6-9 in Russia, will mark the first pre-Olympic action for Team Canada as general manager Sean Burke looks to form his roster for the 2018 Pyeongchang Games.
Canada will also play in the Tournament of Nikolai Puchkov in St. Petersburg later in August, with a different roster which was also released Tuesday. Both rosters are made up almost entirely of players currently skating in Europe.
"We're going to play these two events in August, hopefully find out a lot of things that we have. But we're going to have to also find out some of the things we don't have," said Burke.
"Any player that's eligible, whether he's playing in North America on an AHL contract or in college, junior, we don't want to leave any stones unturned."
Among the most recognizable names on the Sochi Open roster are former NHLers Rob Klinkhammer, Brandon Kozun, Daniel Paille, Mason Raymond, Max Talbot and Linden Vey. Former Carolina Hurricanes goaltender Justin Peters will dress for the tournament, along with Kevin Poulin, who was named to both rosters.
Notable names on the Tournament of Nikolai Puchkov roster for Team Canada include Cam Barker, Carlo Colaiacovo, Taylor Beck, Ryan Garbutt, Derek Roy and goaltender Ben Scrivens.
Kevin Klein, who retired from the New York Rangers earlier this month and then signed in Switzerland, is also on the tournament for Aug. 14-17 Tournament of Nikolai Puchkov.
Below are the full rosters for both tournaments.

2017 Sochi Hockey Open
Forwards: Justin Azevedo, Gilbert Brulé, Brandon Buck, Kevin Clark, Andrew Ebbett, Bud Holloway, Rob Klinkhammer, Brandon Kozun, Ben Maxwell, Brandon McMillan, Eric O'Dell, Daniel Paille, Mason Raymond, Max Talbot, Linden Vey
Defence: Chay Genoway, Geoff Kinrade, Patrick McNeill, Maxim Noreau, Mat Robinson, Jonathan Sigalet, Karl Stollery
Goaltenders: Justin Peters, Kevin Poulin

2017 Tournament of Nikolai Puchkov
Forwards: Taylor Beck, Sean Collins, Cory Emmerton, Ryan Garbutt, Andrew Gordon, David McIntyre, Jacob Micflikier, Trevor Parkes, Marc-Antoine Pouliot, Derek Roy, Greg Scott, Paul Szczechura, James Wright
Defence: Cam Barker, Carlo Colaiacovo, Stefan Elliott, Marc-Andre Gragnani, Kevin Klein, Shawn Lalonde, Craig Schira
Goaltenders: Kevin Poulin, Ben Scrivens