Canada earns bronze in team speedskating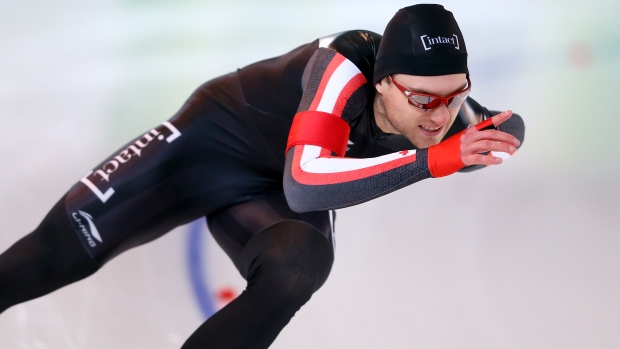 OBIHIRO, Japan — The Canadian long track team earned its first medal of the season, a bronze in the men's team sprint event, on Sunday at an ISU speedskating World Cup event.
Laurent Dubreuil of Levis, Que., Antoine Gelinas-Beaulieu of Sherbrooke, Que., and Montreal's Christopher Fiola posted a time of one minute 20.980 seconds and scored 96 points in the race, which put them in the bronze medal position, behind silver medallist Norway and gold medallist the Netherlands.
"The race was really good," said Fiola. "The other teams were really fast, but we still managed to get the bronze medal. It's really encouraging for the World Cups to come and we know we can do even better."
Canada came fifth in the ladies' team sprint, behind a podium that included Russia, Japan and the Netherlands. Calgary's Kaylin Irvine, Winnipeg's Heather McLean and Ottawa's Ivanie Blondin posted a time of 1:29.540 and netted 80 points.
After a fifth place finish in the ladies' mass start race on Saturday, Blondin earned another impressive result on Sunday, this time a fourth-place finish in the ladies 3,000 metres.
The two-time Olympian, who won a pair of World Cup medals in the distance last season, completed the race in 4:07.139 and occupied the bronze medal position going into the final pairing. She was bumped off the podium by eventual silver medallist Natalia Voronina of Russia, who posted a time of 4:05.023.
Ottawa's Isabelle Weidemann skated a time of 4:07.139 and finished ninth. It marked her second top 10 result of this World Cup, the first an eighth-place finish in yesterday's mass start.
Dubreuil earned his third top 10 result of the weekend — a seventh-place finish in the men's 1,000 metres — with a time of 1:09.606. He had previously finished fifth in the 500 metres (1) and ninth in the 500 metres (2). Gelinas-Beaulieu was also amongst the top 10 skaters in the men's 1,000 metres, finishing in 10th position with a time of 1:09.833.
In the men's 5,000 metres, reigning Olympic silver medallist and world record holder Ted-Jan Bloemen of Calgary posted a time of 6:28.647, ranking him 13th overall.