Canada's Greatest Curlers: Officer named greatest second after running away with vote
The vote for the greatest female second in Canadian history resulted in the most lopsided victory out of all of the categories.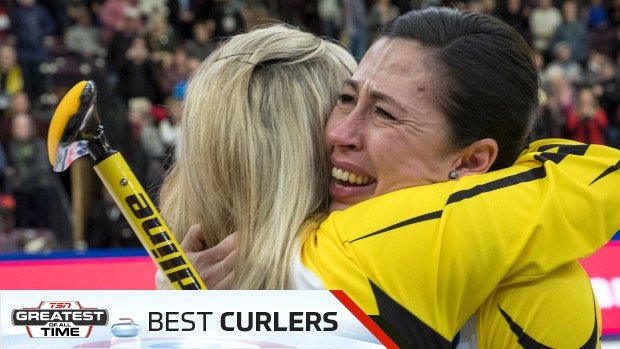 The vote for the greatest female second in Canadian history resulted in the most lopsided victory out of all of the categories.
Manitoba's Jill Officer captured 24 of 31 first-place votes – a panel comprised of 31 curling personalities including broadcasters, reporters and elite-level curlers voted in the survey – and finished with a total point score of 208. Mary-Anne Arsenault came in second with three first-place votes and a score of 91 while Joan McCusker and Joanna Courtney rounded out the top four with scores of 80 and 33 respectively.
Panel members cast their votes using a weighted point system. Eight points were awarded for a first-place vote, four points for a second-place vote, two points for a third-place vote and finally one point for a fourth-place vote.
When you take a look at Officer's playing style, it's easy to see why she ran away with this vote as the Olympic champion was a rock for Jennifer Jones for nearly two decades.
Officer was terrific on the broom and had the ability to throw accurate and consistent peel weight, a must for anyone that wants to excel at the second position. Having six national titles under your belt (tied for the most in curling history) will get you plenty of votes as well.
The 43-year-old is taking a break from the game this year, but has left the door open for a possible return in the future, meaning there's a good chance Officer will add to her legacy down the road.
The Greatest Canadian Female Seconds

Stats
| Name | Rank | Total Score | Years | Scotties | Worlds | Olympics | Totals |
| --- | --- | --- | --- | --- | --- | --- | --- |
| Jill Officer | 1 | 208 | 2005-2018 | 6 | 2 | 1 | 9 |
| Mary-Anne Arsenault | 2 | 91 | 1999-2004 | 5 | 2 | - | 7 |
| Joan McCusker | 3 | 80 | 1993-1998 | 3 | 3 | 1 | 7 |
| Joanne Courtney | 4 | 33 | 2017-2019 | 1 | 1 | - | 2 |
The "Years" column is the range of seasons from their first gold medal at an Olympics/Worlds/Scotties to their last. If they're still active, the second year will be 2019.
Jill Officer (Manitoba)
To little surprise, six-time Scotties Tournament of Hearts champion Jill Officer has been voted as the greatest Canadian female second of all-time.
Her success with longtime teammate Jennifer Jones goes all the way back to 1994 when the pair won the Canadian junior championship together.
Officer made her first Scotties appearance in 2005 in St. John's. The week was capped off with a euphoric celebration by Officer and the rest of the team following Jones' remarkable in-off game-winner in the final, a shot that has gone down as maybe the best in history.
This was just the beginning.
Officer was an integral part of Team Jones for over a decade, winning five more Canadian titles, two world championships, nine Grand Slams and, of course, that glorious gold medal from the 2014 Olympics in Sochi. Jones' rink is the only women's team to post a perfect record in Olympic history.
The Winnipeg native is the only teammate of Jones to be with her for every one of her major championships and is tied with Jones and Nova Scotia's Colleen Jones for the most Scotties titles at six.
Having the ability to throw the big weight and sweep with the best of them is a major reason why Officer excelled in the second position for so many years.
Officer stepped away from curling this season, but still serves as an alternate for Team Jones on occasion.
"I've had an absolutely amazing ride with this team, and we've shared so many wonderful experiences, on and off the ice, so it wasn't an easy decision, but at this point in time it's the right decision," the future Hall of Famer said at the time.
Who knows what the future looks like for Officer on the curling ice, but it's safe to say she won't be relinquishing this title anytime soon.
Mary-Anne Arsenault (Nova Scotia)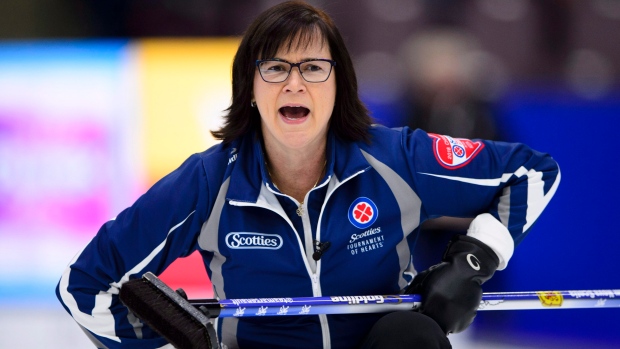 In recent years, Mary-Anne Arsenault has competed on the World Curling Tour as a skip, but made her name as one of the greatest seconds ever two decades ago when she joined Colleen Jones.
Arsenault was part of one of the greatest rinks in curling history, as Team Jones claimed five Scotties Tournament of Hearts titles and two world championships over a six-year stretch from 1999 to 2004.
Team Jones is the only rink to win four consecutive Canadian championships. Their streak of eight straight Scotties appearances ended in 2007.
Arsenault, 50, has found some success as a skip since her years with Jones, winning the Nova Scotia Scotties five times and even qualified for the semis at nationals in 2018.
The Scarborough, Ont., native was inducted into the Curling Canada Hall of Fame in the 2015.
Joan McCusker (Saskatchewan)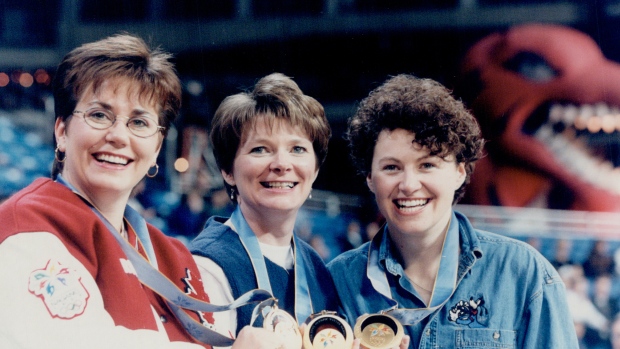 Over a six year stretch in the 1990's, there was no better team in women's curling than the one led by Saskatchewan's Sandra Schmirler.
Second Joan McCusker was a key cog to that success.
The story of McCusker joining Schmirler's squad is an interesting one. Schmirler originally invited McCusker's sister, Cathy, to be on the team, but she couldn't commit as she was due to have a baby. Cathy suggested Joan should take her spot in the lineup.
So McCusker, alongside sweeping partner Marcia Gudereit, joined Schmirler and third Jan Betker. Little did they know at the time, but they had just formed what would turn out to be one of the greatest rinks in curling history.
The Saskatchewan foursome won back-to-back Canadian and world championship in 1993 and 1994 before doing the same in 1997.
Curling returned to the Olympics as an official sport in 1998 for the first time since 1924 and McCusker was there in Nagano, Japan, wearing Team Canada colours following a dramatic trials victory. They went 6-1 in the round robin before taking out Great Britain and Denmark in the semi-final and gold medal game respectively. McCusker shot an impressive 89 per cent in the final.
Since her retirement, McCusker has been in the broadcast booth as a commentator for CBC and Sportsnet and works as a motivational speak as well.
"I am never walking away from this sport," McCusker told the Globe and Mail in 2009. "This is such a great sport for ordinary people, for women that want to have it all, like us."
McCusker, 53, was inducted into the Curling Canada Hall of Fame in 1999 and the Canadian Sports Hall of Fame a year later along with her Olympic teammates.
Joanne Courtney (Ontario)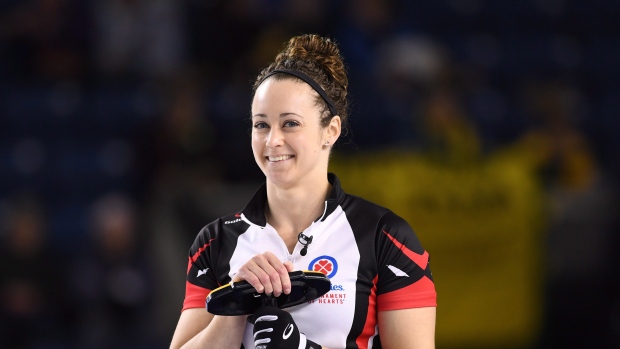 If you need a crucial rock to slide a foot long or edge pass a daunting guard, Joanne Courtney is the person you want on the broom.
Over the past few years, the 29-year-old second for Rachel Homan has quickly emerged as one of the best sweepers the game has ever seen, especially on the women's side. She has helped bring forward the notion of strength and conditioning as a must for success in this new age of rock throwing.
Her sweeping is so good in fact that during her early professional years as a third for Alberta's Val Sweeting, Courtney didn't hold the broom for skip stones because her sweeping was so key.
Courtney joined Homan in 2015 after losing to her in the 2014 Scotties final in Montreal. The Edmonton native helped Team Homan claim Scotties and world titles in 2017, 11 Grand Slams as well as their Olympic appearance in Pyeongchang.
Canada's Greatest Curlers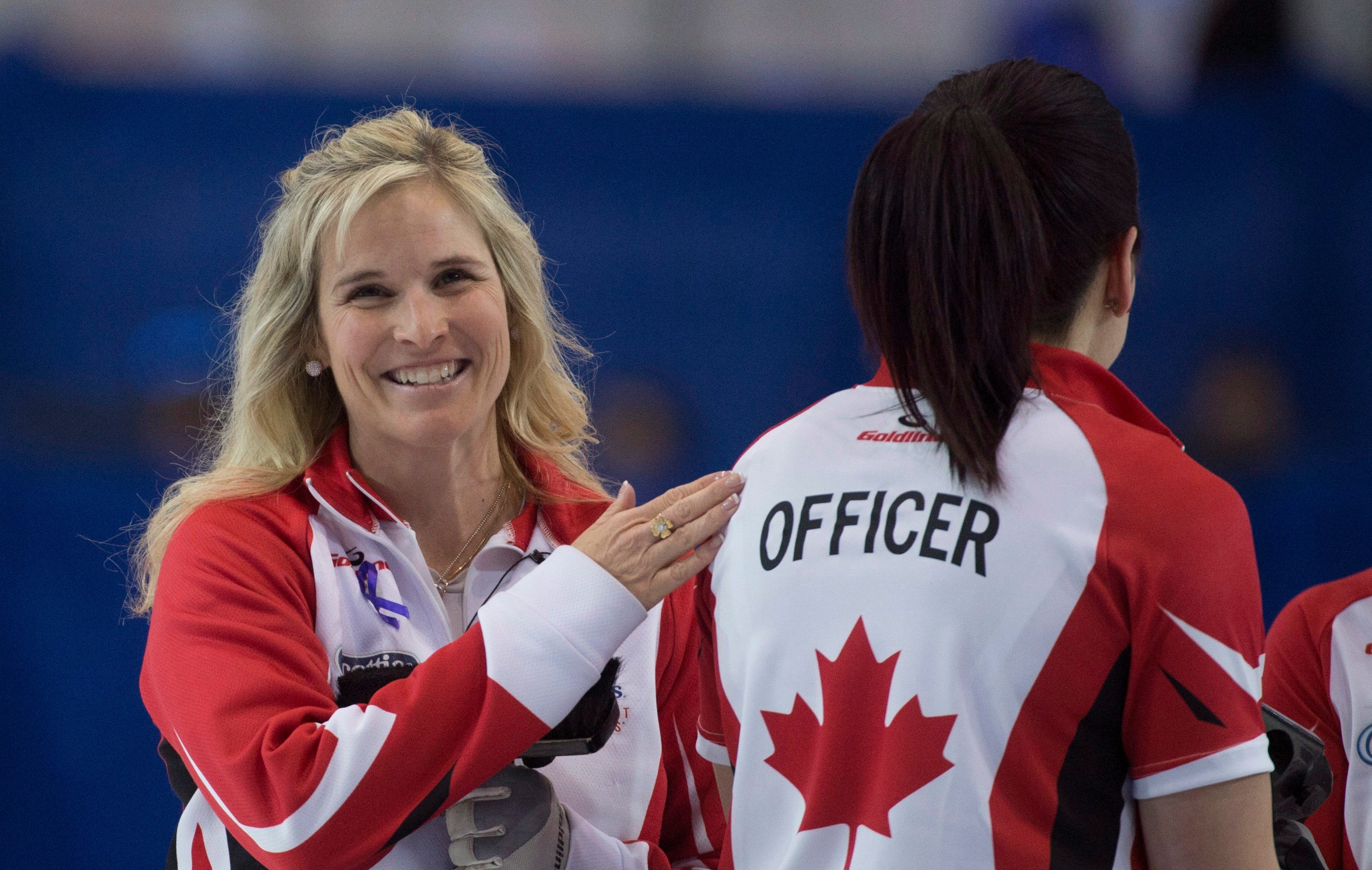 Who is your greatest all-time Canadian female second?