Canada's Greatest Curlers: Schmirler's foursome named greatest rink of all-time
Jennifer Jones, Jill Officer and Dawn McEwen may have been named the best Canadian curlers in their positions, but they won't be part of the greatest team of all time.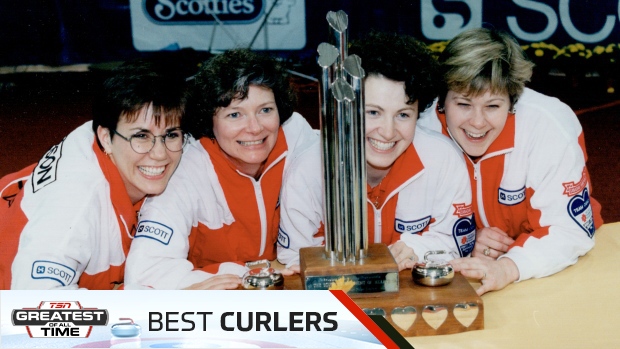 Jennifer Jones, Jill Officer and Dawn McEwen may have been named the best Canadian curlers in their positions, but they won't be part of the greatest team of all time.
That honour has been awarded to the great Sandra Schmirler and her legendary rink from Saskatchewan.
Jones, Officer and McEwen are world class curlers, no question, but they never dominated women's curling over a stretch of years like Team Schmirler did.
From 1993 to 1998, Schmirler's crew captured three Canadian championships, three world titles and an Olympic gold medal, a truly remarkable run of curling that has yet to be matched today.
Team Schmirler grabbed 16 of 31 first-place votes – a panel comprised of 31 curling personalities including broadcasters, reporters and elite-level curlers voted in the survey – six more than Team Jones (with Kaitlyn Lawes) and 11 more than Team Colleen Jones, who finished in third place. Rachel Homan's current rink received the fourth-highest point total with 23.
Saskatchewan's Vera Pezer won three consecutive Tournament of Hearts in the early 1970s to claim the fifth spot on this list with a point total of 17.
Panel members cast their votes using a weighted point system. Eight points were awarded for a first-place vote, four points for a second-place vote, two points for a third-place vote and finally one point for a fourth-place vote.
The Greatest Canadian Female Teams

Stats
| Name | Rank | Totals Score | Years | Scotties | Worlds | Olympics | Totals |
| --- | --- | --- | --- | --- | --- | --- | --- |
| Team Schmirler | 1 | 168 | 1993-1998 | 3 | 3 | 1 | 7 |
| Team J. Jones | 2 | 142 | 2014-2018 | 1 | 1 | 1 | 3 |
| Team C. Jones | 3 | 97 | 1999-2004 | 5 | 2 | - | 7 |
| Team Homan | 4 | 23 | 2017-2019 | 1 | 1 | - | 2 |
The "Years" column is the range of seasons from their first gold medal at an Olympics/Worlds/Scotties to their last. If they're still active, the second year will be 2019.
Team Sandra Schmirler (Saskatchewan)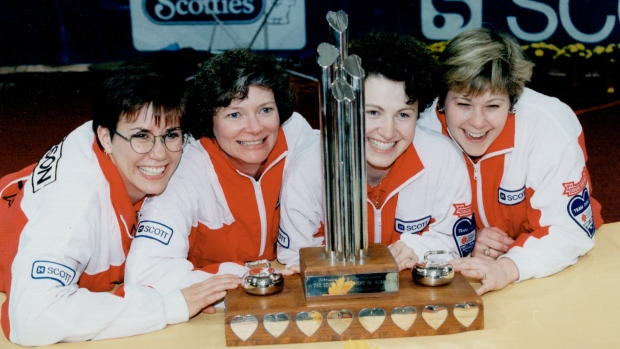 Sandra Schmirler's rink from the 1990s has been voted the best in Canadian history.
The team consisted of the front end sweeping tandem of Marcia Gudereit and Joan McCusker, the steady hand of Jan Betker at third and, of course, Schmirler the Curler at skip. Gudereit from Moose Jaw, McCusker from Yorkton, Betker from Regina and Schmirler from Biggar came together in 1993 and didn't take too long to find success.
During their six years together, the Regina foursome were almost unbeatable, winning three Scotties championships, three world titles and an Olympic gold medal in their final season together in 1998, the first time curling was a medal sport at the Winter Olympics.
However, their shining moment came a few months earlier at the Canadian Olympic trials in Brandon when Schmirler achieved one of the greatest shots in curling history during the final against Shannon Kleibrink. Schmirler made an incredible difficult in-off to score three points, paving their path to Nagano, Japan.
Schmirler was the best all week at the Winter Games, posting a 6-1 round-robin record before beating Denmark in the gold medal contest. Team Schmirler instantaneously became rock stars in their home country as they were just one of six teams or individual athletes to bring a gold medal back to Canada from those Olympics.
A week later, Team Schmirler flew back across the pond where they would compete as Team Canada at the Scotties in their hometown of Regina. Physically exhausted and emotionally drained, Schmirler led her team to a courageous playoff appearance which would eventually end with a semi-final loss to Ontario.
Canada was in love with Schmirler the Curler and her Saskatchewan crew.
That's why the country felt like they had suffered a punch to the gut when Schmirler was shockingly diagnosed with cancer in August of 1998, just a few months after their Olympic glory.
Schmirler died on March 2, 2000 at the age of 36.
The remaining three members of Team Schmirler eventually returned to competitive curling with Betker throwing skip stones. They reached the semis of the 2003 Scotties in Kitchener, Ont., but never reached the same heights as they did with Schmirler at the helm.
Team Schmirler were inducted into the Canada Sports Hall of Fame in 2000, the Curling Canada Hall of Fame in 1999 and the Saskatchewan Sports Hall of Fame in 2001.
It's safe to say that no rink in Canada has reached the fame and popularity as Schmirler's crew did in the '90s.
Team Jennifer Jones (Manitoba)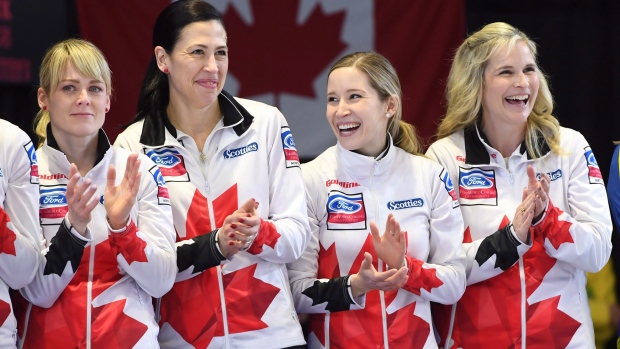 This foursome may have never existed if Jennifer Jones didn't make the bold decision to cut one of the best players in the game back in 2010.
Jones, Cathy Overton-Clapham, Jill Officer and Dawn McEwen won three straight national championships and one world title from 2008 to 2010, but after a disappointing 2-5 performance at the Vancouver Olympic trials, change was imminent.
Following the season, the skip dropped Overton-Clapham in favour of rising star and former Canadian junior champion Kaitlyn Lawes.
In their first season together, Team Jones lost in the Scotties final to Saskatchewan's Amber Holland. Then they lost in the semis to Heather Nedohin of Alberta in 2012 before losing another championship tilt to Ontario's Rachel Homan the following year.
Tough times to start, for sure, but you could tell this team was primed for success. It was just a matter of getting over the hump.
Playing in front of their hometown fans, the Winnipeg rink found themselves in the 2013 Roar of the Rings Olympic trials final against Ontario's Sherry Middaugh. Officer was nearly perfect in that game, shooting 99 per cent, followed by Jones at 91 per cent and Lawes at 90 per cent. The 8-4 victory propelled Team Jones to the Olympics in Sochi, Russia.
At the Games they posted 11 straight wins to stand atop the podium, becoming the first team to go undefeated in women's Olympic curling history.
Team Jones was on top of the curling world.
They won their first Scotties title as a foursome a year later in Moose Jaw, Sask., and captured their first world championship in 2018 in North Bay, Ont.
Following 15 consecutive seasons with Jones, Officer decided to take a step away from the game this year and was replaced by Jocelyn Peterman.
It's hard to say whether this rink will ever step onto the ice again as a foursome. Canada is just thankful they did.
Team Colleen Jones (Nova Scotia)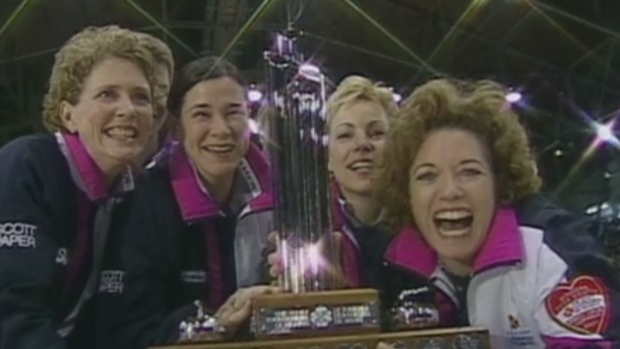 Nova Scotia's Team Colleen Jones is the only rink in curling history to win four consecutive Canadian championships.
Their reign began at the 1999 Scotties in Charlottetown when they downed defending champion Cathy Borst in the final. After missing the playoffs all together the following year, Team Jones got back on track in Sudbury in 2001, beating Kelley Law's Team Canada squad twice in the playoff round to claim the national title.
A few weeks later they captured their first world championship in Lausanne, Switzerland, after topping future two-time Olympic gold medalist Anette Norberg of Sweden in the finals.
Jones and company returned to the next four Scotties wearing Team Canada colours as the defending champs, topping Saskatchewan's Sherry Anderson in the 2002 final, Newfoundland's Cathy Cunningham in 2003 and Quebec's Marie-France Larouche in 2004. They claimed their second world championship as a foursome in 2004 as well.
Their time on top came to end in St. John's the following season, passing the torch to another skip named Jones as Winnipeg's Jennifer Jones won her first career Scotties in dramatic fashion.
Team Jones would qualify for one more Canadian championship as a full foursome in 2006 and were forced to settle for a bronze medal.
Skip Jones, third Kim Kelly, second Mary-Anne Arsenault and lead Nancy Delahunt are all in the Canadian Curling Hall of Fame as well as the Nova Scotia Hall of Fame.
Team Rachel Homan (Ontario)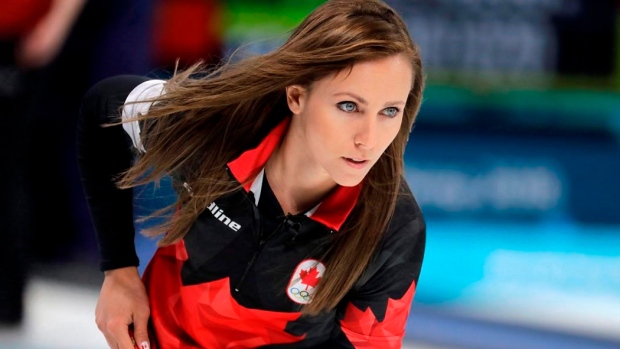 The heart of this rink was formed 18 years ago when Rachel Homan and Emma Miskew joined forces as kids and started curling competitively.
They brought lead Lisa Weagle into the fold for the 2010-11 season, and with longtime teammate Allison Kreviazuk at second, the Ottawa-based team won back-to-back Canadian championships in 2013 and 2014.
Kreviazuk left the squad following the 2014-15 campaign to live with her boyfriend in Sweden, opening the door for one of the greatest sweepers in the game to fill out the lineup.
Homan didn't waste any time and recruited Joanne Courtney from Alberta's Team Sweeting, the rink they had beaten in the Scotties final that season.
The second version of Team Homan won both the Canadian and world championships in 2017 and has seven Grand Slams titles under their belts in just four and half seasons together.
But, maybe this team's best moment came at the 2017 Roar of the Rings Olympic trials when they earned they earned the right to represent Canada at the Olympics after winning the event in their hometown of Ottawa.
However, their performance in Pyeongchang last year was disappointing with a sixth-place finish.
With this group slated to stick together for another four-year run, it won't be surprising to see Team Homan higher on this list down the road.
Canada's Greatest Curlers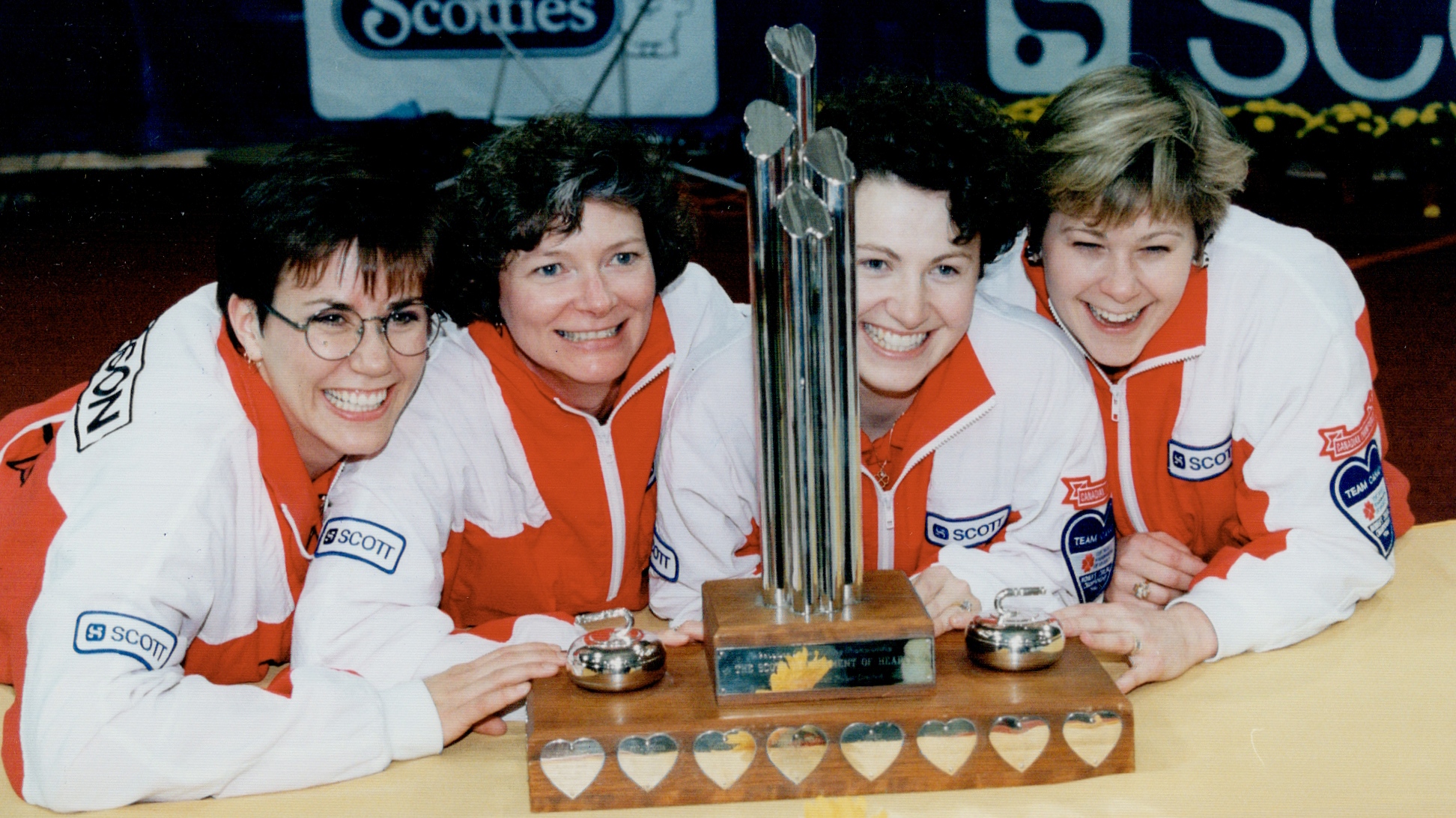 Who is your pick for the greatest Canadian female team of all-time?