Canada's Henderson wins first major title at Women's PGA Championship
Brooke Henderson beat top-ranked Lydia Ko with a birdie on the first hole of a playoff Sunday in the KPMG Women's PGA Championship after overcoming a three-shot deficit on the back nine.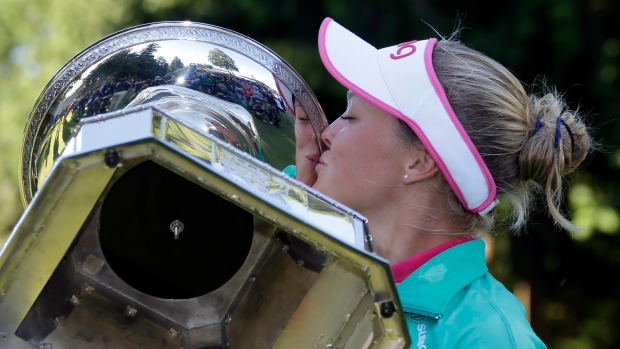 SAMMAMISH, Wash. — Canada's Brooke Henderson kept hearing the roar of fans echoing through the trees, leaving her to wonder what was happening elsewhere on the golf course.
By the end, all those roars were left just for her. And for good reason.
"The way the noise echoed here was really cool," Henderson said. "I'd never experienced that before. ... And then a lot of those cheers ended up being for me, which was even cooler."
Henderson won her first major title Sunday, beating top-ranked Lydia Ko with a birdie on the first hole of a playoff to win the KPMG Women's PGA Championship after overcoming a three-shot deficit on the back nine.
The 18-year-old from Smiths Falls, Ont., ranked No. 4 in the world, closed with a bogey-free 6-under 65 — the best round of the week at Sahalee Country Club — to match Ko at 6-under 278. Ko finished with a 67.
In the playoff on the par-4 18th, Henderson hit her second shot — a 7-iron from 155 yards — to 3 feet, while Ko's second from farther back in the fairway left her with 20 feet. Ko missed to the left, and Henderson tapped in to cap a week that started with a hole-in-one on her fourth hole Thursday and ended with a major championship.
Henderson became the second-youngest winner in a major championship, with Ko the youngest last year in the Evian Championship in France. Henderson also is the second Canadian woman to win a major championship, following Sandra Post's victory in the 1968 event, and is projected to jump from fourth to second in the world on Monday. Her first victory came last year in Portland, Oregon.
"To think about all of the incredible players that have come before me," Henderson said. "I was reading some of the names on this trophy and it's very, very cool."
Ko was bidding to become the fifth player in tour history to win three straight majors. Most times a bogey-free round with four birdies would be enough.
"I'm happy with the way I played. I just got outplayed," the New Zealander said. "For Brooke to shoot 65 on the final day at a major, at a course like this is very impressive."
Hamilton's Alena Sharp tied for 22nd after shooting a final round 67 while Maude-Aimee Leblanc of Sherbrooke, Que., tied for 58th.
The final round was a display of nearly flawless golf from the best after players spent the first three rounds getting kicked around at difficult Sahalee. Henderson, Ko and third-place Ariya Jutanugarn played a combined 56 holes on the final day without a bogey. Jutanugarn, in search of a fourth straight victory, shot a 66 to finish a stroke back. The 20-year Thai player missed a birdie putt on the 18th that could have put her into the playoff.
But no one was better than Henderson, who was the first round leader after a 67 before shooting consecutive rounds of 73. Three times she saved par out of the bunker, although her best save came the first time she played the 18th. Henderson's tee shot found the trees right of the fairway, but she scrambled to make a 12-footer to finish out a back nine of 31.
That moment likely decided the tournament. While Henderson saved par on 18, Ko missed a 4-foot birdie try on the par-3 17th after a perfect tee shot.
"I'm not really sure if I pushed it," Ko said. "I didn't feel like it was a bad stroke."
Henderson began the day at even par, two strokes behind Ko. The Canadian pulled off the comeback with a perfect back nine after going out in 2 under. Henderson's 90-foot eagle putt from the front of the green at the 11th was just the third at the long par 5 all week and separated her from a large pack at 2 under.
"We needed to go on a birdie run or something so that sort of jump started us and we were able to keep going," said Brittany Henderson, her sister's caddie.
Ko answered with a birdie at the 11th, but Henderson drew another huge roar with a birdie at the 13th to stay one shot behind. Both continued to make pars until the 17th when Henderson pulled even by dropping a 35-foot birdie putt after pulling her tee shot to the wrong side of the green on the par 3.
But Henderson had one more birdie remaining that will only raise the expectations for the Canadian star.
"Looking forward to the rest of the summer. There's still three major championships left. I'd like to get my name on all three of those," Henderson said. "But I won't get ahead of myself here."