Canada's Lazar on a mission to keep McDavid loose at World Juniors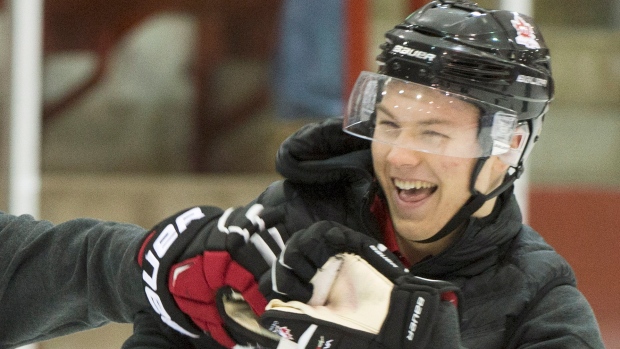 MONTREAL – Curtis Lazar was streaking in on a two-on-one rush Sunday night in Canada's pre-tournament game against Sweden. The Ottawa Senators forward, on loan to Hockey Canada for the world juniors, knew he had a great chance to score if he shot high. The Canadian Tire Centre crowd, which had given Lazar a huge ovation when the starting lineup was announced, sensed a big moment was coming.
And, yet, Lazar shot low into the pads of goalie Samuel Ward. Why?
Well, the player streaking down the other wing was Connor McDavid, who was playing his first game in 40 days after breaking his right hand in a fight.
"He's so hard on himself," Lazar said after the game. "I tell him to, 'Just relax and have fun.' I had that partial break there and I should have probably tried to score, but I tried to lay it in there for a rebound for him. We're going to need him to be a big part of this team to be successful."
Lazar knew the spotlight was shining even brighter than usual on the 17-year-old phenom who had looked a bit rusty out of the gate. The plan to get McDavid on the board didn't work, but Lazar's heart, as it almost always is, was in the right place.
Lazar and McDavid are roommates and when they got back to the hotel on Sunday night the game was being replayed on TSN. So they watched. McDavid began to critique himself.
"I was trying to tell him that, 'Look, you played a good game,' Lazar said. "I mean, he probably has different standards for himself than we do, because he's a heck of a hockey player. Every time he steps on the ice something special happens. I kept telling him, the one assist he [almost] got [on Shea Theodore's goal] he drew a couple guys to him and it opens up the ice and that's what we'll need from him."
The fact Lazar and McDavid are rooming together during the world juniors is no accident. The hope is the perpetually positive Lazar will help ease the burden felt by McDavid, who is considered by many, including TSN's resident scout Craig Button, to be a generational talent.
Alas, sports, like so much else, seems to be a what-have-you-done-for-me-lately business and McDavid has been out since mashing his hand on the boards in a fight on Nov. 11. Meanwhile, American Jack Eichel, McDavid's chief rival in the 2015 NHL draft class, is racking up points and closing the hype gap.
"He's been in the spotlight for so, so long that I guess he kind of knows how to deal with it," said Lazar when asked about McDavid's serious demeanour. "I try and get him to take his guard down a little bit. I know there's going to be a lot of pressure on him. This is a marquee tournament and it is his draft year and everyone talks about Eichel and McDavid. Ultimately, he's playing for Team Canada and that's what it should be all about."
McDavid and Lazar were teammates on last year's Canadian squad, which finished fourth in Malmo, Sweden.
"I was disappointed with how we played last year," Lazar said his smile dimming just a little. "Second chances don't come around too often."
Canada's hopes are, in large part, resting on the shoulders of Lazar and McDavid, who will both wear letters at the tournament. Lazar is the captain while McDavid joins Sam Reinhart as an alternate.
"He's always positive," said McDavid of Lazar. "You always see he has a smile on his face and nothing seems to bring him down. I think he's the perfect guy for the job just because the ups and downs of this tournament are pretty crazy and he never seems to go down."
--
McDAVID SURPRISED
Shortly after the Canadian selection camp started, McDavid admitted he wasn't sure if he would play a leadership role considering he is the second youngest player on the roster (only Kingston's Lawson Crouse is younger).
"I think it was a little bit of a surprise," McDavid said of getting an 'A'. "I mean, being a returning guy I maybe had a little bit of an idea, but there's a lot of returning guys."
Forwards Nic Petan and Frederik Gauthier, defenceman Josh Morrissey and goalie Zach Fucale are the other returning players on the roster. But head coach Benoit Groulx was pretty concise when asked why he made McDavid an alternate. "Because he's a leader," Groulx said in a matter-of-fact tone.
"I'm not the most vocal guy in the room that's for sure," McDavid acknowledged. "I think anyone will tell you that, but I'm not the quietest either. I think even in Erie, being the captain there, I do a lot of my leading on the ice."
McDavid was asked which hockey leaders he admires. He names Mark Messier and Steve Yzerman as well as Jonathan Toews.
"He's not overly vocal, but he's always doing the right things on and off the ice and that's something I, for sure, look up to."
--
'JUST A LETTER'
"It's just a letter," Lazar said when asked about the captaincy. "My expectation is that every single one of us will lead in our own way. To be successful that's going to have to take place."
That's part of the message he's sending McDavid. So much is expected of the Newmarket, Ont. native, who has a whopping 51 points in 18 OHL games this season. But Groulx has reiterated time and time again that he wants a four-line attack. Offence and fast-paced play is expected from everyone.
"For myself, I'm having fun with the guys, showing them, it's okay to make mistakes, especially now," said Lazar. "We got to get them out of our system sooner rather than later. And just try to rally the troops. I know that experience I have from playing in Sweden last year on this team, winning the Memorial Cup in between and having the NHL experience is going to help a lot. I just want try to spread that wealth.
"You got to take things in stride. You have to look at what's right in front of you."
Moments after Canada lost the bronze-medal game last year, Lazar addressed reporters and said if he was to be back at the tournament again he wanted to be a leader. And that has nothing to do with ego. It has everything to do with righting a wrong.
"There are a few things here and there that I think we can change up to allow us to take the next step," he said reflecting on last year's disappointment with an eye on the weeks ahead.
"It's all a learning curve in a short competition. You have to be open minded and admit the mistakes you make and learn from them and improve from them.
"I want unity inside the dressing room. That's a big part of it. Regardless of where you're from in Canada, I mean, we're part of a team now and that's what it's all about. Nobody's bigger than the team right now. It's up to us as a group to get the job done."
--
KEEPS THINGS IN PERSPECTIVE
Lazar seems wise beyond his 19 years. He has tremendous perspective. He didn't sulk after getting sent back to juniors from the NHL. He oozes excitement. He just gets it. A good example is the number he will wear on his back when the tournament opens on Boxing Day. Lazar wears 27 with the Senators, but will be No. 26 for Team Canada in honour of his former Edmonton Oil Kings teammate Kristians Pelss, who drowned two years ago after jumping off a bridge in his hometown of Riga, Latvia.
"Our motto last year in Edmonton was, 'Play for Pelss' and every time I step on the ice I know he's looking over me and protecting me out there and that's one thing I always want to do is, when I play internationally, I want to wear the No. 26 in honour of him."