Canada's top-ranked prospect Barrett chooses Duke
After months of visits, phone calls, discussions and a whole lot of thinking, R.J. Barrett has made his decision: he will be a Duke Blue Devil in 2018.
Allan Perkins, TSN.ca Staff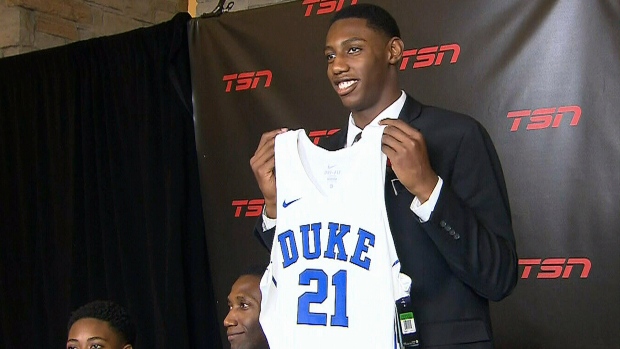 After months of visits, phone calls, discussions and a whole lot of thinking, R.J. Barrett has made his decision: he will be a Duke Blue Devil in 2018.
With a big smile on his face, the Mississauga, Ont., native held up a blue and white Duke jersey during TSN's 6pm et edition of SportsCentre to unveil his next step on the journey to basketball's summit.
On Sept. 30, Barrett announced via twitter that his final choice would be between Duke, Kentucky and Oregon. Barrett will join other five-star recruit Cam Reddish in Durham, N.C., making this year's consensus No. 1 seed potentially even scarier for the year after. Look out Chapel Hill. As a matter of fact, look out the rest of the nation.
Barrett said during SportsCentre that he plans to play one season at Duke.
"Probably the thing I'd take most out of it is just his growing ability to make decisions and maturing in front of our eyes bit by bit," said Rowan Barrett, R.J.'s father, former Olympian and current Canada Basketball executive.
"It's always been my decision. My parents were definitely there to guide me and help me but at the end of the day it's my decision," the younger Barrett said.
Someone else he got help from? His godfather, who happens to be Canadian basketball legend Steve Nash.
"He's accomplished everything I hope to accomplish, so he was someone I talked to," Barrett said.
Barrett currently sits atop the list of ESPN's 2018 top 100 high school recruits, edging out South Carolina's Zion Williamson, who has gained attention online for his acrobatic in-game dunks.
While things come easy to him on the court, deciding which one he'll play on next season was a lot more difficult. With Friday's decision to commit to Duke, Barrett said he's just glad decision time is over and he can get back to basketball.
But choosing his current high school – Montverde Academy in Florida, the former home of NBAers Ben Simmons, Joel Embiid and D'Angelo Russell – was a lot easier.
"I had a couple schools I was looking at but as soon as I stepped on the campus, I watched the practice and I told my dad right away this is the place I want to be," Barrett told TSN 1050 Toronto earlier this week.
This time around, Barrett said it took a lot more thought.
The 17-year-old is no stranger to the spotlight – in fact, he's been in it for years.
"I've been living this life for a couple years so this is nothing big," Barrett said.
His basketball resume speaks for itself, but it's not just his numbers that have scouts excited. Barrett's dynamic play in the open court paired with his elite finishing and leaping ability make him a nightmare to opposing defenders (and rims).
Barrett led Canada to the FIBA U19 Basketball World Cup in Cairo this summer, taking down the American squad coached by Kentucky bench boss John Calipari. It was Canada's first major international win. Barrett was named tournament MVP after averaging 21.6 points per game to go along with 8.3 rebounds and 4.6 assists.
"From day one [head coach Roy Rana] told me we're going to do something special this summer so to just be a part of it is pretty amazing," he said.
Barrett said his decision to make the announcement on home soil was about helping grow Canada basketball – just like he did in the summer by dominating on an international stage.
"It's where I was born and raised so why not come back and give back to my fellow Canadians?" he said.
"Young kids that see this will be inspired just like I was when I saw Andrew Wiggins, so it definitely helps a lot."
But before he becomes the most recognizable person in Durham, Barrett has some growing up to do.
"Let's make sure that we round him as an individual and that's been the focus of my wife and I. And sometimes it's not always fun. He's got to take out the garbage or clean his room," his father told TSN 1050.
Now that decision day has come and gone, the world's top-ranked high schooler has one thing on his mind – getting back to basketball.
"That's the point of doing [the announcement] now and doing it early. You want to be able to focus on the season because we do start in I think two weeks," he said.
Now that the waiting game is over, let the anticipation begin.