Canada trounces Denmark to set up semifinal date with Slovakia
Connor McDavid had a couple of impressive assists and a highlight-reel goal. And that was just one part of Canada's domination. Canada overwhelmed Denmark with offensive firepower in a 8-0 rout Friday night at Air Canada Centre in the quarter-finals of the world junior championship. Canada owned the play from start to finish, outshooting the overmatched Danes 50-14 to advance to play Slovakia in Sunday's semifinal. Sweden and Russia meet in the other game.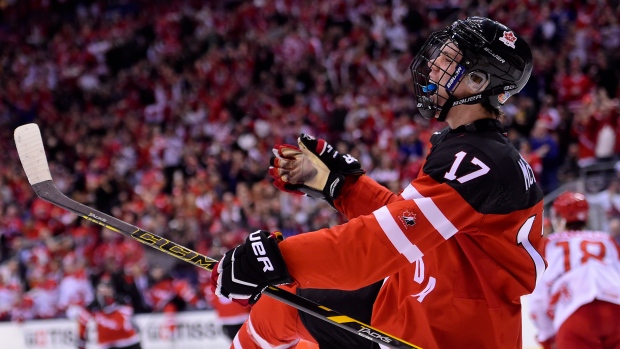 TORONTO - Connor McDavid made hockey look fun. Canada made it look easy.
McDavid had a goal and two assists and captain Curtis Lazar scored twice as Canada blew out Denmark 8-0 Friday night at Air Canada Centre in the quarter-finals of the world junior championship. It was a show of force from the undefeated Canadians, who advance to play Slovakia in the semifinal Sunday.
"It was too much for us to face in Canada with their speed and physicality," Danish coach Olaf Eller said. "We faced an amazing team, which, with their speed and extremely quick transition game, killed us."
McDavid earned player of the game honours and deservedly so. The projected No. 1 pick dazzled in his first game at Air Canada Centre, recording one assist falling down, scoring a goal by deking the goalie out of the net and picking up another assist by turning a defenceman inside out.
Lazar, his right-winger, said sometimes he gets wowed by McDavid and has to catch himself. Teammates on the bench get to enjoy more of the 17-year-old's play.
"We're all starstruck just like the fans," winger Anthony Duclair said. "He's a great player and he's got unbelievable skill."
McDavid now has two goals and seven assists through five games at the world juniors.
"He's been our best player the whole tournament," winger Max Domi said. "Sometimes the puck goes in for him, sometimes it doesn't. Tonight it went in."
It went in a lot for Canada. In addition to McDavid and Lazar, Canada got goals from Sam Reinhart, Lawson Crouse, Nick Paul, Brayden Point and Nick Ritchie.
Depth of scoring was again evident, just as it was in the tournament-opening blowout of Slovakia.
"It's huge," said Lazar. "To get contributions from guys: Ritchie, Crouse, Paul, etc., that's big for us especially we're getting down to playing for keeps. ... We need to get all guys going and firing on all cylinders."
Canada was firing on all cylinders Friday night from the first shift, when the top line of Domi, Reinhart and Duclair hemmed Denmark in its own end. That was a preview of things to come.
By the time the night was over, Canada outshot Denmark 50-14. The result would have been even more lopsided had Danish goaltender Georg Sorensen not made a handful of memorable stops.
But the plays the 18,448 fans in attendance and those watching on television will remember mostly belong to McDavid.
On Lazar's goal to open the scoring, McDavid drove to the net and around it and kept his head up as he was falling to the ice. Mid-slide, McDavid found Lazar in front, and the 19-year-old Ottawa Senators forward beat Sorensen short side.
"It's good that he was there I guess," McDavid said.
On his goal, McDavid picked off the puck in the neutral zone and turned on the speed before stopping at the edge of the crease. He deked enough to get Sorensen out of position and could slide it into the net for his second of the tournament.
"He took like two strides and he just took off and just beat everyone to the net," Domi said. "I don't know how he did it. Their goalie's a great goalie, but he was in the corner. I think any goalie would've been on the corner off that cutback."
McDavid offered up one more highlight-reel play in the third period when he poked the puck past Denmark's Victor Eskerod. That started a tic-tac-toe passing play to Lazar and Point Canada's seventh goal of the night.
Coach Benoit Groulx was proud of his team for not displaying any selfish play during the rout, which did have a major negative. Forward Robby Fabbri suffered a high-ankle sprain early in the first period and is out for the rest of the tournament.
IIHF rules prevent Canada from replacing Fabbri on the roster, so 12 healthy forwards remain for Sunday's semifinal against Slovakia. Russia plays Sweden in the other game.
Canada beat Slovakia 8-0 on Boxing Day in Montreal. Players see the Slovaks as stronger now than they were then.
"It's not going to be as easy as that last time, for sure," Lazar said.
It's unclear whether Groulx will go back to Zach Fucale in goal against Slovakia. Fucale was barely tested in a 14-save shutout.
Notes — Several players from Canada's gold-medal-winning 1993 and 1994 world junior teams were honoured during the first intermission. Captain Martin Lapointe, Anson Carter and Pittsburgh Penguins assistant GM Jason Botterill were among those in attendance. ... Denmark is coached by Olaf Eller, father of Montreal Canadiens centre Lars Eller.
___
Follow @SWhyno on Twitter.