Canada wins gold, silver in Pan Am cycling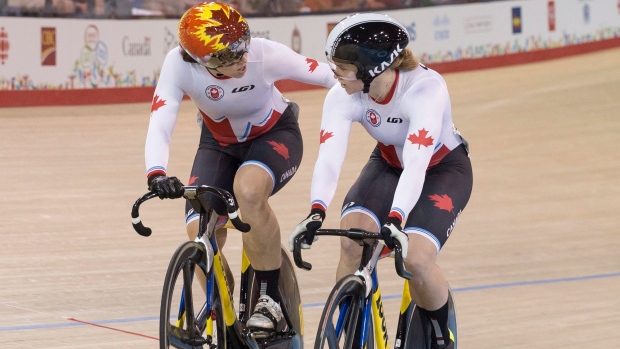 MILTON, Ont. - Monique Sullivan won the all-Canadian final in the women's sprint in track cycling Sunday at the Pan American Games.
Sullivan defeated fellow Calgary cyclist Kate O'Brien 2-0 in the best-of-three final to give Canada a sweep of the top two medals in the event on the final day of the track cycling competition, dubbed Super Sunday.
Sullivan is the first Canadian cyclist to win three gold medals at a Pan Am Games. She won the women's keirin and joined with O'Brien to capture the women's team sprint earlier in the week.
Canada dominated the track cycling events, winning six gold, two silver and two bronze.
Later Suday, Jasmin Glaesser of Coquitlam, B.C., won silver in the women's omnium points race.
The men's team pursuit squad of Calgary's Eric Johnstone, Hamilton's Sean MacKinnon, Remi Pelletier of Longueuil, Que., and Edward Veal of Queensville, Ont., beat Venezuela to win bronze, while Hugo Barrette of Cap-aux-Meules, Que., captured another bronze in men's keirin.