Canadian Ennis learning about life as a rookie with Suns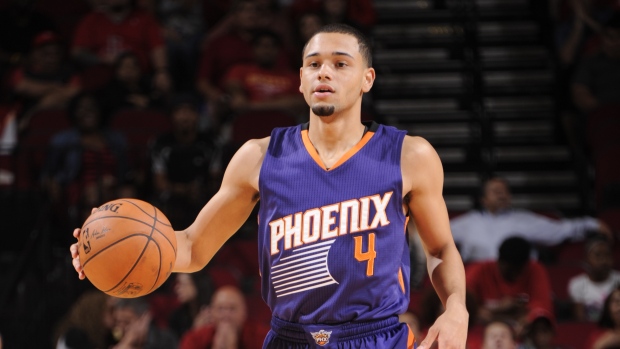 TORONTO - Several of the Phoenix Suns were sitting courtside after shootaround Monday morning at the Air Canada Centre. They leaned back in their chairs, and lazily kicked off their shoes. Tyler Ennis walked by and scooped up each one, depositing the giant-sized sneakers in a nearby equipment bag.
He picks up shoes, he wears a pink Disney Princess backpack, he brings the team soap — it's all part of the life as an NBA rookie.
Unfortunately for Ennis, being a rookie has also meant going from averaging 35 minutes a night in college to zero minutes most nights with the point-guard-heavy Suns.
The 19-year-old from Brampton, Ont., was back in Toronto for the Suns' game Monday night against the Raptors, but was listed as inactive for the game.
He remains patient and optimistic. If he's not sweating on the court during games, he's doing it in the gym.
"I work out a lot as far as game days. I always try to stay in shape," Ennis said. "You never know what happens, one day you could not be playing, the next day you could be in the rotation. So as far as staying in shape, I always want to be ready, regardless of how much I played the day before."
Ennis is part of a bumper crop of talented young Canadian players, and one of three Canadians drafted in the first round last summer. He went 18th overall to Phoenix, while fellow Canadians Andrew Wiggins and Nik Stauskas went first and eighth, respectively.
There were rumblings Ennis would end up in Toronto, with reports the Raptors were keen on the Syracuse point guard. But the Suns picked two spots before Toronto, and with Ennis off the board, the Raptors took Bruno Caboclo.
The Suns already had starters Goran Dragic and Eric Bledsoe and then signed Isaiah Thomas from Sacramento in the off-season. Ennis has been the odd man out, playing a total of 18 minutes in two games so far.
"I think Tyler is doing great," said Suns coach Jeff Hornacek. "Unfortunately for us, we've got those three point guards on the team. But he's going to be a great player in the league, he really sees the floor well. Of all the guys on our team, he's probably the one guy who can go out there, and he'll call a play, he sees what's going on out there and he'll get guys into a certain play that he thinks might work.
"For a young guy coming out of college. . . it's big. He's making great strides and he's going to do fine in this league."
Ennis did see significant playing time when the Suns sent him down to the Bakersfield Jam — their D-League franchise — for two games. He totalled 44 points, and 15 assists. The Suns recalled him for this six-game road trip, which brought the Canadian back to the Air Canada Centre, where he grew up watching the Raptors.
"You don't get to see this side of it being a fan," Ennis said. "So it's good to just get back into the city, see my friends, family, and being able to be on the other side, (not) with the fans, but being in the (players') seats this time."
Ennis estimated he went to probably 10 to 15 Raptors games as a kid, during stretches when either Vince Carter or Chris Bosh were with Toronto.
When asked if Toronto was his team growing up, Ennis came clean.
'"Um. . . you know what? They weren't that good growing up," he said, laughing. "They've had their good years and bad years, and I've been watching since."
He watches the Raptors — who boasted the best record in the Eastern Conference (11-2) going into Monday's game — from afar now.
"They've been playing well, as far as their record and everything they're doing," he said. "I know the city is behind them especially after last year's playoff run. I watch a lot of basketball so I watch their games, especially games with other Canadians too, so I've been able to catch a few of the Raptors games."
Ennis said the biggest adjustment to life as an NBA player is the travel schedule. The Suns arrived in Toronto to play the finale of their six-game road trip.
"You know there's 82 games, but just how much you travel, and how often the games are. . . .," Ennis said. "College, you got a little taste of it, but as far as practices, you don't really practise that long, or that much. So a lot of it is staying in shape when you're not playing as much, or making sure you get in the weight room is kind of on yourself. That's being a professional.
"So that's different coming from college, when you have set times, be in the weight room at this time. . . you have to take it upon yourself to do that."
As for his added rookie duties, Ennis said he doesn't mind.
"Yeah, every shootaround we've got to go get the shoes. We have a few rookie duties. . . Carry the Princess bag. Carry soap. Little things like that," he said. "They're nice guys, and they look out for us all the time, so it's not a big deal when they ask us to do little things."