Canadian midfielder Matheson questionable for Women's World Cup
Veteran Canadian midfielder Diana Matheson may not be available for Canada at next month's FIFA Women's World Cup in France as she deals with a foot injury, says head coach Kenneth Heiner-Møller.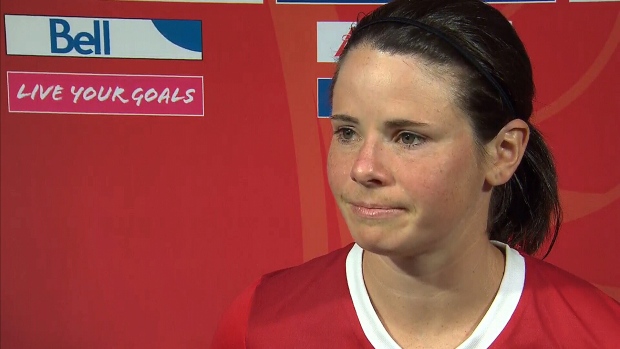 "There is concern" that a foot injury may make Canadian midfielder Diana Matheson unavailable for next month's FIFA Women's World Cup in France, head coach Kenneth Heiner-Møller said on Monday.
Matheson, the 35-year-old veteran, did not train on Monday as the Canadian women's national soccer team opened camp in Toronto. The Canadians are preparing for a friendly against Mexico on Saturday at BMO Field, their final send-off game at home before they head to Europe for the World Cup.
Matheson has been dealing with a foot injury for several weeks. She has yet to play at all this season for her NWSL club, the Utah Royals, and was not part of the Canadian roster that faced England and Nigeria in a pair of friendlies last month.
Speaking exclusively with TSN, Heiner-Møller said Canadian team staff is still evaluating Matheson's status.
"Hopefully her fitness is good," he said. "I don't know about her football fitness, but I think she can run and do whatever she needs to do. We need to see if she can be on the pitch, and so far we don't know yet."
Heiner-Møller will name his official roster for the upcoming Women's World Cup later this month. Matheson has been a part of the Canadian team since 2003, and last fall she celebrated her 200th cap at the 2018 CONCACAF Women's Championship, helping Canada qualify for this year's Women's World Cup.
She has 18 goals and 22 assists in her career, with her most famous moment coming in the 2012 London Olympics, when she scored the game-winning goal in stoppage time against France to earn Canada the bronze medal.
There is some déjà vu in the timing of Matheson's latest injury. Before the 2015 Women's World Cup, Matheson was recovering from surgery to repair her torn left ACL, and then suffered a setback months before the tournament, sustaining a stress fracture in her foot.
Nonetheless, Matheson was named to the Canadian roster for the World Cup, but she was unable to play until the quarter-final match against England, which Canada lost 2-1.
Heiner-Møller was hesitant to draw comparisons between the current situation and the one from four years ago.
"First of all, I wasn't there, so I can't speak to it," he said. "Second of all, I think this is a totally different situation, a different kind of injury. She has been trying for a long time to get back, so we'll give her the time that she needs and look into if she can play or not."
Matheson, who was not available to comment, also missed all of 2017 after re-tearing her left ACL.
Canada's first game at the Women's World Cup is June 10 against Cameroon in Montpellier. The squad next travels to Grenoble on June 15 to face New Zealand, before wrapping up the group stage against the Netherlands on June 20 in Reims.​