Canadian Pompey leads Blue Jays in win against Orioles
Canadian Dalton Pompey had a big night with two triples, a double and a spectacular catch in left field as the Toronto Blue Jays defeated the Baltimore Orioles 4-2 on Friday. Drew Hutchison (11-13) allowed five hits and two runs while striking out eight in five innings to end his season with a win.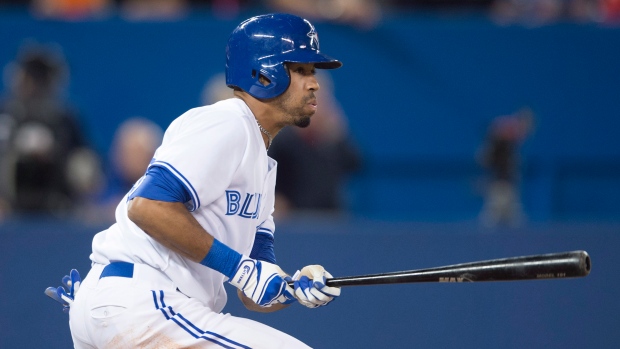 TORONTO - Dalton Pompey grew up a fan of the Toronto Blue Jays and dreamed of one day playing for them.
Now that he is, the club has become a fan of his, too.
The 21-year-old Mississauga, Ont. native tripled twice, doubled and drove in two runs on Friday as the Blue Jays defeated the Baltimore Orioles 4-2 in the opener of a three-game series against the American League East champions. He also scored two runs and made a spectacular catch of a foul ball in left field.
Pompey also hit his first major-league home run Tuesday against Cy Young Award contender Felix Hernandez.
"I tell you what, he's a special kid," Blue Jays manager John Gibbons said. "I'm just not just talking about what he does on the field. He's a first-class individual, very respectful, very intelligent, carries himself like a pro.
"You combine with what he's doing on the field. To do that at a young age, when you start in A ball, most guys don't get that opportunity, and he's taking advantage of it. Maybe we should have started playing with him earlier I don't know."
Pompey started the season at Class-A Dunedin, moved to Double-A New Hampshire and went to Triple-A Buffalo before earning a September call-up to Toronto.
The Rogers Centre crowd, that included his friends and family, were into the game.
"Every time I got up they got louder and louder and even when I went to the outfield they were cheering for me." Pompey said. "It's stuff that I dreamed about when I went to sleep at night — getting called up here and having that moment where they appreciate the effort that I'm giving."
Pompey never thought his season would finish like this even if someone told him in advance.
"I would have thought they were lying, to be honest," he said. "It's been a dream come true for me."
Right-hander Drew Hutchison (11-13) allowed five hits and two runs while striking out eight in five innings to end his season with a win.
"There were just some times when I got ahead of hitters and I was able to put them away," Hutchison said. "I located my fastball a little bit better, at times, at times it wasn't as good, more consistency with my slider definitely had a lot to do with it."
Orioles right-hander Chris Tillman (13-6) allowed 11 hits and four runs to lose for the first time this season on the road after going 8-0 in 15 away starts. He also had a six-game winning streak snapped.
"I actually felt pretty good," Tillman said. "Felt like I was making some good pitches but they put some really good swings on the ball. You have to tip your cap sometimes…. I'm happy with how I felt. I felt like my delivery was pretty good and my fastball command was probably the best it has been all year. My changeup was there for me, my curveball was there."
Baltimore (95-65) scored first. David Lough, who was playing centre field in place of a resting Adam Jones, singled with one out in the first and stole second. Hutchison walked Nick Markakis and a Delmon Young single gave Baltimore a 1-0 lead.
Ryan Flaherty doubled with one out in the second for the Orioles. Hutchison struck out Jonathan Schoop and Pompey ended the inning with a diving catch on a slicing foul in left field hit by Alejandro De Aza.
Pompey led off the bottom of the second with a triple to right centre and scored on a bunt single by Munenori Kawasaki. Anthony Gose singled and Ryan Goins bunted for a single to load the bases. The rally fizzled when Jose Reyes flied out to shallow centre and Jose Bautista lined into a double play to first baseman Steve Clevenger.
Pompey doubled in a run and scored a run in the third as the Blue Jays (82-78) took a 3-1 lead. First baseman Adam Lind singled with one out and scored on Pompey's two-out double. Pompey scored on an infield hit to second by Kawasaki, who took second on Clevenger's error on the throw home.
"I like the way this kid looks," Orioles manager Buck Showalter said. "He's a good-looking athlete."
The Orioles scored a run in the fifth on a single by Schoop, a ground-rule double by De Aza and a groundout by Lough.
In the fifth inning Pompey became the first Blue Jay to hit two triples in a game since Alex Rios on Apr. 27, 2005, against Tampa Bay. His hit scored Edwin Encarnacion, who had singled, to make the score 4-2.
"It's always huge when you get off to a good start, especially when you consider where he's come from," Gibbons said. "He's been in A-ball, a totally different game down there. Double-A is a different game and briefly in triple-A. Now he's facing some of the best in the game. It's not like he's running into the average Joe who's making a spot start.
"Tillman tonight and Hernandez and those guys the other night. He's facing some of the tops in baseball and he's handled it so well. You never know for sure when they're that young how they're going to handle it….He's a very mature kid."
Marcus Stroman, just off a five-game suspension, took over from Hutchison in the sixth and completed the game for his first career save.
"(Stroman) has been one of our top guys the last three months," Gibbons said. "He has pitched as well as anybody on the ball club. Strong, he didn't have a lot of pitches. Four innings is nothing to him. He's thrown a complete game. It was his game win or lose."
NOTES - RF Jose Bautista and SS Jose Reyes, who were given Thursday off, were back in the Blue Jays' lineup on Friday. …CF Adam Jones, SS J.J. Hardy and OF Nelson Cruz were out of the Orioles lineup on Friday but are expected to play Saturday as Baltimore prepares for the post-season. …The Blue Jays will start LHP J.A. Happ (10-11, 4.27 earned-run average) on Saturday against LHP Wei-Yin Chen (16-5, 3.56 ERA). …Orioles manager Buck Showalter said that RHP Miguel Gonzalez will start Sunday's regular-season finale. …Announced attendance at Rogers Centre was 27,037.