Canadian Ricketts grateful for stability with TFC
Tosaint Ricketts will always be grateful for Toronto FC. There, he can just focus on playing soccer. It has not always been that way. In previous club stints in Romania and Turkey, Ricketts had a lot more than football on his mind.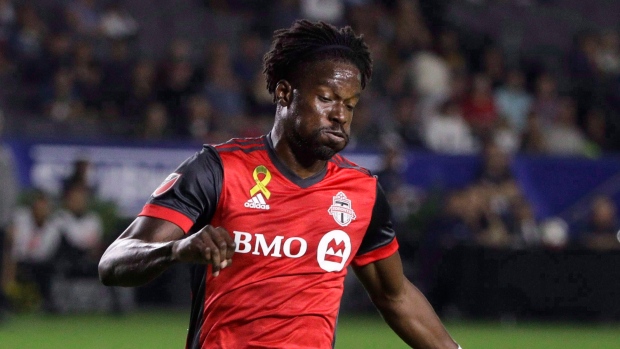 TORONTO — Tosaint Ricketts will always be grateful for Toronto FC. There, he can just focus on playing soccer.
It has not always been that way. In previous club stints in Romania and Turkey, Ricketts had a lot more than football on his mind.
"My first month here I was almost in shock," he recalled. "I didn't know what a completely stable environment felt like. The biggest difference for me was I didn't have to worry about anything. I just had to come in, do my job on the field and go home. And everything else was taken care of.
"And that is big for a player. Because it hinders your growth when you're having to worry about paycheques, you're having to worry about whether your rent is paid on time or whether your water's going to get cut off because the team's not paying your bill any more. It was a big relief to come here and only have to worry about soccer."
Ricketts looks to repay the favour again on Tuesday when, in the absence of suspended stars Jozy Altidore and Sebastian Giovinco, he will lead the Toronto attack in Game 1 of the MLS Eastern Conference final in Columbus.
The 30-year-old Canadian international has proved to be a capable deputy in the past. He scored important playoff goals against New York City FC and Montreal last year and had seven goals in just 1,003 minutes playing time this season.
The fastest player on the Toronto roster, Ricketts provides a different kind of threat than the burly Altidore or crafty Giovinco. Ricketts' speed unsettles defenders and he has an ability to find space in the penalty box. Get the ball to his feet or head and he can finish.
Columbus knows all about Ricketts. Coming off the bench, he scored twice in the final 10 minutes to lead Toronto to a 2-1 win in Columbus on May 10.
A native of Edmonton, Ricketts played every sport growing up, Soccer was one of the last — he didn't join a team until he was 13.
He played collegiate soccer at the University of Wisconsin-Green Bay from 2005 to 2008, helping the team post a 40-28-11 record during his time there. He chose the school because a good friend was also going there.
After college, Ricketts' winding pro trail started in Finland where Ricketts began his professional career with Myllykosken Pallo -47 (or Mypa). He remembers his time there as a learning experience.
"I made my mistakes there, I grew from being an amateur to a professional there," he said.
In 2010, he joined FC Politehnica Timisoara, a big Romanian club that had been impressed by seeing Ricketts score three goals against it in Europa League play. All was good until the finances fell apart and the club went from second in the league to being relegated.
He was sidelined for some seven months when the Romanian team refused to release him from his contract. Norway's Valerenga came to his rescue, working on his behalf to cut through the red tape in 2012 and offer him a job.
But eventually a new coaching staff came in and he moved to fellow Norwegian side Sandnes Ulf before heading to Bucaspor Kulubu, a second-tier Turkish team.
Another good start was followed by financial difficulties.
Ricketts left and spent a season with Israel's Hapoel Haifa FC. He enjoyed the country and the club's finances were in order but, due to injuries, found himself playing wingback or fullback.
Unwilling to continue playing out of position, Ricketts returned to Turkey and second-division Boluspor in August 2015.
"Same type of thing. (It) started well and the carousel of presidents, coaches started happening and then they stopped paying the players again," he said.
It was Romania and his first stint in Turkey all over again. He told his agent he was done with unstable environments and asked him to investigate Canadian MLS clubs.
"At that point I just wanted to go home. I just had enough," Ricketts said. "Thank God, Toronto opened the doors to me."
TFC stepped up, allowing him to practise with the team while it sorted out his contract and international transfer certificate. He officially signed with Toronto in July 2016.
In addition to stability, the move brought him closer to his family. Ricketts' father lives in Toronto and comes to every home game. His mother and brothers are still in Edmonton but, unlike when he was in Turkey, can now watch him play on TV.
While his club situation has often been precarious, the Canadian national team has been a constant. Ricketts has 19 goals and 57 caps for his country.
"They provided that one stable factor throughout my career and that has helped me through situations as well," he said. "And that's why, no matter the situation, I never turn down a call for Canada."
While Ricketts acknowledges his soccer path has not been ideal, he says he has learned and grown from every situation. And he is proud where it has led him to.
"Being in these tough environments, they build character," he said.
"I don't shy away from pressure situations." he added. "That's pretty much what I've been dealing with my whole career. So it's nothing really new to me."
He has also learned patience.
"That's big here knowing that you have two giants in front of you with Seba and Jozy. I was patient, just kept my character strong and just believed in myself. And just stay confident whenever I get those opportunities.
___
Follow @NeilMDavidson on Twitter