Canadiens acquire veteran Gonchar from Stars in exchange for Moen
The Montreal Canadiens have acquired defenceman Sergei Gonchar from the Dallas Stars in exchange for forward Travis Moen. Gonchar missed the first 11 games of the season with a foot injury and has one assist in three games since his return. The move reunited Gonchar with head coach Michel Therrien, whom Gonchar for during his days with the Pittsburgh Penguins.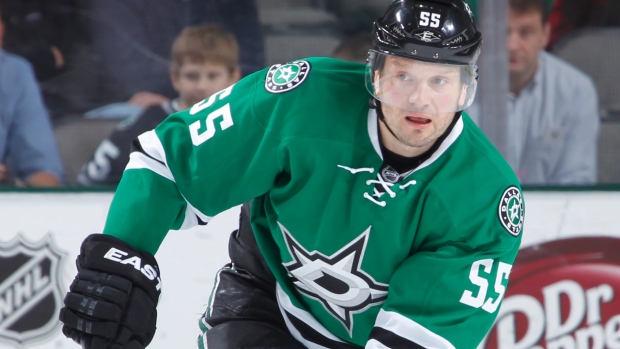 Sergei Gonchar let Dallas Stars general manager Jim Nill know over the summer he'd be willing to accept a trade if it meant going to a Stanley Cup contender.
Nill made his move Tuesday by sending the 40-year-old defenceman to the Montreal Canadiens in exchange for left-winger Travis Moen. The Canadiens get the depth on the blue-line they were seeking, while the sputtering Stars get a role player up front and open up a spot for younger contributors.
"I don't want to run Montreal's business, but when I look at their defence I just think he's a good fit for them," Nill said on a conference call. "They've got some good puck-movers, they got a couple other good Russian players there. He's going to be a good fit for them. He's a first-class individual, he brings experience of winning."
Gonchar, who's in his 20th NHL season, joins the Habs after previous stints in Dallas, Ottawa, Pittsburgh and Washington. He played for current Montreal coach Michel Therrien with the Penguins.
"I remember (Therrien) as a hard-working guy who was preparing very strongly for every game, and he was asking the players to do the same," Gonchar said on a conference call. "Our relationship was very good, in my opinion."
The veteran blue-liner joins fellow Russians Andrei Markov and Alexei Emelin, likely pushing out a younger player like Jarred Tinordi or Nathan Beaulieu. Gonchar has a salary-cap hit of US$5 million on his deal that expires at the end of this season.
"This was a hockey decision, and a financial decision," Canadiens general manager Marc Bergevin said before Montreal's home game against the Winnipeg Jets. "Every time you make a transaction, you have to be aware of the salary cap.
"We've brought here a veteran defender with a lot of NHL experience. We understand that Sergei is not the player he once was, but we know exactly what we're getting."
After missing the first 11 games of the season with a broken foot, Gonchar played the past three and recorded an assist.
"My role was a little different, but I still think I can help the team," Gonchar said. "If my minutes are going to increase, I think I'm ready to play more."
Nill said Gonchar was a positive influence on 19-year-old Valeri Nichushkin and also on the Stars' young defencemen. With other players like John Klingberg and Julius Honka in the pipeline, trading Gonchar opens up a spot in the lineup.
"They've earned the right, the opportunity," Nill said. "I needed to start opening up some doors and some opportunity for them."
And, Nill said, this is an opportunity in Montreal for Gonchar, who has 798 points (219-579) in 1,256 regular-season games since making his NHL debut in 1994-95.
"I think Montreal's got as good a chance as anybody to win the Cup, and it's a good opportunity for Sergei to go in there and show what he can do to help them," Nill said.
Going the other way is Moen, a respected veteran in the Habs' locker-room but someone who had been a healthy scratch a handful of times already this season. Because of that, the 32-year-old native of Stewart Valley, Sask., wasn't surprised to get the call from GM Marc Bergevin that he'd been traded.
"Any time obviously you're not in the lineup you're always questioning, wondering what's coming down the road," Moen said on a conference call. "This year I just wanted to play hockey and help my team and I was kind of in and out of the lineup. When something like this happens, you look back and you're not too surprised, that's for sure."
Moen, who did not have a point in 10 games this season, said he did not request a trade and appreciated Bergevin's honesty during the process.
"We're giving away a player who's done a lot for this organization — a guy of character," said Bergevin. "Travis Moen is a good person and a real professional."
The trade of Moen is another change from the Habs team that went to the Eastern Conference final. Captain Brian Gionta left in free agency, and alternate captain Josh Gorges was traded to the Buffalo Sabres.
In September, Gionta mentioned Moen as someone he'd recommend to replace him as captain. Instead, Montreal went with four alternates — Markov, P.K. Subban, Max Pacioretty and Tomas Plekanec.
"I think it's just kind of a coincidence it's veterans going," Moen said of the Habs' changes. "It's the way the game goes sometimes."
By taking on Gonchar's heavier salary this season, the Habs freed up some room in 2015-'16. Moen has one more year left on his contract after this one at a cap hit of US$1.85 million.
"I have a lot of players I possibly could be losing next year I have to make decisions on," Nill said. "Travis, I know what he is, he's a character player, we're always going to need those type of players "
Nill expects Moen to be a big part of the Stars' penalty-killing. But for a team that has lost seven in a row, getting a gritty bottom-six forward may not be the end of the moves.
It's a start.
"We're open to it," Nill said. "We have to find out internally what we have first. That's what this trade allows us to do now."
———
With files from Kelsey Patterson in Montreal.
———
Follow @SWhyno on Twitter