Canadiens feel positive vibe from new coach Julien
Carey Price says it feels like a brand new season is starting for the Montreal Canadiens with Claude Julien now at the helm.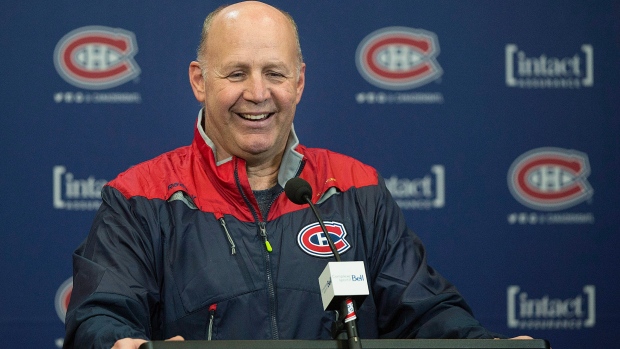 BROSSARD, Que. — Carey Price says it feels like a brand new season is starting for the Montreal Canadiens with Claude Julien now at the helm.
Julien ran his first practice with his new team on Friday, three days after replacing Michel Therrien as Montreal's head coach. Julien's first game behind the bench will be Saturday afternoon against the Winnipeg Jets.
For Price, Julien's arrival feels like a fresh start.
"He has a positive vibe to him," said Price, who was on Team Canada with Julien at the World Cup of Hockey in September. "Every time I've worked with him he's been easy to talk to. He was very positive, very upbeat.
"(Today) kind of felt like a new season."
The goaltender's comments were echoed throughout Montreal's dressing room after their hour-long practice on Friday, which capped off the team's bye week.
"Guys are getting a bit of a clean start," said captain Max Pacioretty. "We got a boost of energy and came into this practice feeling refreshed from the break."
Added defenceman Nathan Beaulieu: "He (Julien) is enthusiastic and excited to be here. He seems like a guy who accepts challenges and wants to win under all circumstances."
Canadiens general manager Marc Bergevin fired Therrien on Tuesday, hoping to breathe new life into his team and put an end to a prolonged slump.
Montreal, though still leading the Atlantic Division, has one win in its last seven games and is 6-10-2 since the first week of January.
The Habs started the season 13-1-1 but have been playing .500 hockey ever since (18-18-7). Montreal has only scored 10 goals in seven games this month, with half of those coming in the team's only win in February — 5-4 against Arizona.
Price says the players were simply no longer responding to Therrien's message.
"We weren't playing with as much enthusiasm as maybe we should have been," he said. "The guys weren't playing with a lot of confidence either. (Therrien's firing) woke everybody up."
Friday's practice — under the watchful eyes of hundreds of Canadiens fans at the team's training facility — was the team's first skate since a 4-0 loss against Boston on Sunday.
In one of his first moves as head coach, Julien shuffled the lines and put centre Alex Galchenyuk on the first trio with Pacioretty and Alexander Radulov.
Galchenyuk frequently played with wingers Paul Byron and Artturi Lehkonen under Therrien instead of with Montreal's top goal scorers.
The 56-year-old Julien, now in his second stint with the Habs after coaching the team from 2003 to 2006, says any changes made now are simply tentative. The veteran coach, who spent a decade with the Boston Bruins before he was fired on Feb. 7, warned that he is still figuring things out with his new team.
"I don't want to change everything," said Julien, who won a Stanley Cup with the Bruins in 2011. "I'm just making slight adjustments. These guys have a brand new opportunity here. The players will appreciate that.
"I'll try some things, and if it doesn't work, then we'll adjust accordingly."
Julien's first big test will be a Jets side that has lost five of their last six games.
"I want us to be a hard team to play against," said Julien, who signed a five-year deal with the Canadiens. "And that doesn't mean that we're running everyone through the boards. I want to make it hard for other teams to have success. And if they're going to score goals, they're going to have to earn them.
"That's what hard to play is."
Notes: Therrien went 271-198-73 in 542 career regular-season games with Montreal. … Julien won the Jack Adams trophy in 2009. … Julien had a 72-62-25 record in 159 regular-season games in his first stint with Montreal.