Canadiens get to roster limit, send De La Rose to AHL
The Montreal Canadiens will get to the 23-man roster limit by sending forward Jacob De La Rose to the Hamilton Bulldogs of the AHL. The 19-year-old former second-round pick will travel with the team to Toronto before making his way to Hamilton.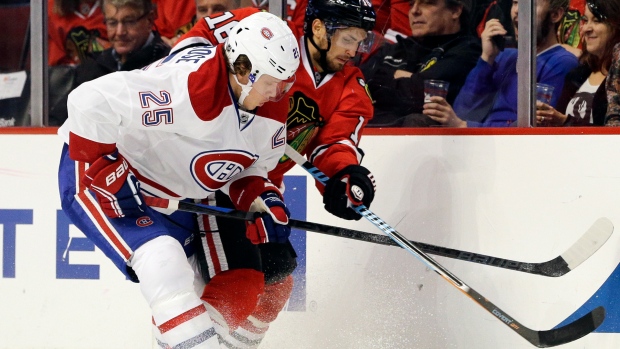 BROSSARD, Que. - The Montreal Canadiens completed their training camp cuts Tuesday by sending centre Jacob de la Rose to the American Hockey League's Hamilton Bulldogs.
The move got Montreal to the roster limit of 23 players.
The 19-year-old de la Rose was drafted 34th overall by the Canadiens in 2013.
Montreal opens the regular season Wednesday night against the Maple Leafs in Toronto.
TUESDAY'S PRACTICE LINES
Pacioretty - Desharnais - Parenteau
Galchenyuk - Plekanec - Gallagher
Bourque - Eller - Sekac
Prust - Malhotra - Weise
Moen - De La Rose - Bournival
Emelin - Subban
Markov - Gilbert
Beaulieu - Weaver
Tinordi
PP1:
Pacioretty - Desharnais - Parenteau
Markov - Subban
PP2:
Galchenyuk - Plekanec - Gallagher
Beaulieu - Gilbert
PK pairs:
Prust - Malhotra
Eller - Weise