Canadiens' offence comes alive against Red Wings
Paul Byron got his first career hat trick while Nicolas Deslauriers, Jacob de la Rose and Dan Carr each got his first goal of the season as the Montreal Canadiens defeated the slumping Detroit Red Wings 10-1 Saturday night for their fifth straight victory.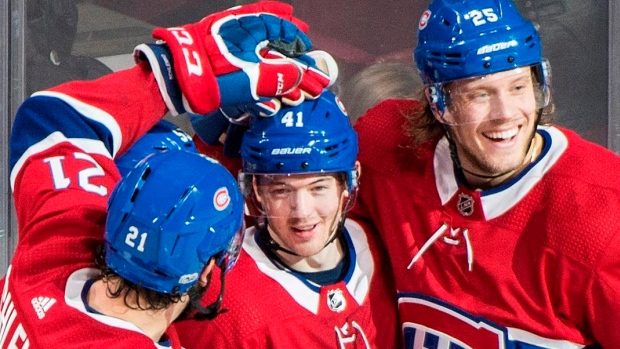 MONTREAL — It was only two weeks ago that the Montreal Canadiens looked to be in a downward spiral.
They had gone five games without a win, during which they had scored only seven goals.
All that changed when star goalie Carey Price returned after missing 10 games with a lower-body injury for a 3-0 win over Buffalo on Nov. 25.
Now they've won five in a row, climbed into a playoff position and, as their 10-1 win over the Detroit Red Wings on Saturday night attests, they are pouring in goals.
"I don't think anyone was ever too worried," said speedy winger Paul Byron, who paced the Canadiens with his first career hat trick. "This group works way too hard not to be rewarded.
"Sometimes bounces don't go your way. Sometimes you just miss your shot a bit. Sometimes you run into a hot goalie. This group is pretty strong mentally and we knew it was a matter of time before they start going in.
"You're not going to score 10 every night, but if we focus on not giving up goals, with Carey in net, I think we have a chance to win every time we play."
It was the second game of a back-to-back meeting. Montreal won 6-3 in Detroit on Thursday night.
Nicolas Deslauriers, Jacob de la Rose and Daniel Carr each got his first goal of the season, while Charles Hudon, Jordie Benn, Andrew Shaw and Brendan Gallagher, with his 100th career goal, also scored for the Canadiens (13-12-3). Alex Galchenyuk had four assists, a single-game career high.
"To climb out of that hole to get back over. 500 again is a good feeling for the group," said Byron. "I think everybody here had worked pretty hard to get better and jell more as a team."
Montreal outshot the Red Wings 34-23, scoring five in 25 shots on starter Petr Mrazek and five more on nine shots against Jimmy Howard, who entered the game at 13:43 of the second period. Price has allowing only six goals in five games since his return.
"Today was just embarrassing," said Wings defenceman Niklas Kronwall. "I don't know another word to describe it.
"From the top guy to the last guy, not only did we embarrass ourselves, we embarrassed the organization."
Luke Glendening scored for the Red Wings (10-12-5), who saw their winless run reach seven games (0-4-3), their longest spell without a victory since Nov. 4-19, 2013.
The Canadiens struck twice in 32 seconds in the opening period.
Byron picked up a pass from Galchenyuk at his own blue line and raced in alone to beat Mrazek to the top corner at 5:22 and Deslauriers was left open in front to fire in a Byron Froese feed from behind the net at 5:54.
Byron went alone again to score inside the near post 1:51 into the second frame.
De la Rose scored shorthanded as he completed a two on one with Deslauriers with a tap-in at 4:58. It was a first goal in 50 games since April 11, 2015 for de la Rose.
"I don't try to think too much about that but obviously it was relief," the 22-year-old Swede said. "You want to score goals, so it's a good feeling."
Hudon picked the top corner from close range on a power play at 13:43 and that chased Mrazek.
Byron got his third of the game with a low shot from the slot at 15:38.
Gallagher went in alone to score his 13th of the season 1:01 into the third. Tomas Plekanec's assist moved him into a tie with Dickie Moore for 13th place in Canadiens all-time scoring with 593.
Benn scored on a blast from the left circle at 6:15.
Glendening ended the shutout bid when he poked a puck in at 9:46. Carr got it back at 11:52 as he elected to shoot on a two on one. Shaw's long wrist shot eluded Howard at 16:26.
Defenceman Shea Weber returned after missing six games with a lower-body injury, bumping Jakub Jerebek from the Montreal lineup. Forward Jonathan Drouin missed a second game with a lower-body ailment.
Detroit had Martin Frk back after missing eight games with a groin injury.