Canadiens sign Gallagher to six-year, $22.5 million contract extension
The Montreal Canadiens have signed forward Brendan Gallagher to a six-year, $22.5 million contract extension. Gallagher is in his third year with the Canadiens and has five goals and 12 points in 24 games this season. The 22-year-old will earn $3.75 million per year during the contract.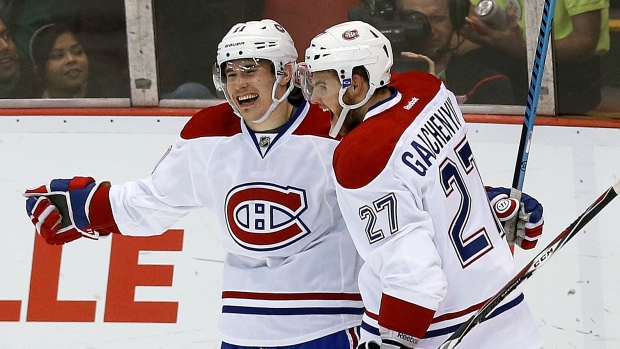 The Montreal Canadiens signed forward Brendan Gallagher to a six-year contract extension worth a reported $22.5 million on Saturday. Gallagher has five goals and seven assists in 24 games with Montreal this season. In 149 regular-season games with the Canadiens, Gallagher has recorded 81 points (39 goals, 42 assists).
"He doesn't take a shift off, he never has," Canadiens general manager Marc Bergevin said before Montreal's home game against the Buffalo Sabres. "The effort is always there, and his character is off the charts. He's always in the paint, he works hard, he gets loose pucks, and he's not afraid of anything. He competes night in and night out.
"The way Brendan performs on the ice, he's always around the net. Whether you're six-foot-eight, or six-foot-one, he plays the same way. His foot is always on the accelerator."
The 22-year-old Edmonton native was drafted by Montreal in the fifth round of the 2010 NHL draft -- 147th overall. He was named to the NHL all-rookie team in 2012-13.
"Brendan has shown from Day 1 that he loves Montreal, and he wants to be a Montreal Canadien," said Bergevin, who added the deal was roughly one month in the making. "He's proud, and he loves the city and its fans. That made it even easier."
The deal means Gallagher will don a Canadiens sweater until the end of the 2020-21 season. Bergevin, historically reticent to follow an entry-level deal with a long-term extension, said Gallagher's contract made a lot of sense for the organization.
"At the end of the day, we feel comfortable," said Bergevin. "It's always a risk going long-term with any player. We felt this time that the risk was worth it.