Habs letting key players rest this weekend
The Montreal Canadiens will use the final weekend of the NHL regular season to give some veterans a rest.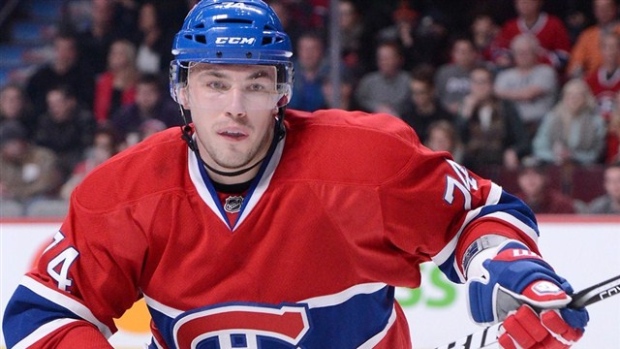 BROSSARD, Que. — The Montreal Canadiens will use the final weekend of the NHL regular season to give some veterans a rest.
Coach Claude Julien said injured defencemen Shea Weber and Alexei Emelin will sit out games Friday night at home against Tampa Bay and Saturday night in Detroit, while a decision has yet to be made on whether rearguard Jordie Benn will suit up against the Red Wings.
Goaltender Carey Price got the start against the Lightning but he and some other veterans may not even make the trip to Detroit.
The Canadiens, who have locked up first place in the Atlantic Division, begin the playoffs at home Wednesday against the New York Rangers.
Julien said Weber and Benn will "definitely be ready for the playoffs."
The announcement meant Weber will end up missing the last four games of the regular season with an undisclosed injury. Benn could see his run of games missed to six with an upper body problem.
Emelin was injured in a 2-1 loss Wednesday night in Buffalo. Julien sounded less optimistic when he said Emelin's health will be evaluated on Tuesday to see if he's ready to start the playoffs.
The main decision centred on Price, the star goaltender who has been on fire since Julien replaced the fired Michel Therrien in mid-February. Some felt Price should be kept out of the last two games to avoid the risk of an injury, but it appears he wanted to get one last start against the Lightning.
"If he doesn't play (Friday) it's a whole week without playing, and a goaltender who feels good about his game probably doesn't want to sit out too long," said Julien. "He's not playing (Saturday), so that will give him a good four days of rest.
"We can play it ultra-safe, but then you can have a goaltender who says 'listen, I don't want to sit out for a whole week. It's important for me to be on top of my game.' It's important to make those tough decisions sometimes. They're not easy."
With Emelin out, the Canadiens called up Brett Lernout from St. John's of the American Hockey League.
The six-foot-four defenceman injured a knee in his only previous NHL game on April 2, 2016 against the Panthers in Florida.
"It wasn't a big hit, it was just the way I fell," Lernout said of the season-ending injury. "I guess it was just bad luck."
The Winnipeg native, drafted in the third round in 2014, is considered a solid prospect, but the physical, right side defenceman may need patience to break into an already deep defence corps.
"There are a lot of numbers, but I'm only 21 and I still have lots of room to develop," he said. "I'm still learning a lot.
"It's only my second year pro. It takes time and I'm ready to take that time."
It's Julien's first look at Lernout.
"These are good opportunities when you can bring in players and at least get a look at them," the coach said.