Capitals acquire Shattenkirk from Blues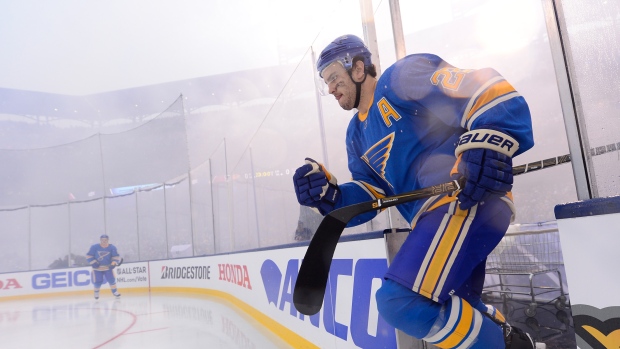 The Washington Capitals have acquired defenceman Kevin Shattenkirk and goaltender Pheonix Copley from the St. Louis Blues in exchange for forwards Zach Sanford and Brad Malone, the Capitals' first-round selection in the 2017 NHL Draft and a conditional draft pick in 2019.
According to TSN Hockey Insider Darren Dreger, Shattenkirk is expected to be in the Capitals' lineup tomorrow in New York against the Rangers.
Shattenkirk, 28, has scored 11 goals and added 31 assists in 61 games this season. He is slated to become an unrestricted free agent on July 1.
Capitals' forward T.J. Oshie told St. Louis Post-Dispatch writer Jeremy Rutherford that he, "couldn't be more excited" for the Caps to acquire Shattenkirk. The two players were teammates for five seasons in St. Louis from 2011-2015.
Last season, Shattenkirk scored a career-high 14 goals and added 30 assists in 72 games. He added two goals and nine assists in 20 playoff games.
Shattenkirk was traded to the Blues by the Colorado Avalanche as a rookie in 2011 and has been with the club since. He was drafted 14th overall by the Avalanche in the 2007 NHL Entry Draft.
The right-hand shot owns a $4.25 million cap hit this season, but according to TSN Hockey Insider Pierre LeBrun the Blues will retain 39 per cent of Shattenkirk's salary.
LeBrun also reports that the Blues receive the Capitals' 2019 second round pick if the Capitals sign Shattenkirk in the offseason or if the team reaches the Eastern Conference Finals this season and the defenceman plays in at least 50 per cent of the games. However, according to TSN's Frank Serravalli, if the Capitals trade Shattenkirk on or before July 1, the Blues receieve a seventh round pick. If the return to Washington is a fourth round pick or better, St. Louis receives Washington's pick two rounds later instead.
Copley has spent the majority of 2016-17 with the Chicago Wolves in the AHL, compiling a record of 15-6-2 with a 2.31 GAA and .920 save percentage.
Sanford has split his 2016-17 season between the Capitals and AHL's Hershey Bears. With the Capitals, the 22-year-old has two goals and one assist in 26 games and with the Bears he has totalled 11 goals and five assists in 25 games. Malone has seven goals and 13 assists in 52 games played for the Bears.